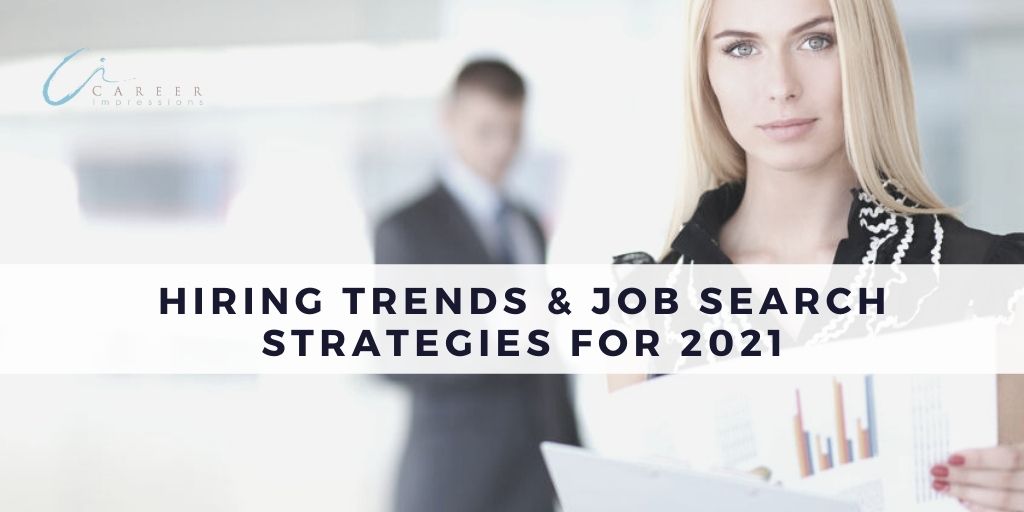 Hiring Trends & Job Search Strategies for 2021 
Traditionally January has been a hot month for hiring. Companies have refreshed budgets, new annual goals, and business expansion plans. January 2021 may look different than years past, thanks to the ongoing global pandemic. COVID-19 has impacted the job market across the board, along with hiring practices and decisions. Three key impacts are 1) the downturn in the global economy, 2) the inability to travel, and 3) the need for social distancing.  
What does this mean for the individual seeking a new opportunity in 2021? The ongoing need to be focused, persistent, and patient with search efforts. 
Earlier this fall, The Adecco Group released its 2021 Compensation & Workforce Trends Survey. Mining data from this report, I noted a few key trends and connected them with current job search tips shared over the past 18 months to help you better navigate a job search in 2021. 
Survey Says: As it relates to talent, hiring decision-makers anticipate that their organization will make adjustments to part-time remote work and flextime post-pandemic (44.1% and 41.5%, respectively). 
Job Seeker Tip: If securing a remote position is important to you, knowing that such a high number of employers are adapting to this long-term plan plays well for you. Presenting yourself as a remote worker takes a little extra skill and preparation. Learn how to seek and secure remote work here. 
Survey Says: Despite the COVID-19 pandemic, hiring decision-makers expect their IT / technology department will expand (39.7%), followed closely by customer service (36.3%) and marketing departments (34.0%). However, diving deeper into that data, when asked which types of roles their organization are eliminating as a result of the COVID-19 pandemic, marketing and customer service were the two most selected answers (30.2% and 28.7%, respectively). Large organizations (500+ employees) are eliminating accounting/finance roles at nearly double the smaller organizations' rate (27.8% compared to 14.0%). 
Job Seeker Tip: Conduct as much research as you can on target organizations to learn their hiring plans. Informational interviews are an excellent way to build networking inroads and glean internal information. Aim to uncover details about organizational growth plans, department needs, and overall company objectives. Learn more about informational interviews here. 
Survey Says: 67.9% of organizations who have furloughed or laid off employees during the COVID-19 pandemic will back-fill eliminated roles, with nearly 9 in 10 saying they will do so in less than a year (86.7%). 
Job Seeker Tip: Prepare now. There is no way to know when an opportunity will present itself. It could be tomorrow or 6 months down the road. Getting prepared in advances means you are ready to approach opportunities with confidence. Here are some tips to prepare for your job search. If you are contemplating when or if to partner with a professional resume writer, this article might help you decide. 
Survey Says: During the COVID-19 pandemic, adaptability/creativity (45.1%), critical thinking/problem solving (41.1%), and financial management (40.3%) have become essential skillsets, according to hiring personnel.
Job Seeker Tip: Emphasize soft and transferable skills on your resume. Weave these skills into strong accomplishment statements to highlight how you have leveraged coveted skills in combination with other related abilities. My article Executive Resume Trends for 2021 features a section around the importance of featuring soft skills on your resume. 
Survey Says: If hiring a new employee during or post-pandemic, respondents are split in saying that the new employee's salary would be less (42.4%) or the same (40.2%) as someone hired pre-pandemic for the same position with the same qualifications. 
Job Seeker Tip:
Don't be shy to negotiate for a higher salary.

Consider all compensation options, such as stock options, PTO, sign-on bonus, healthcare benefits; if a company is not prepared to offer a higher salary, you can always look at negotiating options.

Prepare for 

salary negotiation with these tips.

 
Bonus Tips
In your preparation for your job search, here are two additional tips to keep in mind to help you adapt to 2021 trends.
First, focus on your online brand. Recruiter's dependence on LinkedIn is increasing. As a recruiting tool, LinkedIn offers more features than other job boards. The ability to see career history, recommendations, posts, and activities provide recruiters and hiring managers a more robust picture of potential candidates. Ensure your profile is up to date and laden with value. Here are tips to Boost Your Brand on LinkedIn, and 5 LinkedIn Strategies to Get Executives Noticed. 
Finally, prepare for video interviews. Due to travel restrictions and social distancing protocols, remote and video interviews have become the norm. While video interviews have been a trend for several years, they have never been so prominent. Find tips on video interviewing in my article about Job Searching During The Pandemic.