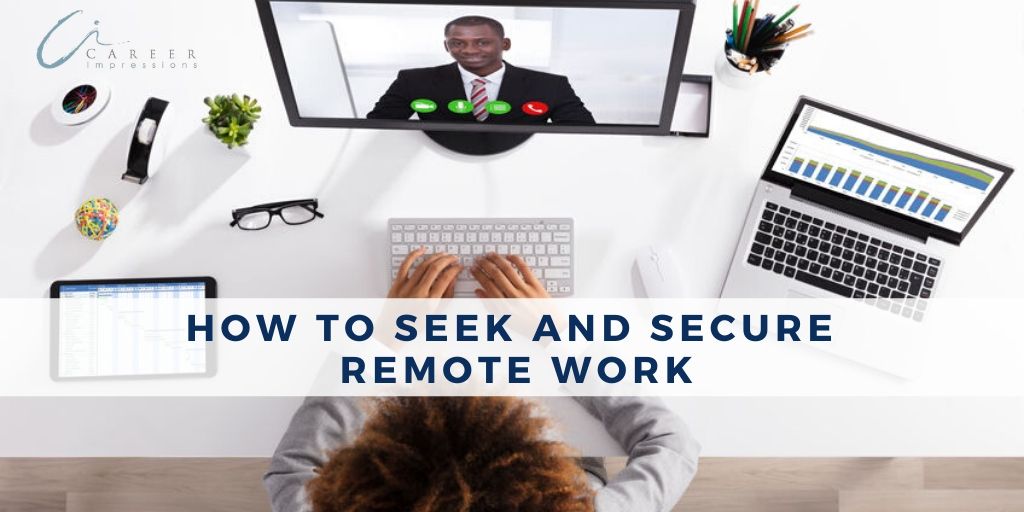 How to Seek and Secure a Remote Work Position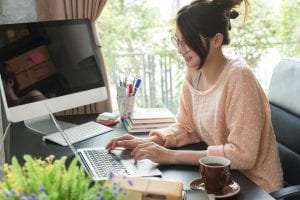 With the current pandemic, a lot of people are analyzing how they do their work – and where. Is sitting in an office necessary for work to get done, or can it be performed from home, or in a different city? More and more people are looking to seek and secure remote work.
Only a few months ago, remote work was not as common, but thanks to forced shutdowns and shelter in place initiatives, remote work is on the rise. Recent world events have helped many employers realize that working from home is both doable and productive.
For job seekers, this means expanding sights to roles outside their current location or city.
So how can you set yourself up for success to seek and secure remote work?
Just like with everything else job search-related, you need to prepare and have a plan. I know this first-hand as my husband recently secured a remote position. His job was not posted as a remote role, but he convinced the company to bring him on as a remote worker (in a completely different city).
Here are some strategies for seeking and securing remote work:
Research
Before anything else, research. Research companies of interest and look for organizations that hire people like you. Once you identify companies of interest or an actual job posting, seek to understand how the target company operates and is structured.
For example, is there just one office that everyone works out of in one city or are there international workers/offices with varying setups? Do some or any staff work from home or remotely? Understanding the company will help you better determine how feasible remote work might be.
Next, identify any potential pain points that might be barriers to remote work. If the role you want leads a team that *must* work on-site (manufacturing for example), it may be harder for a manager not to be on-site as well, at least part of the time. Consider ways you can make this scenario work for both you and the employer.
Armed with organizational details, you can better prepare a pitch (more on this below) to address any concerns while aiming to add value to the organization.
Secure an Internal Champion
Once a well-suited opportunity is identified, and company research conducted, strive to find a contact within the organization. This individual might be someone you worked with in the past, or it may be a cold contact that you spend time building a relationship with (in full transparency that you are interested in their organization).
Note: cold outreach takes time. It is never a good idea to make a big ask of someone you just met without some form of prior engagement.
Securing an internal company contact accomplishes three things:
Enables information gathering from a direct source to support your remote work case.
Creates an internal champion for you within the company. This person can help raise the confidence of the hiring manager, especially if they have worked with you in the past.
A great way to locate contacts is on LinkedIn. Search for your target organization and see if anyone in your network is connected to the company. Maybe another person in your network knows someone at the company, and they can introduce you.
Prepare a Pitch
Realistically, many companies have reservations about remote work, especially if the job involves working closely with different people or teams. It can be hard to lead a group or build rapport across business units without meeting face-to-face. With this in mind, you need a plan to address concerns.
The good news is, with the current pandemic, more companies have tested the remote or work-from-home model.
For my husband, he proactively addressed concerns head-on with an outlined plan for how the remote work could be managed and he shared a proposal for on-site visiting and travel. He was quick to provide 2 viable solutions for the company's consideration should they need or want on-site support. He saved the detailed pitch for the interview(s), but he primed his internal contact well in advance, so this person could help champion his cause.
Tips to prepare the best pitch:
Present your pitch at an opportune time. Don't lead with this ask. Instead, build rapport with contacts, demonstrate fit for the role, and sell your abilities. Once you have established communications with a connection or the hiring personnel, let them know your preference for remote work and be prepared to share specifics when asked.
If you've worked remotely before (um, hello COVID), ensure this is actively communicated in all messaging and career tools (resume, cover letter, interview answers). Demonstrate to the employer how you've excelled even when you worked physically apart from others.
Share how you plan to maintain contact and foster communications. Detail specific tools that you are familiar with like Slack or Zoom. Explain how you maintained constant communications or made regular touchpoints with the people you worked for or with.
Detail specific achievements or success in your remote and non-remote activities. Ultimately, you want to position yourself as the best job candidate regardless of your location. Detail past career achievements that relate to the job requirements. Provide proof that you can both perform and excel in the areas you claim to have expertise within. Demonstrate a clear ROI for the company.
Companies can be better convinced to change their work model if they feel confident in a candidate's ability to perform. First and foremost, when seeking remote work, set yourself up as a strong candidate. Demonstrate how you are a good fit for the role above all else.
Finally, don't make the process about you or your needs. Instead, focus on the company's needs and how your skills align with job requirements. Sell the employer your value –  to convince them you are the best person for the job-  regardless of location!