I work collaboratively with executives to maximize job search and career success. Ultimately their success is my success. Recommendations and endorsements from executive clients can also be viewed on my LinkedIn profile.
Past clients have included CEOs, CFOs and COOs of billion-dollar, Fortune 500 companies, SVPs of global operations, CTOs and CIOs of start-ups and established international organizations, VPs of business development and sales, directors of engineering and finance, general managers, project managers, and many more.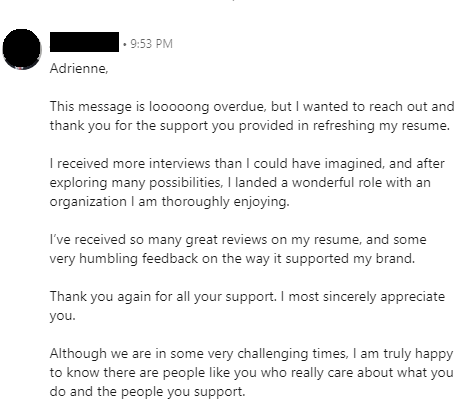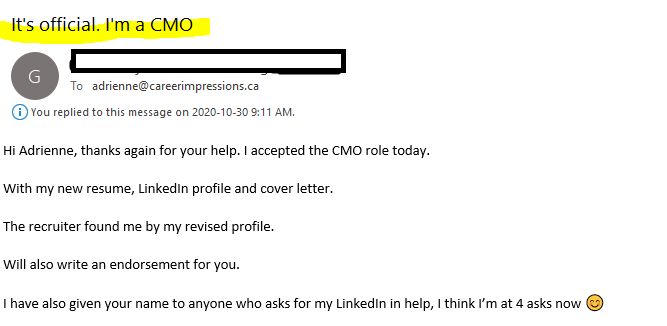 To let you know, the work you did is bringing results: I got interviews with AWS, Google, and one other big networking company, all for roles I was aiming for, with the resume you wrote. Thank you.
Jasenko, CTO
Completing your Career and Branding Exploration Worksheet was a valuable exercise as it does require a different look at many things from how I had developed my own version of my resume.
Keith, CEO
I wanted to let you know that I got a new job! I start next week. Thank you again for your amazing work in helping me redesigning my resume. So many people have commented on how well written it is. I've recommended you to many people, so hopefully they follow up.
John, Director
Adrienne, I wanted to send a big thank you. Today I was hired into an awesome position...the reason they contacted me was because they were impressed with my resume, the resume you wrote. You did an awesome job translating my military experience in civilian terminology in a way that could be understood, which is the reason I made my way into this position and can continue forward in my career. Thank you!
Eric, Ex-Military
It was a great pleasure to work with Adrienne. She is highly professional and exceedingly committed to your success. Adrienne will make you take stock of your past accomplishments and future career goals and work with you to deliver a final product that is engaging and illustrative to give you the extra edge you need for your next opportunities.
Patricia, CFO
I have received interviews with three firms using the resume you made. Thank you! I have recommended your services to two other people already.
RJ, Marketing Director
I am very pleased with the results - the new resume, cover letter, and LinkedIn content are all very well written and the streamlining you have suggested is long overdue and speaks to the excellence of your work.
Peter, CFO
Adrienne, A quick update for you. This week I accepted a role as GM – a position that fits well with my job search criteria. Thanks again for all of your support over the past several months. I will be forever grateful.
Andrew, General Manager
I LOVE it. I wouldn't change a single word. You have successfully achieved my desire to communicate my passion in balance with my expertise. Thank you!
Diana, CEO
Great work, Adrienne! I was the successful candidate with the first company I applied for and the position I really wanted. The hiring manager actually complimented the format and content of my resume during my interview. Thanks again - I would highly recommended your services to anyone!
Randy, Project Manager
I wanted to just reach out and say thanks. I had held off on writing you a recommendation until I had tested your product. I had 5 phone interviews and 2 face to face interviews in the last month and a half. Today I received an offer for a fantastic job that I accepted. I am blown away how much of a difference your resume and cover letter made just in the number of call backs I received. Thanks again! 
Neil, Senior Sales Manager
I have received three separate glowing compliments on your work. In other words, your recent services provided on my cover letter and resume landed me three consecutive interviews with the company I applied to, each interviewer began by commenting on my cover letter and resume. So THANK YOU! The process is not over and by no means am I guaranteed a position, but your work obviously stands tall and has been a difference maker.
Wale, Supervisor
I have been approached by 4 companies so far and I am in advanced discussions with one for what sounds like a good fit exec role. The interesting part for me has been that so far nobody has asked for a resume. The entire exec team of this company have visited my LinkedIn page so I assume that's where they have been getting the info they need. A changing job seeker landscape for sure. Thank you again for your help writing my LinkedIn profile!
Aidan, Hospitality Executive
I love what you've done, what an improvement! Thank you so much for all of your work, I'm quite pleased.
Andrea, COO
Adrienne, great job on the cover letter and resume. I was blown away by the presentation and the content; I almost didn't recognize myself. Your attention to detail and careful analysis and translation of my skills is exceptional.
Gregory, Senior Sales Executive
Thank you again for your assistance; I successfully competed for the position of Director, Occupational Health and Safety. All the best!
Bruce, Director OHS
Adrienne has exceptional skills in understanding and strategically presenting career achievements in a professional, accurate and highly effective manner. Her process is not only very effective to create a custom resume but also to help you clarify your own goals and needs.
Elizabeth, COO
First off I will say...this was an investment well made! You are truly deserving of your accolades. I was excited to read the documents you provided, [and] it was a pleasure working with you to develop a better career search portfolio. The entire experience has been amazing and smooth from start to finish. I am looking forward to getting these new documents in front of my network. Thank you for your hard work and great professionalism.
Charles, Innovation Executive / CEO
Just a note to let you know that I've recently been promoted to Regional Manager. Your expertise in developing my resume and interview coaching helped me beat out seven other candidates, all of whom had Regional Manager experience with other companies. Working with you was the best investment I've ever made!
Chad, Regional Sales Manager
I am pleased to share that I just accepted a new Controller position, starting next week. Thank you for supporting me in my search for a new opportunity.
Bruce, Controller
Dear Adrienne, since I received my new resume I have sent it out 6 times and I have got 2 interviews so far!...I just wanted to share this and let you know that you did a phenomenal job with my resume.
Jose, Warehouse & Operations Manager