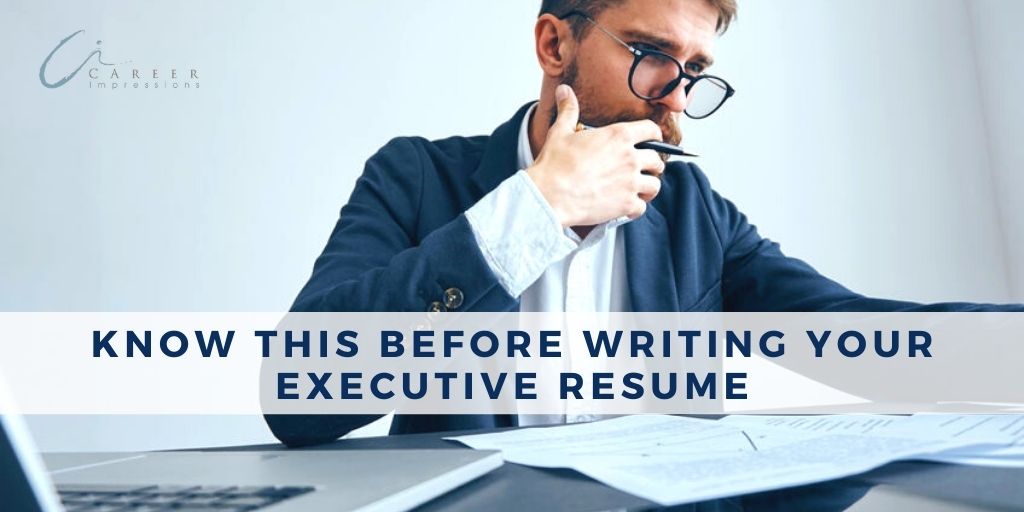 Know This Before Writing Your Executive Resume
Before moving forward with resume creation, I ask every one of my executive clients the same question: "What is your job target?" 
Sometimes people try to give me a general answer, like "I want a leadership position, VP level or above". This isn't clear enough. I still need to know: what business area of focus? In which industry? For what sized company and in what country or region?
If a professional can't answer the questions or narrow down their job target, I can't write a new resume for them.
Why? 
Not having a clear job target means I can not effectively position a person in a resume. If I don't know what strengths are essential to spotlight or what career accomplishments are most relevant = the resume will be weak and will not perform well with readers (employers). Poor resume performance translates to not getting called for interviews and mounting frustration in a job search.
You might only get one chance for a person to review your resume. If the reader doesn't spot immediate and related value, you will be passed over. A resume may be all about you, but it isn't meant for you. 
BEFORE you get ready to rewrite your resume or reach out to a professional resume writer such as me, you must identify a specific job target. Here are some areas to focus on:
Explore Your Strengths, Interests, and Goals 
Getting to know a little more about yourself will help you understand what you want in your career. 
Identify details by taking skills assessments, conducting exploration exercises, and engaging in career coaching. These activities can help you pinpoint what you are good at, what you want, and what kinds of job options make sense for your needs and abilities. 
Explore the Labour Market 
You might think that researching the labour market will be dull and dry. Not true. 
Labour market information is laden with rich facts about what industries are booming (and which are not!), who is hiring, how companies are performing, what geographic regions are doing well for employment. 
You can even learn what salaries are like in the different areas and industries. Collect and compile data to help you better determine which roles to target. 
Explore Companies and Decision-Makers 
Using information from the above steps, create a list of interesting companies to explore. Research these companies and identify key decision-makers within them—request informational interviews with people who can help your search.
Gather intel to help you confidently say, "Yes, I want to work for this organization. Yes, I have the strengths and talents required to work at this company. Yes, I know who else I need to talk to about opportunities at this business". 
The combination of research and a clear job target ensures that the content on your resume is aligned, targeted, and:
Resonates better with the reader

Has an increased chance of getting noticed

Uses the right keywords and language

Showcases the best examples of success
A clear job target may take more time upfront to identify, but it saves loads of time in the overall job search process. Without a clear target and appropriate intel, your job search may take much longer to conclude. 
Additional Tips
An effective executive resume is built from a variety of components and facts. Before the file can be compiled:
Know yourself (skills are you structured with, job tasks you enjoy, and unique value proposition).

Know your target audience (roles do you like/want).

Understand the market and role requirements (where are the jobs, who is hiring, and common pain points in the role).

Recognize how you align with target jobs (specific examples that prove you have what it takes to succeed).

Identify people who can help support your search efforts (talk to lots of people! People hire people).
Once you have your job target in hand – reach out to connect, and we can get started on building high-impact career tools (executive resume, cover letter, and LinkedIn profile content) that get you noticed. If you are looking for a specific resource to support job search research, check out this guide on Conducting Job Search Research by Job Search Secret Weapon.