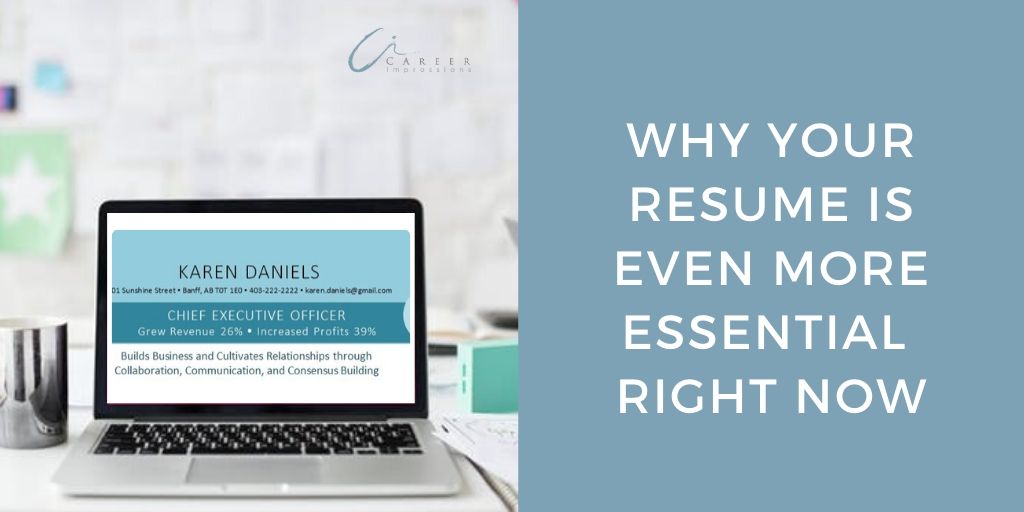 Why Your Resume is Even More Essential Right Now
It has been asked and argued over recent years if resumes are still needed in the job search process due to the advances in technology and social platforms.
Our current global situation answers the question very plainly:
Yes.
In a matter of just weeks, the resume has become a very critical component of an effective job search. The combination of social distancing and high job loss rates mean two things:
More than ever, recruiting efforts are focused on online application methods. This goes two ways; companies will be relying on their technology tools to advertise and gather, while job seekers will be searching for opportunities online from the confines of their homes.  Although networking is still strongly advised as a top job search priority, applying online may need more attention in your job search activities.
High unemployment rates increase competition. We've already been in an employer's market, but the scales have tipped even more in this direction. Over the past couple of years, the average corporate job brought in 250 applications, with only 4-6 candidates getting called in for an interview. The applicant number is going spike. A resume must be modern, tailored, and near-perfect to truly rise above the rest.
Your resume is a tool that is needed to help you stand out.
Not only does it have to be Applicant Tracking System (ATS) friendly, but it must also position you as the candidate with the most relevant value.
Every position that you apply for should be with a tailored and customized resume that connects the value you have to the needs of the employer. Developing a tailored resume can be done faster and more effectively when you understand what the employer wants.
Job postings provide many of the details needed to support customized resume creation.
Review each posting in detail. Make a list of the specific skills requested. Ask yourself: what skills are required to complete each task/priority of this job description? Add these to the list. Then, work to include the same skills and abilities on your resume (assuming you have them), using the exact language from the job posting. For example, if the posting lists 'interpersonal skills' do not use 'people skills' in replacement.
Take things one step further and share accomplishment-driven statements that demonstrate skill application and level of ability. Leading with results is an excellent way to showcase impacts.
Your resume should remain a high priority in your job search right now.
If you are at the beginning or the middle of a job search, I encourage you to take a step back to practice precision, patience, and a bit of persistence. Precision in the resumes that you are creating. Patience with the hiring process. Persistence with activities.
The duration of your job search is likely going to increase. Understand that employers are under a sudden new strain that is reducing resources and staff, which unfortunately means their process may slow down. It may take longer to hear back, so do not despair if you do not receive an immediate response to an application. Keep applying and keep following up; persistence can pay off.
Next, take the time to write your resume uniquely for every application. Don't let the task of writing your resume slide, assuming that an 'ok' resume will be good enough. It won't be.
If you want to get noticed and get hired, invest in a modern, professional resume that presents you as the top candidate. Resumes are still needed – strong resumes even more!
If you require assistance with developing a strong resume that is value-driven and focused, please reach out to me. I can support you directly, or you can take advantage of my DIY Resume Workbook Series found in my shop.