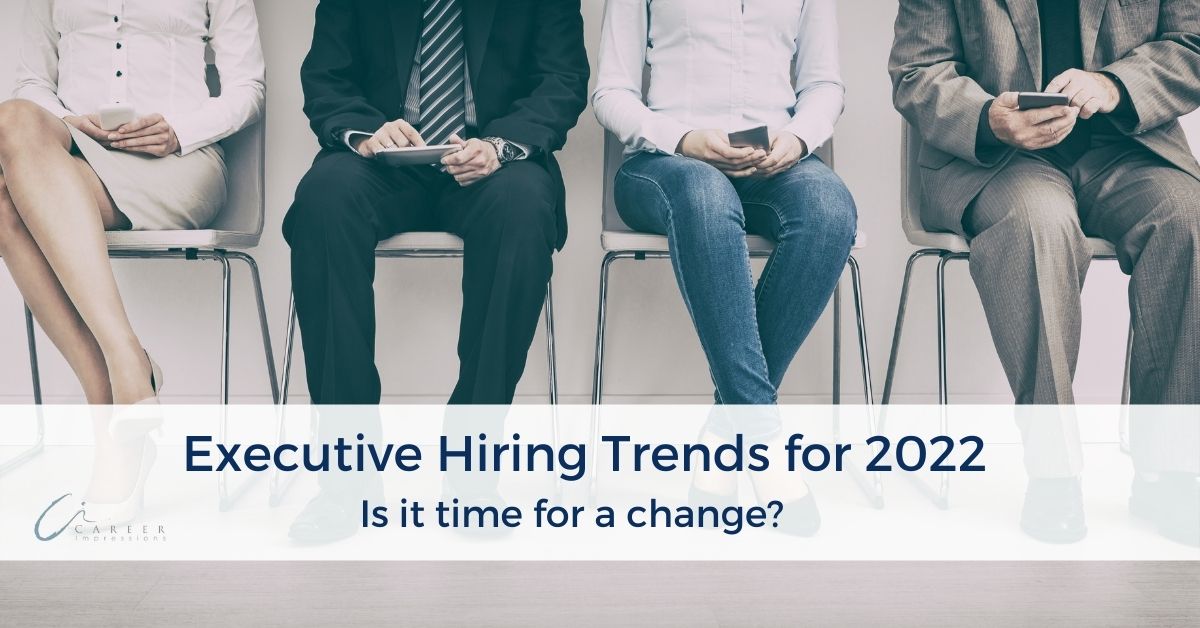 Preparing for Executive Hiring Trends in 2022
Preparing for hiring trends in 2022. Are you ready for a leadership change?
Many call 2021 'The Great Resignation,' as record numbers of people left their jobs or retired early. Others refer to 2021 as 'The Great Resuffle', because many people sought out and secured roles better aligned with their goals and needs.
This past year businesses shifted online, tech skills became more in demand, and the workplace became increasingly remote, so many people took the chance to switch things up.
As a result of these changes, the hiring market is hot right now, but how long will it last, and what will the job market look like as we head into 2022?
Companies will fill the majority of positions at some point, and the balance of power will shift. As an executive job seeker, how can you be proactive and prepare for the ever-changing job market?
Predicting Hiring Trends in 2022 – Executive Job Seekers Need to be Proactive
Unfortunately, there is no way to predict precisely how long the job market will continue to flourish.
An article by Fortune suggests that "2022 will be defined by the new normal and skyrocketing employee power within a historically tight labor market".
A post by the Globe and Mail goes on to state that "workers need to arm themselves with technical skills if they want economic stability and prosperity, and in particular, if they want to obtain what are called "opportunity jobs."  Opportunity jobs are defined as "a chance to make a steady and high- income livelihood and insulate themselves against future shocks in the labour market."
Executives are not exempt from either of the above. Top execs can take advantage of a tight labor market to find a role better aligned with values, and even top leaders should consider technical ability/understanding to best support organizational advancement and growth and to remain relevant.
If you are currently seeking a new position or considering a change, here are two strategies to help you capitalize on the hot hiring market:
Jump in!
If you have been thinking you need a career change, now could be the time to leap! Dip your toes in the water and see what's out there – it is a time of transition as more companies move to a hybrid workplace and seek to fill open positions.
To figure out what it is you want, start by answering the following questions:
What aspects of your job do you love?
What are your must-haves and deal breakers?
Are there companies you would love to join? How can you get on their radar?
What are the most important things to you? (Personal and career goals?)
Are you open to switching industries or learning new skills?
As remote and hybrid situations become more common, what does this mean for you? If companies are hiring for remote positions in your industry, does that expand your job market?
No job or career is perfect, but finding a role and a company that closely aligns with your purpose and values will bring you the most significant amount of satisfaction.  If you've been waiting for an opportunity, maybe this hot job market is it – capitalize on it now, as we're not sure how hiring trends in 2022 will shift.
Stand out!
In a hot hiring market, there is still generally quite a bit of competition. How can you stand out among the rest? You need a strategy to compete with the masses and rise above your fiercest competitors.
To stand out in a competitive job market:
Develop a career story and personal brand. How do you want people to see you? What is the overarching theme of your career? How do your skillsets, education and experience combine to make you so great at what you do? Think of your brand story as a value proposition, making it obvious you are the clear choice over the competition.
Grow Your Network. We all know personal connections go a long way, and a recommendation from an associate could be just the push you need to stand out from the crowd. Aim to network continuously, meet new people, and touch base regularly to stay top of mind if an opportunity arises.
Upgrade in-demand skills. It has never been easier to learn a new skill – this is an excellent opportunity to perk up in-demand skills. Companies are reporting a shortage of talent, so how can you position yourself to fill the gap? Peruse job descriptions for positions and look for areas and skillsets that you could strengthen.
A survey of 45,000 companies in 43 countries found that organizations worldwide are reporting the strongest hiring outlooks since before the pandemic. We hope these hiring trends continue into 2022 as we slowly recover from the economic downturn caused by the pandemic. Now may be the perfect time to branch out and find your next leadership opportunity!
If you are ready to take the leap and seek your next executive opportunity, I'm here to help with resources, templates, and tips to ensure success.