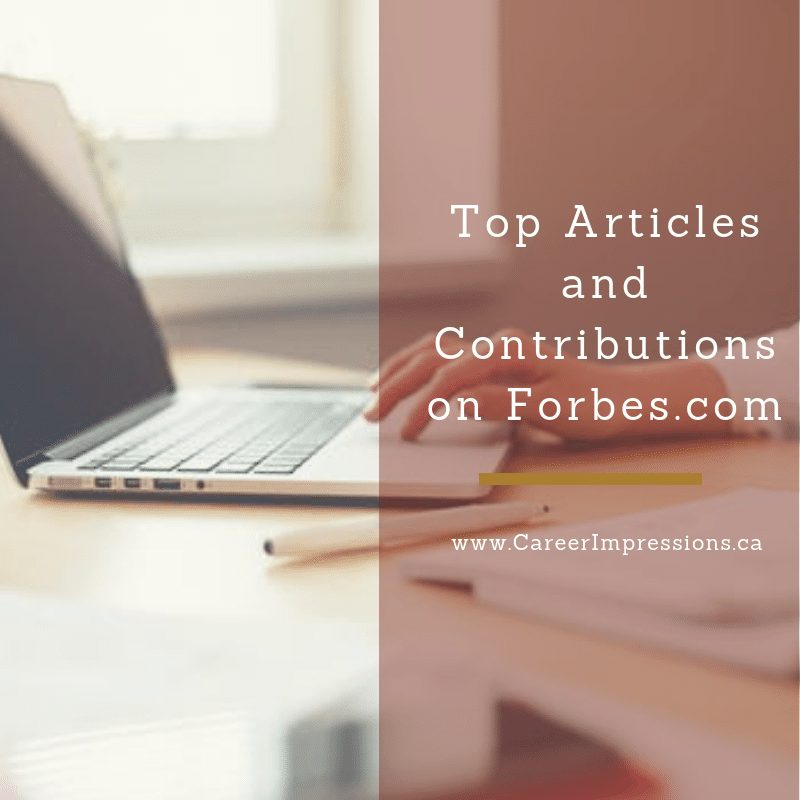 My Top Resume and Job Search Articles on Forbes!
Over recent years I've had the privilege of contributing articles, quotes, and insights on Forbes.com. 
Here is just a sampling of my top shares:
Resume Rules – Why There is No Such Thing
Executive Resume Requirement: Make Your Value Known
Executive Resume Trends for 2018 – And What's Next
Executive Resumes Aren't Personal — They're Business
Three Communication Strategies for the Executive Job Seeker
10 Mistakes Job Seekers Make on Their LinkedIn Profile
Laid Off? Strategies to Get You Back to Work
Looking for a Job This Fall?  Now is the Time to Prepare
Job Searching On LinkedIn? 15 Tips You Should Know
How to Compete With the Younger Generation When You Can Only Work 9-5
How to Approach Changing Roles Within Your Company
13 Leadership Skills You Didn't Need a Decade Ago that are Now Essential
Nine Ways Work Environments Will Change in the Next 15 Years
Nine Strategies for Better Retention During a Restructure
11 Habits the Best Networkers Have
Eight Signs It's Time to Promote an Employee
How to Make the Most of 2017's Booming Job Market
To Innovate, or to Stay the Course? 14 Tips to Guide You
11 Ways to Prepare for (and Ace) Situational Interview Questions
15 Ways to Get the Confidence Boost You Need at Work
Tackling Productivity: 15 Steps You Can Take to Become Less Stressed at Work
How to Stand Out in the Job Market When You've been in the Same Role for Years
12 Tips for New Grads Entering the Workforce
11 Questions You Should Never Ask a Recruiter
Want to Master Your Networking Skills?  Start by Researching and Listening
How To Make The Most Of Your Personal Time After Hours
14 Ways To Continue Sticking To Your New Year's Resolution
What's Next for Job Seekers on LinkedIn
16 Essential Leadership Skills For The Workplace Of Tomorrow
11 Hurdles Currently Stifling Professionals (And How To Overcome Them)
15 Ways to Renew Motivation at a Long-Term Job
Harbouring Resentment at Your Job?  15 Ways to Rise Above it
Powerful Questions Coaches Ask Their Clients To Help Them Achieve Their Goals
Don't Give Up on Your Dream Job If You Are Missing One Essential Skill 
13 Tips for Overcoming Shyness in Business Settings
Interested in partnering with me (Certified Executive Resume Master and Certified Employment Strategist) on your executive resume and job search? My resumes get RESULTS!  Higher compensation, next-level placements, and greater recognition.  Read recent results and testimonials!