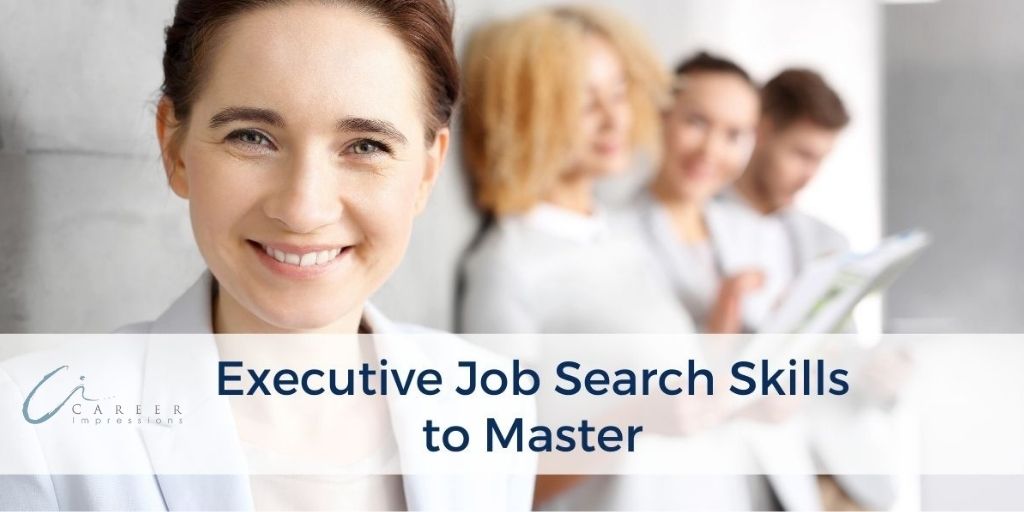 Executive Job Search Skills to Master
If you are searching for your next role, it's time to put on your detective hat and polish up those executive job search skills.
Research the company and role to determine must-have experience, traits and qualifications. Armed with this info, you will be able to position yourself as the perfect fit and a stand-out leadership candidate.
The more you know about a company, its culture, values, and vision, the better prepared you will be to rise above the crowd.
Use Executive Job Search Skills to Research Dream Companies
Put your detective skills to work and learn all you can about the organizations you feel will be the perfect fit. Thanks to Google and social media, it's never been easier to find all the information you need. Look into company history, culture, workforce size, past press, and expansion plans, as well as the specifics of the executive role you have your eyes on.
Dig even deeper into your top 3, and seek out employees on LinkedIn. What type of job experience, education level, and skillsets do they have? Consider conducting informational interviews to get in-depth information straight from the source.
Google recent and past news and press releases
Soak up social media content
Get to know the website (including the about page and blog posts)
Connect with the HR manager
Research the company's products and services, including customer reviews and testimonials
Check out competitors – how do they stack up? How do they stand out?
Attend industry events, and seek out trends and upcoming changes
View your potential colleagues' profiles on LinkedIn (it may prompt them to view yours in return)
Maximize the Power of Social Media
Put your executive job search skills to work on social media. Seek out your top organizations and subscribe to company newsletters to stay up-to-date on available jobs, expansions, and opportunities. Interact with company accounts with thoughtful comments that help develop your personal brand and position you as an expert in your field.
Use LinkedIn to the fullest. Almost 90% of recruiters use LinkedIn as a primary search tool. Maximize your LinkedIn presence, make new connections, and create a LinkedIn profile that stands out and gets noticed.
Ingrain Yourself in Your Industry
Attend talks, functions, and lectures to expand your professional network. Stay up to date and in touch with your connections.
Seek out peers and mentors. Who do you admire in your industry? Who can you connect with at your dream company? Reach out on LinkedIn, ask for an introduction if you have a mutual friend, or cold email asking to meet.
Once you have submitted your application, seek out the people at the company who can influence your chance of getting an interview. Connect with would-be-peers. How can you get on the radar?
Get Visible
Companies don't always post openings for executive roles, or they scout out right-fit talent from a pool of identified top candidates – sometimes before a posting goes live.
It is important to be noticed before opportunities arise. You want to be the person an organization considers when a target role becomes available, or if a role is being considered for creation. People like to hire people they know, like, or trust and they may ask around for referrals or tap into their own networks.
Be a name that is recognizable and synonymous with the type and level of job you desire. Build relationships and network consistently to increase your visibility.
Are you maximizing every avenue and potential lead?
To learn more about the hidden job market, download the guide here.
Research Resume Keywords
Specific keywords and the right language and examples in your executive resume will help your file better resonate with the reader.
We all like to read things that we can relate to. Employers are no different. They have a pain point and you want to position yourself as their solution. Using the right language in your resume can help.
To locate keywords, consider
What words are used in relevant job postings?
What words are relevant to the company culture?
What words are important in your industry?
Sprinkle these keywords throughout your resume in an organic way, as not to sound robotic or unnatural. Tie the right words and language to strong examples of success, demonstrating that you both understand the work and have the ability to excel in the job.
At some point in the hiring process, a resume will be required. Ensure your executive resume is written in a modern format, applying current trends, and sharing clear results.
Once you have put your executive job search skills to work and researched your dream companies, use info to generate productive conversations with decision-makers, unearth opportunities, and create targeted resumes and cover letters. Position yourself as the perfect fit for the role. How can you go above and beyond to get noticed?
For more info on job search skills, check out my post Hiring Trends and Job Search Strategies For 2021.