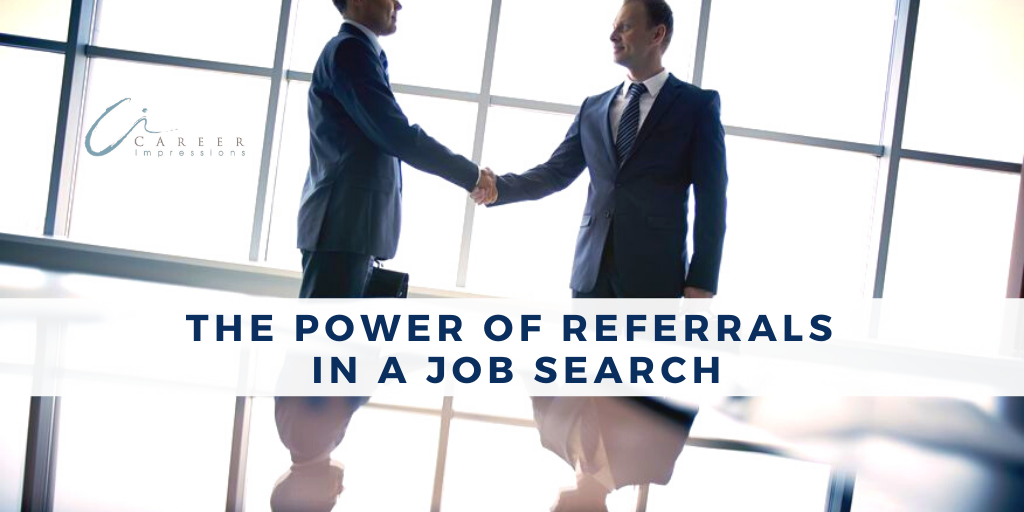 The Power of Referrals in a Job Search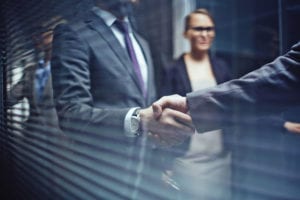 I got my first office job through a direct referral. Having a friend vouch for me got me in front of the hiring manager and ultimately, hired. My husband got his last 3 roles all through referrals and connections! In return, he has hired the majority of his teams through referrals by always asking people he knows for leads.
Many of my clients share that they get job leads or new positions through people they know or through 2nd and even 3rd-degree connections.
Referrals are often called a job seeker's silver bullet because companies prefer to hire people they know, like, and trust.
The old adage "It's not what you know. It's who you know." continues to remain very relevant in modern hiring practices.  A great way to get noticed, and get hired, is by direct referral and networking.
Job seekers aren't the only ones benefiting from the lucrative referral process. Companies also feel that referrals bring in higher quality candidates. According to iCIMS's Modern Job Seeker Report: "Sixty percent of employers believe referrals bring in candidates that are a better fit for the company."
Jobvite's latest Recruiter Nation Report also shares that "Internal hires remain a top-rated source for hiring, followed by employee referrals".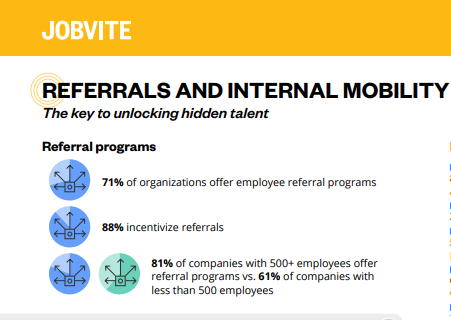 Have you ever secured a job via a referral?
I took this question to LinkedIn and here are the results of my poll: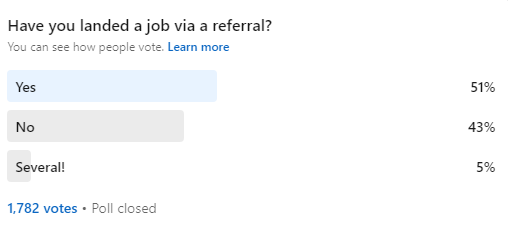 Although 43% of voters said they have not been referred into a role, the majority have (5% multiple times!) and post comments touted the benefits and positive use of referrals.
Some stories that people shared in the poll comments:
"It's the BEST and more effective way to land a job. Referrals work both ways. You get referred through a personal connection who can speak directly about you to their organization AND by doing so that connection is recommending to you as well that they have a great workplace and want you there. It's a win-win."
"All of my jobs came from referrals and in fact, most of the references which I got were from 2nd or 3rd-degree connections, who had discussed my requirement with the 1st-degree connections. I was fortunate that all the roles I got were relevant to my experience and skills."
"Yes I have landed a job many years ago via a referral and it was me just telling someone I was looking for a job. "
"All of my jobs have come through referrals Adrienne! It's the way to go :)"
"All but 2 of my positions were from Referrals Adrienne. Those that I applied directly to, I would find a way to network myself in after applying."
Always Explore Referrals in Your Job Search Strategy
For those that have yet to secure a role via referrals, there is always opportunity. It may not be the most common way to land a role, but it is definitely a way to shorten and improve your search. Don't overlook the power of relationship building, networking, and referrals in your job search strategy!
Speak with friends, family, colleagues, professional contacts, professional forum members, and even alumni to help increase job chances. Engage these individuals regularly and make sure they know what you are good at and what exactly you are looking for so they think of you when the right opportunity pops up.
An earlier Jobvite study shares that social media, professional connections, community forums, and word-of-mouth are "the go-to source of new opportunities", with friends being the job-seeking jackpot! Be sure to tell your close contacts when you are job hunting, but also aim to proactively build relationships with decision-makers in companies of interest. You want to get on the right people's radars so they think of you when the right opportunity pops up.