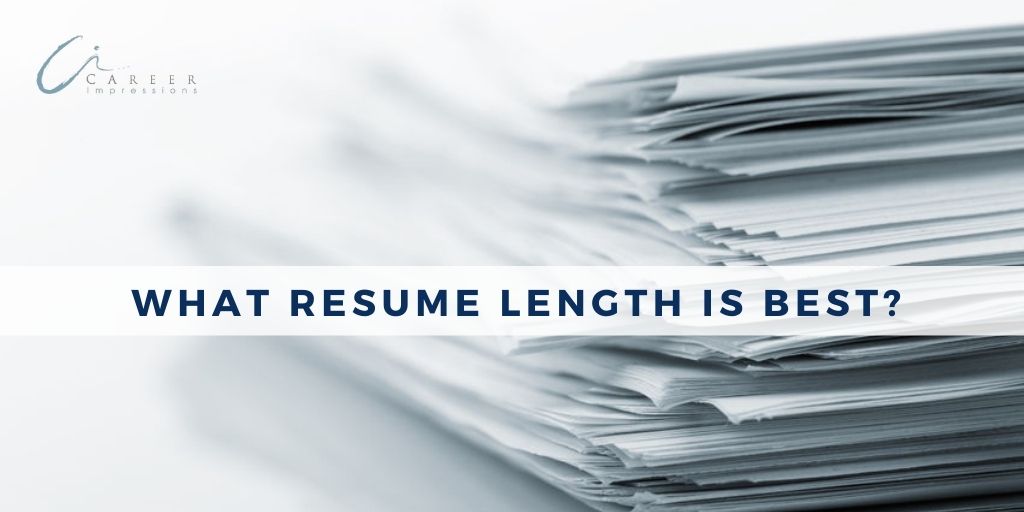 What Resume Length is Best?
There is likely no topic more heavily debated about resumes than length. Should a resume be a certain length (i.e. cut off at a particular point?), or can a resume be as long as it needs to be to get the point across (running the risk of losing the reader's interest)? Some people hotly debate that a resume should never be longer than 1 page. Other hiring personnel demand more content to better support their decisions. Which resume length is best?
I remain a steady believer that length alone does not determine the file's effectiveness. Read that again. Yes, regardless if your resume is 1 page or 10, MANY other factors can impact the file's success. Some of these factors include quality of content, alignment of details with the target job, and overall readability.
However, you have to produce a file of some appropriate length. What is the best length for a resume, and what do recruiters and hiring personnel prefer to read?
I took this question to LinkedIn and posted a poll. Here is a snapshot of the poll choices: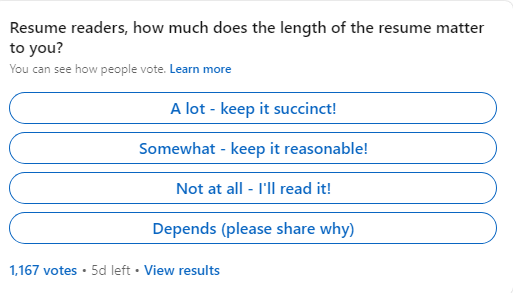 What do you think was the most popular answer out of the above choices? The answer may surprise you…or leave you still wondering.
Before I reveal,  let's break down some of the feedback that professionals provided in the comments of the poll:
PRO-LENGTH (I want more!)
"I mainly recruit IT folks. A scant 2-3 pages doesn't cut it"….[however]…."a lot of technologists have been trained to keyword-dump on a resume. The problem with that approach is that this means technologies from the beginning of a career are in contention with the most recent content. This does not lead to a good result, for *anybody*."
"A one-page resume just isn't going to cut it. With exception to entry-level and college students. I've never seen a client with over 10 years of experience get far with a 1-page resume. "
"I will skim for key indicators for fit- length is irrelevant, especially when my prospective candidates have years of experience. I look at the care taken to match the resume to the job posting and I really appreciate a well thought out cover letter."
When I was hiring,, 2-4 pages was ok as long as it was relevant information. Especially for those with longer careers. I'd much rather get more information that I can skim through if necessary, than not enough where I don't get a good sense of their experience."
PRO-SHORT (keep it brief!)
"I'm happy for pages relevant to experience, but I'm unlikely to read more than 2. If you have experience that takes more than that I would recommend starting with a summary section that highlights your qualifications and metrics of success for the specific role and then a chrono naming companies, tenure and high-level synopsis of the role while there. I'm not getting past the second page so make it stand out at the top."
"Treat the resume like a tweet. Less is more with the right content. "
"I have read more than a handful of resumes and can tell you they are LONG. Too long."
"1 to 2 pages. You don't want your resume to feel like work to the reader. At 3+ pages, it feels like work."
PRO-"IT DEPENDS" (with reasons why….)
"Depends. One word: Relevance. I am happy to read a long CV/resume if it's been crafted to align to the role advertised."
"Depends – I recruit mostly for government contracts and most important is that candidates fit the mandatory requirements. For more senior roles, longer resumes are required because the hiring managers will need to see specific skills and experience. For example, a Senior PM may require 10 years of experience managing projects with budgets over $1million per project. The more detail the better in this case!"
"2 pages. That is the ideal length for the resumes I review. However, if it's 3 pages I'm ok with it as long as it's relevant. Right away you can tell if a resume is their standard one size fits all (which is a no-no for any job seeker). If they have long careers, I don't tend to read past 10-12 years. The skills they exhibited beyond that should have transferred to their subsequent roles and accomplishments.
"A recruiter and hiring manager have a limited appetite to consume a resume. Make it tight. 1 pager is tough. 3 is generally too much. 90% are 2 pages. Lead with your best shot."
Below are the poll results. A clear winner is that resume length can matter. The most important thing is to keep the length reasonable.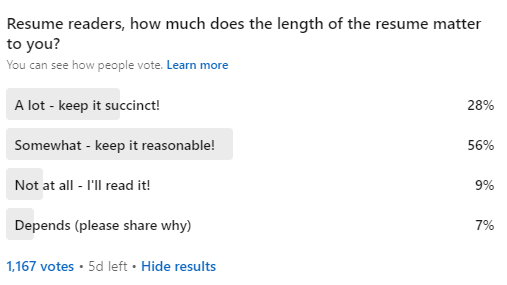 What do you think? Are you surprised? After reading some of the feedback above, what do you think is the best length for a resume?
If you want to read all of the poll's comments, check out the original post on LinkedIn.
My summary of these various insights and ideas is to ALWAYS consider your audience, tailor your resume content for every application, and focus on providing value to the reader. If the resume is easy to read and scan, and includes relatable details and supporting facts, the chances of the resume getting read increases, regardless of the length. Also, don't forget to pair your resume with strong strategies to increase success.