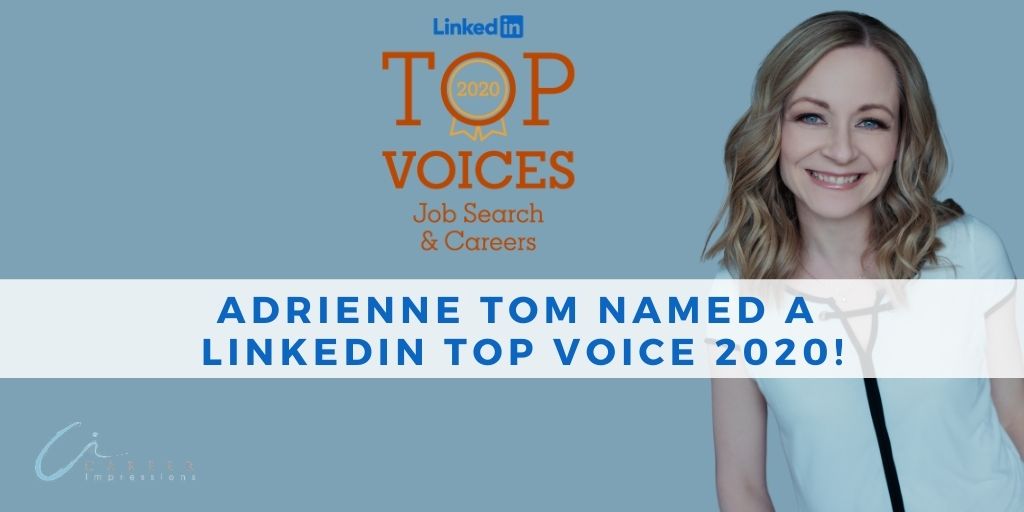 Named LinkedIn Top Voice 2020!

This month, I was extremely honoured to be recognized by LinkedIn as a LinkedIn Top Voice 2020 for Job Search & Careers.
The annual LinkedIn Top Voices list spotlights industry influencers and professionals driving important conversations on the platform.
Daniel Roth, Editor in Chief/VP at LinkedIn News, said, "this year's honorees asked the questions and elevated the topics that were essential to their industries, their roles and their colleagues. With so much uncertainty around them, they didn't preach prescriptions but instead sought ideas and spotlighted others. And, as a result, these professionals found the world gravitating to their voices."
Ten years ago, in April of 2010, I shared my first post on LinkedIn.
Although it initially felt a bit awkward and unknown (it was not yet a trendy thing to do), I stuck with it. My voice started small, but with time and effort, it rose in volume. After that first post, I committed to years of sharing insights week after week with the community. It is rewarding to have my content and expertise recognized and followed, knowing that my voice helps job seekers worldwide navigate the job search better.
I engage and share on LinkedIn for two primary re

asons.
The first is to help job seekers.
I work in a space where people are eager for quality resources to support their career health. It feels good to give and share, especially when I get consistent messages, letting me know that my tips and insights are making a difference. Here are a few notes that I recently received from people on the platform, including LinkedIn itself:




The second is for the community.
LinkedIn is one big giant community, and I am blessed to have met the most extraordinary people through the site. Last year I joined forces with three other career pros to form Job Search Secret Weapon, and I met each of these fantastic professionals on LinkedIn long before we met in person.
Besides a robust professional community that keeps me notified of current job search and resume trends, I continue to connect with and serve many senior-level professionals who find me on the site.
How can you improve YOUR engagement on LinkedIn?
You might be thinking your voice is too small to share on LinkedIn. You're mistaken.
The first step is to simply start! The timing will likely never feel exactly right, nor may you ever feel entirely comfortable. It will get easier. Like a machine that needs to be oiled to get it working at top speed, you must maintain your engagement activities on LinkedIn. If you stop working at it, things seize up.
Many of my executive-level clients do not immediately grasp the platform's value, but they know good things are happening on the site for others. They approach me intrigued and hopeful. Although most invest in building a great profile, a good portion does not take their strategy to the next level and engage (even with provided prompts and resources). Engagement is the sweet spot of the site, and just like in business, if you want to close a deal, the right people need to be involved. Conversations must be had. Trust must be built. 
If content sharing feels awkward, approach your activities from a relationship-building perspective and strategically share or comment on the posts of people who are doing things you love or working in roles you aspire to hold. Let your engagement stem from a need to connect, learn, and grow versus just sharing for sharing's sake.
Thank you, LinkedIn for selecting me as a LinkedIn Top Voice 2020. I credit the platform for countless connections, collaborations, opportunities, and support. LinkedIn truly brings people together.
To my online community, followers, clients, supporters, and blog readers – thank you. I feel so blessed.