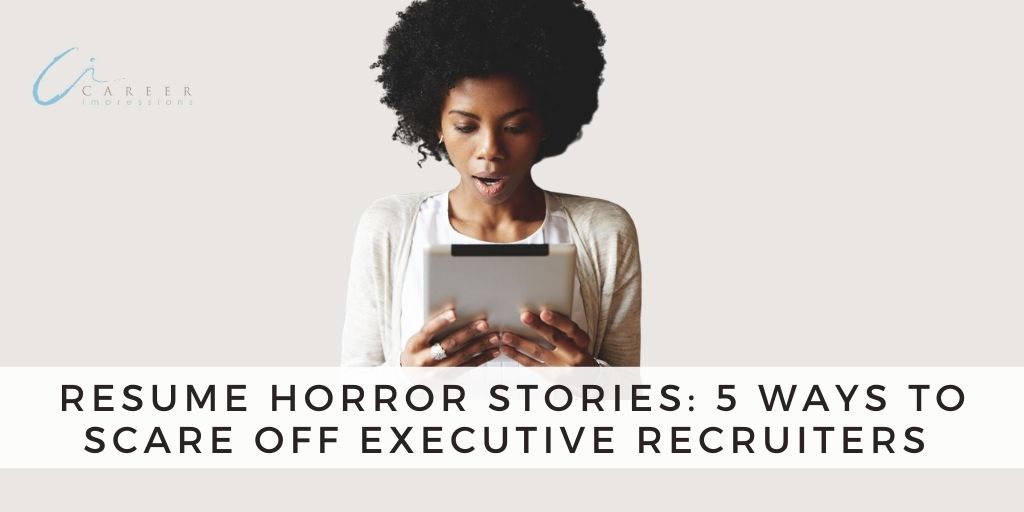 Resume Horror Stories: 5 Ways to Scare Off Executive Recruiters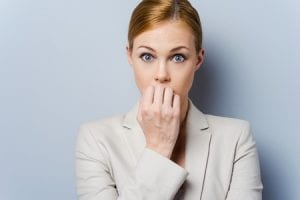 Are you worried that your resume could scare off executive recruiters?
In the spirit of Halloween, I reached out to several recruitment and HR professionals to ask for their favourite resume horror stories (ok, not all horror, but definitely some scary things to avoid). Their tips can ensure your resume doesn't spook readers away!
Horror
 Story
#
1:

Poor Formats
 that Make Content Hard to Read
HR Generalist Esther Kong shared that among her resume pet peeves are poorly formatted files. Poor formatting can make a resume hard to read. 
"I've received some resumes where the entire content was in plain text, and none of the information was itemized or separated into relevant categories." 
Why is this a problem? 
Recruiters only have a short time to look at your resume initially. If resume content is not organized into clear sections or itemized details, the file is difficult to scan and consume. Resume readers won't be able to quickly assess career history, skillsets, and strengths that align with their requirements – or locate your best impacts – fast. 
Make your resume easy to read. Organize work history in reverse chronological order with clearly identified sections with a mix of short statements and bulleted points.
Horror
 Story #2:

Elevated Job Titles 
To Jennifer Leon, Talent Acquisition & Employer Brand Consultant, there is nothing more irritating than individuals who inflate job titles on their resumes. She has seen this often, and it stands out as a big 'No' for her. 
"When people transition from one sector to another, or even from military to civilian, their job titles don't always line up. Some end up picking elevated titles – like CEO – that they think best matches the new industry and their experience, but they don't make sense." 
Why is this a problem? 
There are two problems here: 
1. Inflating your job title can imply that you had greater responsibilities than you had, and 
2. Made-up job titles can be perceived as lies. 
Neither situation is one you want to have to talk yourself out of in an interview. 
If your job title does not accurately reflect your work or may not seem well-known to a reader, add a related title in brackets or clarify the role focus in the job overview.
Horror Story #3:

Focusing on Job Tasks, Not Impact
People are unique. That's what Lisa Edwards, Director of Human Resources, had to say. What resume horror stories rise to the top of her list?
"Lack of originality, boring, and little detail. People are unique, and they should make their resume reflect that." What does she want to see? "Tell me about the impact you had in your last job; don't just list job tasks."  
Why is this a problem? 
Thousands of people may have been in the same role and been responsible for the same set of tasks. By not taking the time to focus on your impact – the actions and accomplishments that have made you unique and climb the corporate ladder – you are not showcasing what you can achieve. 
Instead of listing the duties that many others can do, showcase the impacts you made in each position. Better yet, quantify details, add specifics, and share metrics. Tell a powerful story to get noticed!
Horror Story #
4
:

Old and Irrelevant Roles
Sourcing Recruiter Heather Bellingham shared that what turns her off is seeing resumes that include old and irrelevant roles. 
"A resume is an iterative document that should be updated and changed frequently. Remove your roles from 20 years ago!" 
Why is this a problem? 
Your resume should ideally be a 10 to a 15-year snapshot that focuses on the most relevant experiences and accomplishments in relation to the target job. 
What happened 20 years ago might still be impressive, but the fact is…it was 20 years ago. Employers are more interested in what you are currently capable of doing for them. You have grown and developed skills over the past 20 years, likely making your most recent experiences more valuable.
You only need to detail earlier work history if asked for it in an application or if an older role is hugely relevant to your new target.
Horror Story #5:

No Connection to the Community
What scares Ashely Karpowicz, HR Manager? Reading a resume that does not include any community service or giving back. 
Ashley wants to see these details because "it shows passion for community and getting involved."  
Why is this a problem? 
Recruiters want to have a picture painted for them. Adding community involvement, board appointments, or even professional development activities helps paint a bigger picture of who you are. At the executive level, these facts help determine fit.
Listing community involvement showcases who you are outside of work while highlighting how you utilize your skills and experiences in different settings.
 Just ensure that the mentioning of these activities does not detract from other, more relevant facts. Space in a resume is at a premium, so detailing irrelevant hobbies, interests, or activities can also be seen as wasting space. Balance details accordingly.
Are you scaring executive recruiters away with your resume horror stories? Connect with me today to learn how I can help you create a resume that will help you level up, land faster, and increase your earning power.