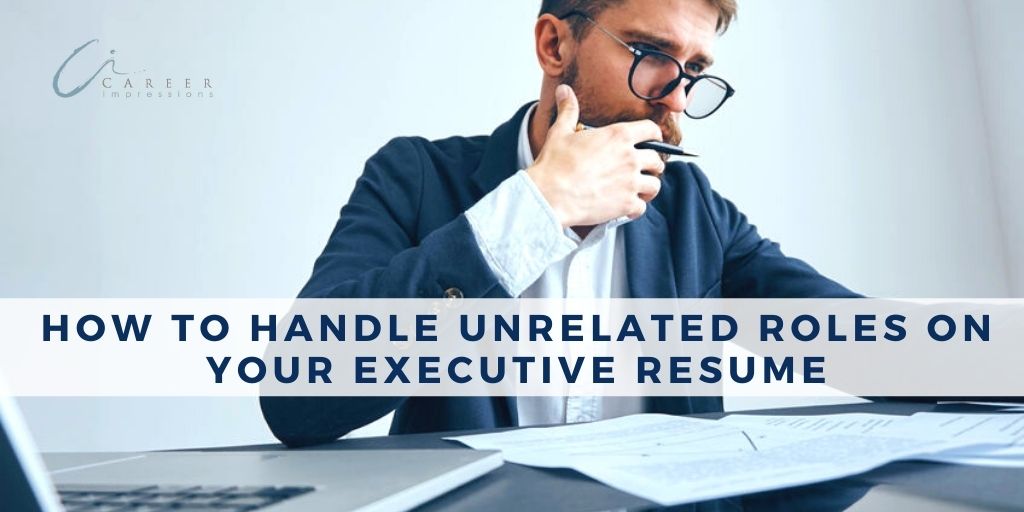 How to Handle Unrelated Roles on Your Executive Resume
Gone are the days where we find an employer and stay there for life. Executive roles are no different.
A recent report from the Bureau of Labor Statistics revealed that workers in management, professional, and related occupations held the highest median tenure at 5.5 years. An average of ~5 years per role means that a person may have 3 to 4 executive-level positions during their career, and not all roles are created equal.
As you prepare to seek that next leadership position, you might be wondering:
"How do I handle previous positions on my resume that are not related to the job I'm going after?" 
The simplified answer is to align your offerings with the target role's requirements. 
What does that mean, though? 
Every experience has value. You developed into the leader you are from the skills, talents, and knowledge honed over the years. When it comes time to write your executive resume, select your most aligned skills, talents, and experience to showcase yourself as a qualified leadership match.
Look at the roles you have held that 'don't fit' with your new target. Assess them and see if you can select details and examples that demonstrate transferrable or related skills. Information that does not directly align with the target job and audience should be kept off your resume or minimized.
Analyze unrelated roles with these questions to help unearth aligned content.
What were your big wins? Don't be afraid to brag. Highlight your most significant accomplishments in past roles to demonstrate commitment and drive. Give the reader what they need by strategically highlighting 'what matters most'. 
How did you save money? Dollars drive business. Industry or position title aside – if you saved a company money, the reader will see that you have the capability to do that for their organization. 
How did you improve processes? Every organization has methods, standards, and procedures to improve. Highlight the benefit that came out of any improvements that you created. 
How did you increase profits? Money talks. When it comes to referencing revenue, sales, or profit growths on a resume, exact figures help sell a point a lot more than generic references.
How did you impact the bottom line? If you cannot think of exact examples from the above questions, focus on how you impacted a business's bottom line in roundabout ways. What initiatives did you kickstart or champion that benefited business? Employers want to see how your efforts created results. 
How did you use transferrable skills? Transferable skills – also called soft skills – are skills that are useful in just about any role. The top seven are Technical, Communication, Critical Thinking, Multitasking, Teamwork, Creativity, and Leadership. Demonstrate in your executive resume statements how you utilized transferrable skills to perform well in roles.
Should you remove unrelated roles from your executive resume altogether? 
In some situations, it makes sense to remove unrelated roles, especially if positions were held way in the past. However, my recommendation is to include recent non-related work positions on your resume – as they provide insights on the chronology of your career – sharing related details from these time frames.
If you do not have related information to highlight, then a basic title, company name, and dates help 'fill the gap' on your executive resume. Employers and companies like to know what you were up to, even if the position wasn't related to them.
Remember, a resume is a snapshot, not a complete work history. This means you do not have to detail, in-depth, every past position. You only need to share what matters most! 
Whether you are writing your executive resume because you've been downsized due to COVID-19 or because you are looking to make that next career move, a targeted executive resume that showcases your value in each role will open more doors than one that does not. 
Don't let past positions stump you and prevent you from getting to the interview table. Focus on what matters and go forward!