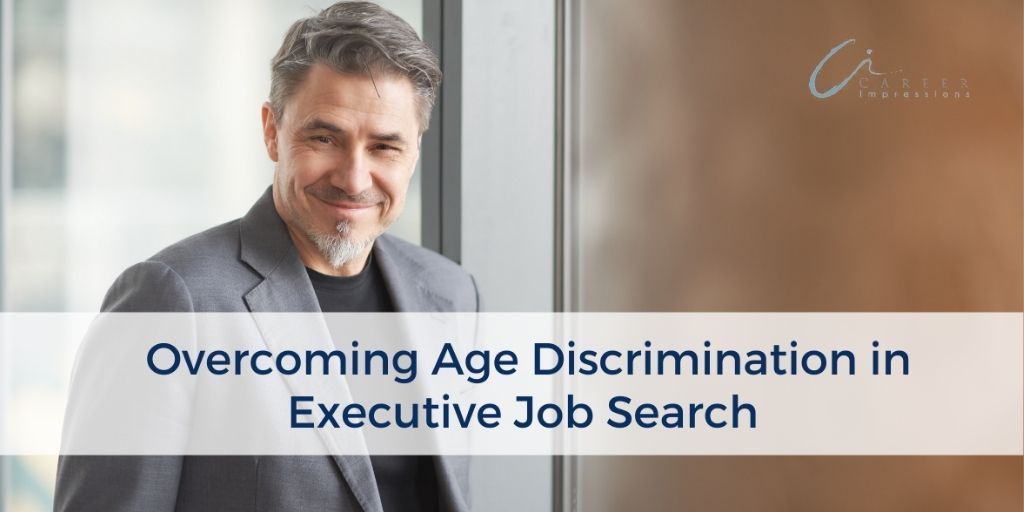 Overcoming Age Discrimination in Executive Job Search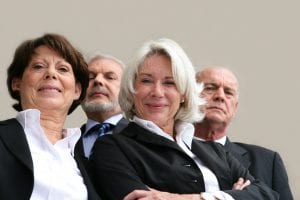 What's the best way to overcome age discrimination in an executive job search? Counter concerns and leverage your experience to depict yourself as an expert (and the best candidate for the job). Turn your age from a liability into clear ROI.
Job seekers over 35 cite age discrimination as a top obstacle faced (AARP) while searching for a new role. While it can be challenging to prove, ageism is alive and well in the executive job market.
The good news? With a bit of strategy and proper positioning, you can overcome ageism challenges and set yourself up for executive career success.
Counter concerns to overcome age discrimination in executive job search
Due to ingrained misconceptions, many employers may not even realize they are making snap judgements based on age. The best way to counter potential age-related concerns is to address them head-on and depict yourself in the opposite light.
Do they think you're inflexible and set in your ways?
Showcase scenarios that highlight your ability to adapt. Have you overhauled a department or initiated new processes and procedures? Share wins to prove this misconception does not apply to you.
Do they think you won't be up-to-date with technology?
Include recent courses on your resume that show you are up to date with trends and technology relevant to your industry. Show up on social media (related to your space) to prove you are current and comfortable with your online presence – including the creation of a complete LinkedIn profile.
Craft an outstanding executive resume that showcases expertise  
To craft an executive resume that overcomes age discrimination, be strategic about what you include. Look at your resume as a marketing tool rather than an autobiography.
Focus on more recent and related work history. Consider spotlighting just your last 10-15 years of work experience, minimizing earlier work roles that are not as relevant (think pre-leadership positions).
Within positions, rather than including every detail of each job and task, highlight specific wins and accomplishments that showcase relevant leadership skills.
Leverage your experience and expertise, focusing the content of this critical file on the value you can bring to the company – not the number of years you have worked.
Stay up to date with technology and social media
Keeping up with current trends in your industry is key to overcoming age discrimination in your executive job search. Show potential employers that you are a life-long learner who is seeking ways to grow and evolve.
Pursue professional development opportunities, especially those that complement or enhance your existing skill sets. Activities might include securing a board appointment, attending conferences, speaking or presenting as a thought leader, or taking classes.
Also, be present on social media (related to your space). Build an impressive profile on LinkedIn and leverage the site to help you network, seek job opportunities, and make new connections.
Assess your competition (and outperform them)
Learn as much as you can about top competitors. Could you brush up on any in-demand skills? Is there anything they lack that you can highlight in your job search collateral?
LinkedIn is an excellent tool to research and follow people of interest. Aim to learn from others that are currently working in the type of roles/companies that you want to be in.  How did they get there? What skills do they possess?
Look for ways to depict yourself as the stronger choice over other candidates and position yourself for future opportunities.
Position yourself as a go-to expert in your field
How can you use your years of experience to an advantage? Portraying yourself as a leader, mentor, and expert will highlight the value you bring to a company (and give you a leg up over competitors).
Volunteer to be a guest speaker at an event or on an industry podcast, write an article or guest blog post, do consulting work, share your thought leadership on social media platforms, or mentor those entering the field. Let potential employers see the value that only experience can afford.
Network
One advantage you may have over younger candidates is the connections you have built over the years.
Continue to foster relationships and actively reach out to your network to ask for information, leads, or referrals – you never know where you will find your next executive role.
Networking is a critical job search strategy at the executive level as top roles are often not advertised. Get on the right people's radars long before jobs become available. Ensure you have an active presence in the industry, a strong reputation, and well-known results that keep you top of mind.
Find the right company for you
Company culture plays a significant role in age discrimination during the hiring process. Young, edgy start-ups may not be the best fit if they only bring on employees with the same qualities.
Focus your job search on companies that value diversity and have a wide range of employees. Research organizations carefully to identify fit and culture. Know which organizations would be a good match for your skills and offerings.
Overcoming age discrimination during executive job search comes down to highlighting your value, positioning yourself as an expert, and leveraging your experience as an asset. Get in front of age-related concerns to sway opinions.
Continue the conversation on ageism in the hiring process with me on LinkedIn, or read more about crafting a compelling resume that lands your next executive role.