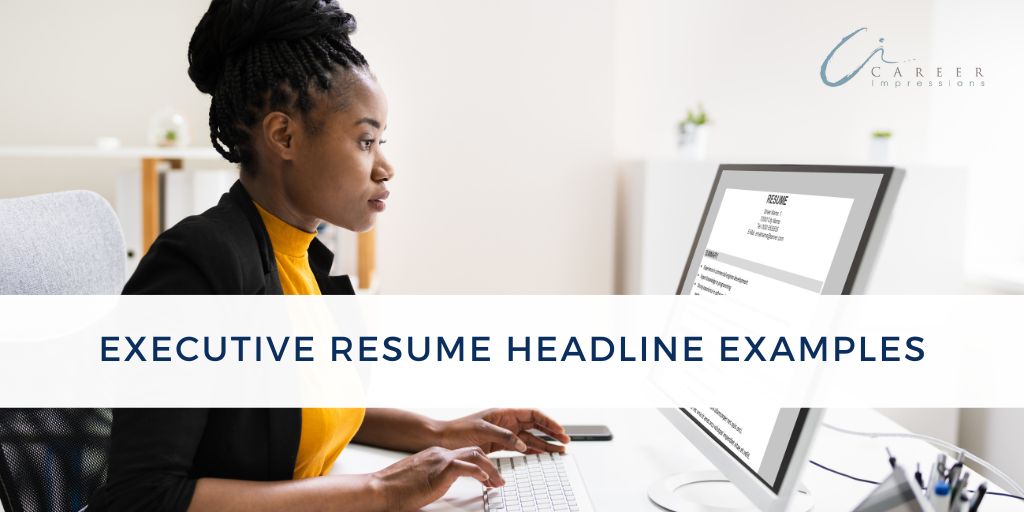 Executive Resume Headline Examples
The executive resume headline appears at the very top of the resume, just after the name and contact details. I'm often asked why a resume needs a headline at all.
The reason is simple and important. A well-defined executive resume headline at the start of your file addresses the 3-Cs for readers:
Clarifies your job target and states intent
Clearly outlines your personal leadership value
Compels employers to keep reading by addressing their needs
Regardless of the type of executive role you have in your sights, a resume headline should be written for the job you want, not the job you have.  This means the headline can and should be customized for different applications. It should also present your value and offerings in a strong, succinct way that resonates with readers!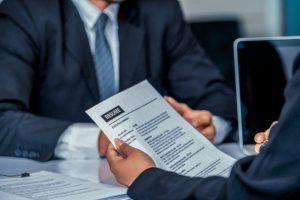 Tips for crafting an effective executive resume headline:
Customize for Every Application
This step is critical to headline success. As you always want to address the reader's needs, the headline must align with role requirements.
Make your job intention clear by stating the position target in the headline. In addition, add supporting details that strengthen your application.
For example, if you are applying for the role of CEO/COO, this should be the title of the headline. You may also wish to add details to your headline like P&L or budget oversights, types/sizes of organizations you have exposure running, employee totals, core skill sets, or even a tagline or impact figure that summarizes ROI or your unique value proposition.

Keep it Concise
A short and succinct headline packs more punch. Rambling or dense text defeats the purpose of a "caption" and may distract the reader from clearly identifying your target, intent, alignment, or ROI.
If your headline and tagline run more than one line long, employ design components  like colour or shading to break content into more easily absorbed sections, like the following:

Cut the Fluff
Steer away from generic statements, overinflated announcements, or superlative words like amazing, excellent, and superior. Be authentic, focus on facts, and let your unique value speak for itself.
Also, avoid the temptation to copy other professionals' profiles or headlines; your resume is unique; therefore, your headline should be too. Carefully contemplate what makes you unique and valuable as a top executive. Then promote it!

Clarify with Metrics
Numbers and measurements speak volumes and provide resume readers with a clearer scope and level of ability. Consider weaving any of the following numbers into the resume headline if you have them:
Team sizes
Organization sizes / types / locations (national or international)
Revenue, profit or sales growth figures
Budget or P&L oversight

Include Keywords
Keywords have two purposes in a resume. They help with resume ranking/alignment and address the reader's requirements (requested skill sets).
Address the audience and 'speak their language' by incorporating keywords from each job posting into the headline.

Consider Including a Tagline / Value Proposition Statement, and/or Impact Statements
Although not necessary in all executive resume headlines, you can expand the headline to include a tagline or value proposition statement (a great way to summarize your offerings, incorporate keywords, demonstrate scope, and share your unique value-adds).
Alternatively, you can consider including a few impact statements within your headline or positioned near the start of the file. After all, the top 1/3 of the resume is prime real estate. Readers typically spend a good amount of time in this area. Impact statements should be hard-hitting, results-rich, relevant to the target, and concise – like the example below:

Additional Resume Headline Samples:
At the senior professional level – especially for executives – numbers are paramount in the headline. Ensure to highlight specifics, growth statistics, and other measurements from career experience and position them at the forefront.  Consider big career wins and bottom-line business impacts that speak for themselves.  Kick-start the file with strong statements and robust details, but ensure an authentic voice and honest details.



Regardless of your approach with your executive resume headline, keep it concise and easy to read. Also, ensure the headline addresses the 3-Cs!
Looking to learn more about the latest executive resume writing trends for the year ahead? Check out my popular annual post on resume trends.