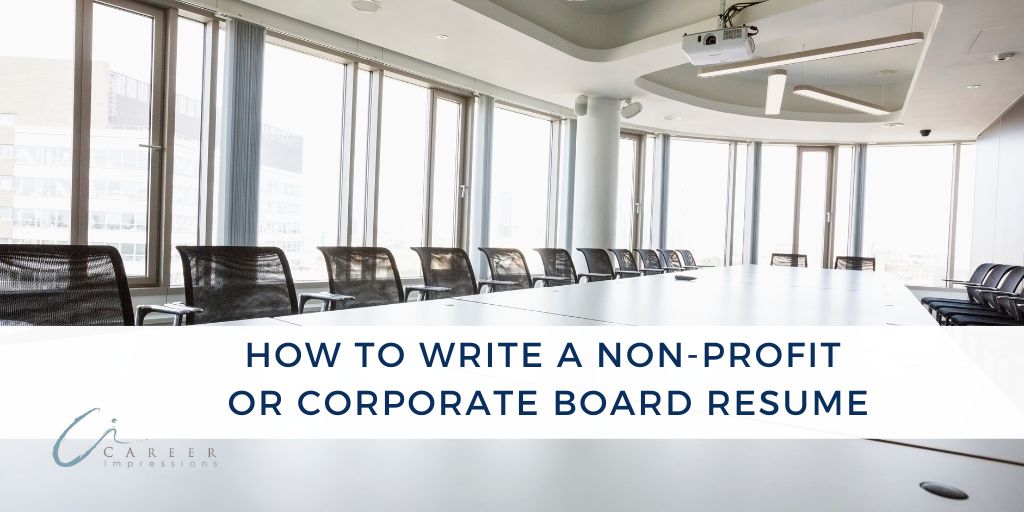 How to Write a Non-Profit or Corporate Board Resume
If you've been asked to submit a non-profit or corporate board resume, you may wonder how they differ from a standard executive employment resume. The answer is that there are both differences and similarities between the two.
Much like writing a resume for a job search, it is important to know your audience before you begin. There are many things to consider, from the broad to the specific:
Are you targeting a corporate or non-profit board?
Does the company or organization the board support fall within a specific industry?
How are board members recruited, screened, and selected?
What skills, expertise, and experiences are relevant to board service?
Your answers to these questions will influence the overall tone of the resume, what to include, what to exclude, what to spin differently, and what keywords to build into the content.
Corporate or Non-profit Board?
Before examining the similarities and differences between the two types of boards, consider the overarching differences between corporations and non-profit organizations.
Stockholders own for-profit corporations. They focus on generating money for the owners and measure success by profits.
Non-profit organizations are owned by the public. They focus on serving the public and measure success by meeting the needs of the public.
Whether the board oversees a Fortune 500 company, another type of for-profit company, or a nonprofit organization, there are more similarities than differences. Every board has written articles of incorporation, bylaws, and governing principles that outline the board of directors' responsibilities. Standard board policies cover member independence, conflict of interest, conduct/ethics code, expectations, confidentiality, and indemnification.
Taking the time to familiarize yourself with these when targeting a specific board of directors will help you formulate your resume strategy.
Planning Resume Content
Identify your areas of expertise and how they might benefit your target board. Both corporate and non-profit boards need members whose experience and expertise fall within a range of requirements.
Experience within the same or similar industries and insight into customer/client needs are also essential. And both types of boards value members who have access to various resources (government connections, attorneys, accountants, consultants).
Commonly Desired Board Skills
Budgeting and finance
Human resources
Technology and cybersecurity
Strategic planning
Risk management
Succession planning
Governance and compliance
Marketing
Public relations
Consensus building
Diversity and inclusion
Corporate boards also seek global experience and expertise in mergers and acquisitions, research and development, IPOs, shareholder proposals, and investments.
A few terms that are commonly heard in corporate boardrooms — and that you'll want to consider including as keywords in a corporate board resume— are earnings per share, EBITDA, quarterly returns, stock buyback, real estate transactions, Sarbanes-Oxley, and Dodd-Frank.
On the other hand, non-profit boards seek members whose expertise may include grant writing, fundraising campaigns, donor relations, endowments, 501(c)(3) applications, and volunteer management.
Common Keywords for Non-Profit and Corporate Board Resumes
Some additional keywords you'll want to include in a non-profit board resume are donor capacity, restricted/unrestricted gifts, pledges, stewardship, community education, foundations, fundraising, and capital campaigns.
Keywords representing personal style in corporate and non-profit resumes may include consensus builder, collaborator, motivator, strong communicator, influencer, and diplomatic.
Although you want to draw attention to your contributions and accomplishments, avoid language that suggests you single-handedly brought about results.
Whereas the content and tone of a jobseeker's resume is geared toward promoting the candidate and, ideally, elevating his or her career, the president and CEO of BoardSource made the distinction in tone and content clear in the following statement: "When you join a board, what you are really saying is that you agree to put your personal interests and ambitions in the background. You are there to best serve the interest of the company or organization."
Resume Sections
The overall format of your board resume is not that different than your job search resume; however, sections considered optional or secondary to actual work experience have more credence when positioning yourself for a board of directors' role.
Letterhead
As with all resumes, design your letterhead so that your name is clearly visible and important contact details are present (phone number and email). A personal mailing address is not required, but you might also want to share a link to your LinkedIn profile and/or a personal website (if you have one).
Headline
The headline should clarify that you are targeting a board position and may include some key functional areas of expertise you bring to that position and the industry in which you have gained this expertise. For example:
Target: Board of Directors — Commercial Banking & Finance
Financial Analysis | Mergers & Acquisitions | Audits
Profile or Summary
This can be a paragraph of three to five sentences or a few highly-relevant bulleted statements. You want to highlight your knowledge of, connections in, and commitment to the industry or community in which the board is involved. You only want to spotlight key impacts or skill sets related to the board role.
Board & Committee Experience
On a board resume, this section should appear on the file's first page and before Employment Experience – if you have had any board or committee commitments.  Outline each position you held, the name of the organization it was with, and the dates you were involved (even if they are irrelevant to the position of interest because they still demonstrate your commitment and leadership skills). You may also consider sharing a bit about each organization's size/type/industry, along with the board's mandate.
Include one to three bullet statements sharing specific achievements or accomplishments within each role. Be sure to focus on relevant skill sets applied or learnt. Even if you only provided guidance or evaluation, share an example of how you participated and added value to each role.
Employment Experience
As you develop this section, think more big-picture and less detail. Unless your responsibilities and tasks are specifically relevant to the role you would perform on the board, try to keep the information very high level. Make sure you integrate relevant keywords and, when specifying accomplishments, spin them in such a way as to show they were the result of a collaborative effort.
As a board resume writer, one of my strategies is to identify a critical board skill and an example of you applying it successfully in a role. Introduce the bullet point with the skill itself – which accomplishes two things:  it adds an important keyword and makes an immediate association for the reader.
Education / Professional Development
In addition to the type of degree and field of study, include any honours received. Also include professional credentials, certifications, and relevant conferences and workshops completed. Some people may only highlight certain degree programs or studies at larger, more recognized institutions. The choice is yours. Consider the space you have and what the board may find relevant.
Optional Sections
You might also include dedicated sections or details for board skills, professional affiliations/memberships, recognitions/awards, community involvement/volunteer experience, early career, and presentations/publications. And because diversity (age, gender, race, and ethnicity) is a key consideration when selecting board members, you might include things that you would normally downplay on a job search resume.
Corporate Board Resume Sample
Here is an example of the first page of a corporate board resume. This is an example only and is not to be copied or used.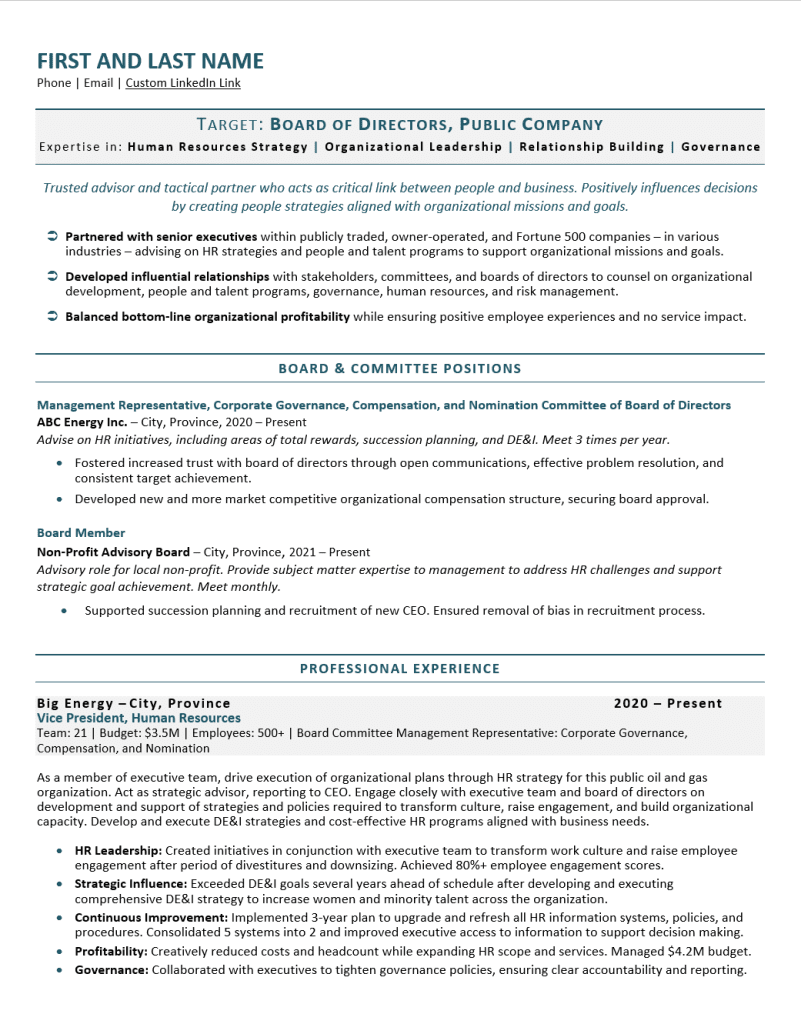 Final Notes
As with all resumes, it is important to be succinct, focused, and truthful. Typical board resumes are 2 pages in length. You can condense earlier (relevant) experiences into an Early Career section if you have a very long career history. The goal of a non-profit or corporate board resume is to convey your experiences as they would benefit the target organization. Content must be concise and customized for each unique audience.
If you are looking for more insights on the different types of boards of directors, the roles, the structures, and how to go about searching for a board position – check out our new guide, "Searching for a Board Position: Things to Know and Strategies to Help."
Additionally, Career Impressions offers dedicated resume writing services focused on creating board resumes. Check out our board-level service packages on the website.