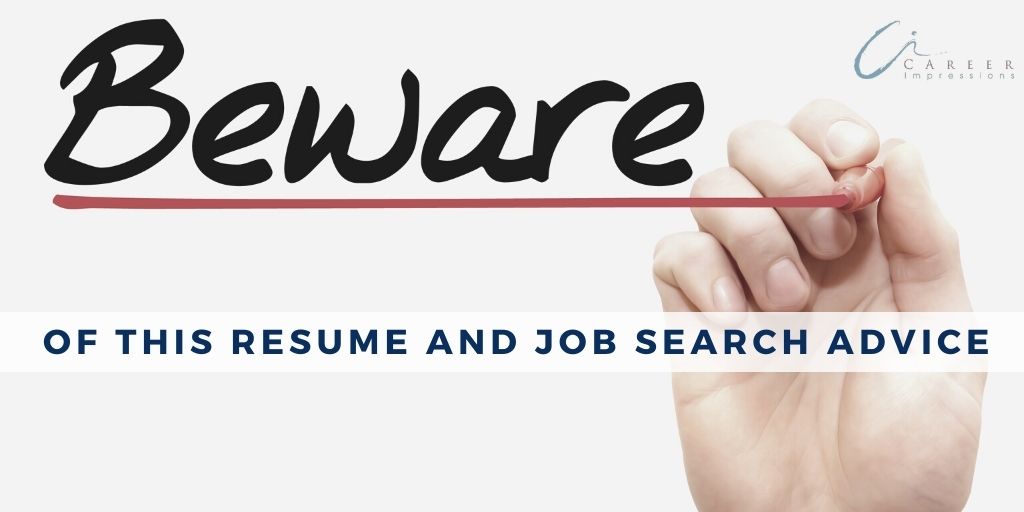 Beware of Narrow Resume & Job Search Advice
Have you ever read or heard any of the following resume and job search advice?
🚩 Your resume should ONLY be 1-page long!
🚩 NEVER apply to jobs online!
🚩 Resumes are DEAD!
🚩 You must meet ALL of the job requirements to be considered for the role!
🚩ATS is a big bad bot that you must 'get past' or 'beat'!
I bet you have come across some of the above narrow statements, especially if you are job searching. Sometimes the advice is given out with good intention, but it may not be customized for unique situations, which leads to confusion and frustration.
Be wary of this type of narrow advice about resumes and job search. Job seekers like you are looking for quality, actionable advice to support an expedited and successful search. It can be easy to get sucked into 'you must' and 'you should' warnings when you want a fast result. Yet, not all advice is equal.
To help ensure you are receiving and applying the best advice, assess a wide variety of opinions.
Look for common threads and themes versus loud or extreme statements. Work to understand the job search process and current resume trends. Is advice modern or outdated? Delivered by a reputable source or a less experienced 'influencer'?
Start trialling some of the advice to see what works best for you. Remain open and flexible but diligent in qualifying sources.
The truth is, there is no ONE perfect way to job search. There is no ONE perfect way to write a resume.
Resume and job search advice are diverse, for a good reason.
What works for one person in a job search may not work for another.
More flexible and modern advice for consideration:
▶️ Yes, you can apply to jobs online BUT you should also consider other application methods.
▶️ Yes, your resume can be 1-page long if that works best for you, OR it can be longer.
▶️ No, resumes are not dead. They are still used daily in the hiring process. Are they evolving? You bet.
▶️ No, you do not need to need to meet ALL the job requirements before applying. Very few people will. Aim for a good match, not a perfect one.
▶️ No, ATS (applicant tracking systems) do not work this way.  They sort and store resumes. Yes, you need a targeted resume to be noted as a good match.
You are unique, therefore your resume and your search process will be too. Beware of narrow resume and job search advice and partner with a qualified career professional if needed, for assistance.
What other advice have you heard/come across lately that needs to be squashed or better explained? What advice confuses you the most?