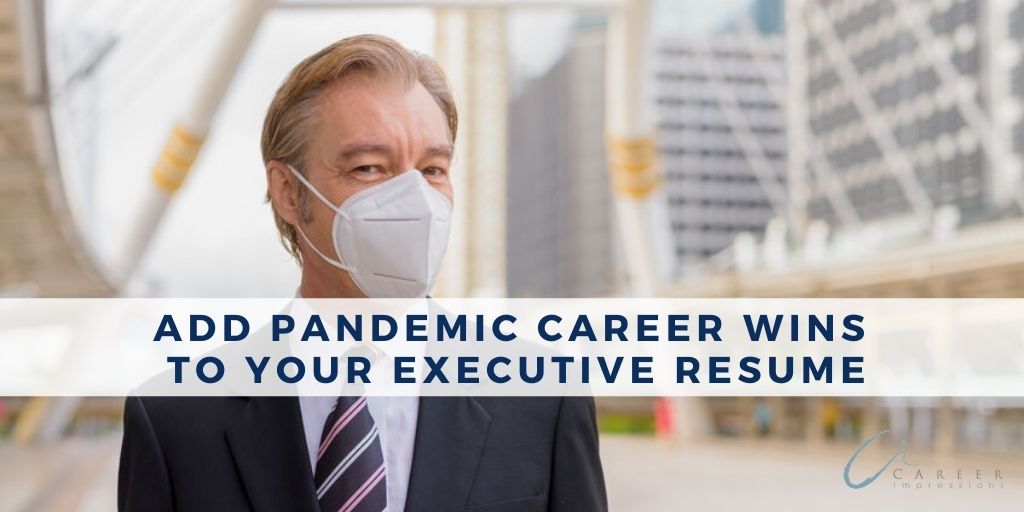 Add Pandemic Career Wins to Your Executive Resume
Executives, have you thought about what career wins you can add to your executive resume due to the recent pandemic?
Over the past several months, you have likely faced new business challenges, strengthened or expanded your leadership skills, and/or demonstrated a heightened level of resourcefulness and resiliency.
Your competitors are likely tracking their achievements and building enhanced executive resumes to support their next job move. You need to as well.
First, identify the business challenges you managed since the pandemic started.
COVID-19 has pressured almost all businesses and leaders to think differently and adapt. What were some of the biggest problems or difficulties to land on your leadership plate these past few months?
Many organizations had to pivot operations, transition staff to work from home setups, staunch bleeding financials, revaluate resources, or adjust offerings. What big task(s) did you take on?
Challenge Example:
Need to find a way, very quickly, to continue offering critical product training for 300+ customers during pandemic lockdown to avoid losing business contracts and retain revenue.
Next, consider which actions and skillsets you utilized to tackle significant challenges.
New challenges often demand elevated or innovative skillsets. Common competencies called upon during COVID-19 include adaptability, problem resolution, flexibility, critical thinking, increased communications, and emotional support. 
As an executive leader, other staff or teams may have looked to you to take the reigns, steer the ship, and maintain a steady calm during turbulent times. What actions did you take to address and resolve tough challenges?
Action Example:
Initiated discussions with the IT department to build and roll out a new training platform as quickly as possible. Directed communications with customers to ensure transparency and to alleviate concerns. Transitioned customers and staff to the online platform within weeks.
Finally, note the results you delivered.
Most important of all, are the results your efforts generated. Future employers will surely see the benefit of hiring a savvy leader who has weathered difficult times and helped companies come out ahead (or at least be better off).
Note the business impacts you created. Did you save money, make money, increase employee engagement or satisfaction, improve customer service, introduce new policies or processes with benefits, initiate improvements, or drive necessary changes? Did your leadership efforts produce more business or save the business from spiralling in a negative direction?
Ensure you capture exact metrics. The more specific your examples and details, the better.
Results Example: 
Built and launched a new online customer training platform within 3 weeks. Maintained 95% of monthly revenues during the rapid transition and achieved 90%+ customer satisfaction rating.
Now, roll all of the above into strong statements to add to your executive resume.
Own your career wins and positive contributions during COVID-19 and add them to your executive resume. Roll each challenge, associated actions, and end results into strong high impact resume statements that scream VALUE!
SAMPLE STATEMENT FOR THE RESUME:
Initiated creation and launch of new online customer training platform in just 3 weeks, ensuring seamless product training during COVID-19. Secured 90%+ customer satisfaction and retained 95% of monthly revenues.
Whatever your achievements, note them and shape them into your career story.
How you performed during COVID-19 as a leader matters and will continue to matter in years to come. Weave career wins from the pandemic into your executive resume to demonstrate your ability to adapt, adjust, accommodate, and grow as a leader during unprecedented times.
Additional executive resume resources:
Executive Resume Strategy: Share Your Leadership Story
Stop Trying to Produce Your Executive Resume Under Pressure