Executive Resume Mistakes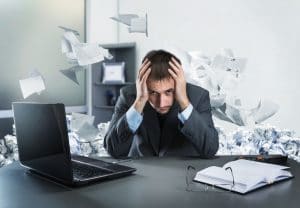 Your executive resume communicates your message and shares your value. If compiled incorrectly, this file could prevent you from being hired. Make sure your resume resonates in all the right ways by avoiding these common resume mistakes:
Resume Mistake #1:
Not making it easy for the employer to spot value. In other words, not aligning content with employer requirements and using resume content that is too general, vague, or generic.
FIX: Write your resume with each unique audience (employer) top of mind. Every detail in the resume needs to align with job requirements and demonstrate how you can add value to the target company. Value is best demonstrated through proof of results and relevant skills.
Don't just tell the resume reader: 'I'm an excellent communicator" – this is weak and difficult to measure. Instead, provide specific, concrete, quantitative examples of how you've utilized communications to positive end result. Such as: "Retained $1M key client by initiating weekly meetings to assess and address unique requirements. Fostered open dialogue and consistent communications to ensure client felt heard and valued.".
Resume Mistake #2:
Resume content is heavily task-focused. Employers are not interested in the tasks you performed in each past position. They are most interested in what you can do for *them*!
FIX: Focus heavily on specifics and results, not basic job duties, to create interest and support your case.  Provide proof of the skills and capabilities you claim to possess.   Quantify achievements and spoon-feed the reader exactly what they want to hear. For every resume bullet, ask yourself, "so what?".  How does this content add value to the reader, and why does it matter?
Finally, aim to answer: how many, how much, and how often in resume statements to boost the quality of content and keep details focused on what matters most. Instead of just saying: "Produced cost-savings ", try: "Saved $25K in annual licensing costs by negotiating vendor contracts."  The second statement is more results-driven with specific metrics and context.
Resume Mistake #3:
Resume content is dense and not easy to scan, drowning readers within long narratives. Readers desire short and well-tailored overviews that address specific pain points succinctly while showcasing coveted skills.
FIX: If you want your resume to be read by a human reader, the file must be easy to scan and absorb. Employers are often short on time and want to know "what's in it for me?" – fast – when they read a resume.
Keep resume content in check by aiming for an average of 2 pages. Resume length may be slightly longer for those with more robust executive careers. Mix up content delivery by sharing details in both short paragraphs and bulleted form.
Aim to keep bulleted statements to 2 lines as often as possible for easier readability. Eliminate unnecessary filler words like "a, to, by, the" to sharpen content focus. For example, instead of the lengthier: "Created and implemented new marketing campaign in close collaboration with five people on the team, which generated a 10% year over year increase to sales.". Summarize more succinctly: "Generated 10% YOY sales increase, working with a team of 5 to create and deliver new marketing campaign".
Finally, no need to list every job you have ever had on your resume. Consider focusing on just recent 10 to 15 years of work history, distilling details to focus primarily on relevant and well-aligned results from each past position.
Resume Mistake #4:  
The resume look and format is aging you. A reverse-chronological resume typed in black Times New Roman font screams old-school, not up-to-speed savvy professional.
FIX: Write your resume uniquely. Word templates are both outdated in look and strategy. You need a resume that supports individual career background, offerings, and job targets. With a specific audience in mind, consider ways you can position content in a modern design that is both succinct and impactful. Demonstrate how you are keeping with the times with a fresh look (both content and design).
Yes, you can use color, charts, graphs, images, testimonials, and logos in your human-friendly resume. Within reason of course. Expand beyond plain text on a plain page (this isn't the fax age – it's the mobile age). Put yourself in the reader's shoes and consider how to make content pop.
Resume Mistake #5:  
Key content is buried within the file and often overlooked.  
FIX: Position some of your greatest, and most related, career achievements near the start of the file for immediate hook-and-grab. Instead of burying key content throughout the body of the file, where it may never be read, select a sampling of your most valuable career achievements and position them at the top of your first page.
Create a Key Achievements section or weave value-added accomplishments into your opening Summary. Make it easy for the reader to spot big wins and understand offerings right at the very start of the file, compelling them to read more!