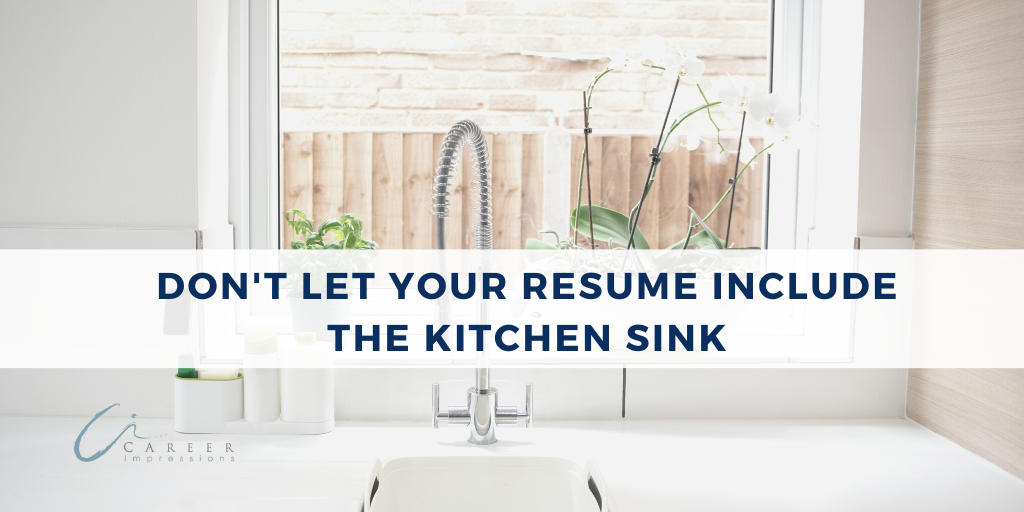 Your Executive Resume is No Place for the Kitchen Sink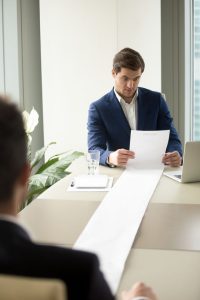 I still speak to professionals and executives who want a resume that includes "the kitchen sink" – or every last detail of their employment.
These misguided job seekers want every, single detail of their employment history included. They advocate for long-winded job overviews and copious amounts of facts. They add and add to their resume with no strategy or focus, mistakenly insisting that more is best. It's understandable; people get attached to content. They struggle to let go.
Employers don't appreciate long-winded or generic resume material, and they are the ones qualifying the content.
Busy resume readers want straight facts they can relate to. They prefer to be spoon-fed examples of evident accomplishments (just a few!), and they only want to read details that demonstrate clear value.
Long-winded resumes are rarely fully read. Most resumes are initially scanned. If the file does not perform well in the initial review, it will get tossed aside. If you are wondering how well a densely packed resume, with a laundry list of material (aka: the kitchen sink), performs in a quick scan, it doesn't.
This is why it's essential to keep resume content focused and succinct. When it comes to a good resume, less can be more.
Past performance is a solid indicator of future performance, so don't waste too much of the reader's time reiterating what you were 'responsible for'. Share results that align with their needs. When job seekers insist on expanding, expanding, expanding their resumes, I often share this reminder: even though a resume is all about you, it isn't MEANT for you.
Consider the audience. Strong, modern resumes provide just enough detail to demonstrate value and position match. Nothing more. They are dynamic, tailored, and compelling…not overwhelming, inconsistent, and burdensome. If your file is starting to expand or you can't narrow details, you risk losing the reader's interest or watering down impact.
Ask yourself, is your resume:
Scannable? Will it pass the quick initial review??
Succinct? Is it easy to spot value and results??
Relevant? Does every word relate to the posting at hand? If not, revisit and re-tool. Think *quality* of content versus quantity.
Other considerations and expert tips to help keep resume content under control:
Read your resume on a mobile device. Is it easy or difficult? More and more recruiters are reading resumes on devices, so make it easier for them.
Look at award-winning resume samples to learn how to utilize modern strategies to highlight key content in a short amount of space.
Present resume content in clear sections and manageable 'chunks'.  For example, keep role overviews to just 2-4 sentences and bullet points to just 4-6 per role.
Consider an addendum if you absolutely must. An addendum works well for project managers or consultants who've performed in many unique roles and may need extra space to share their career stories. The addendum should only be shared when interest is expressed.
House additional career details in your LinkedIn profile. This site is an excellent space to share media links, presentations, awards, professional development, or earlier work history. Point readers towards these facts by sharing your LinkedIn URL on your resume.