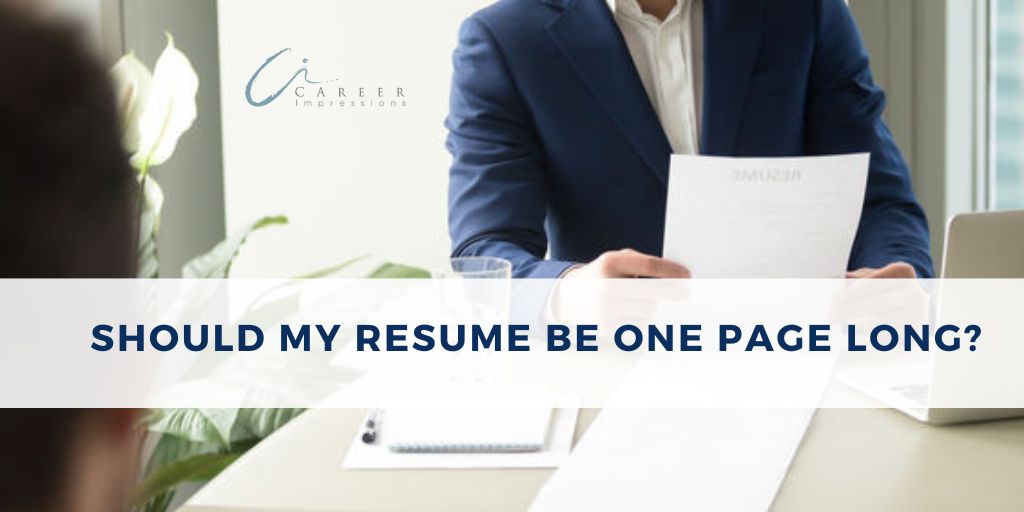 Should My Resume Be One Page Long?
I'm often asked what the perfect resume length is.  Like everything resume-related, the answer 'depends' on many factors.  There is no "rule" that a resume should be a specific page length, especially not just one page. That is because length alone does not determine resume effectiveness.
Yet, page-length rumours persist.
Job seekers are often misled that recruiters, hiring managers, and HR professionals won't read a resume longer than one page. That's simply not true.
While most resumes are only read for seconds when first screened, the first review is simply to determine a match. The resume will be read in more detail if the applicant is considered a serious candidate.
Regardless of length, if the person reading the resume decides you're not a match for the job, he or she will stop reading it. But if you fit job requirements and share compelling content, that person will want to know more.
When hiring managers and HR professionals are surveyed about resume length, the consensus is: "as long as needed to convey qualifications"… and not one word more. This means writing 'lean and clean' to maintain a reasonable length while providing quality content to support decision-making.  A fine line.
Here are some guidelines for keeping resume length in check:
 If your resume spills over onto a second or third page for only a few lines, it's worth editing the text or adjusting the font, margins, and/or line spacing to reduce pages. Check out these space-saving tips.
Don't bury key information on the second page. If the first page doesn't hook the reader, he or she may never get to the good stuff.
Don't be afraid to go beyond two pages if your experience warrants it. Senior executives often require three pages to convey a robust career. Yet content should still be customized and value-driven.
Make sure that everything you include — regardless of length — is relevant to your job target and what the hiring manager will want to know about you!? Focus on metrics and achievements, not tasks. This strategy will keep details in check.
Remember that not every resume is printed. Many are read on a screen. Ensure the file is easy to scan on any device or by any person, by letting the file breatheeeeee. Don't cram content in tiny font onto just one page (as per the advice of a respected recruiter):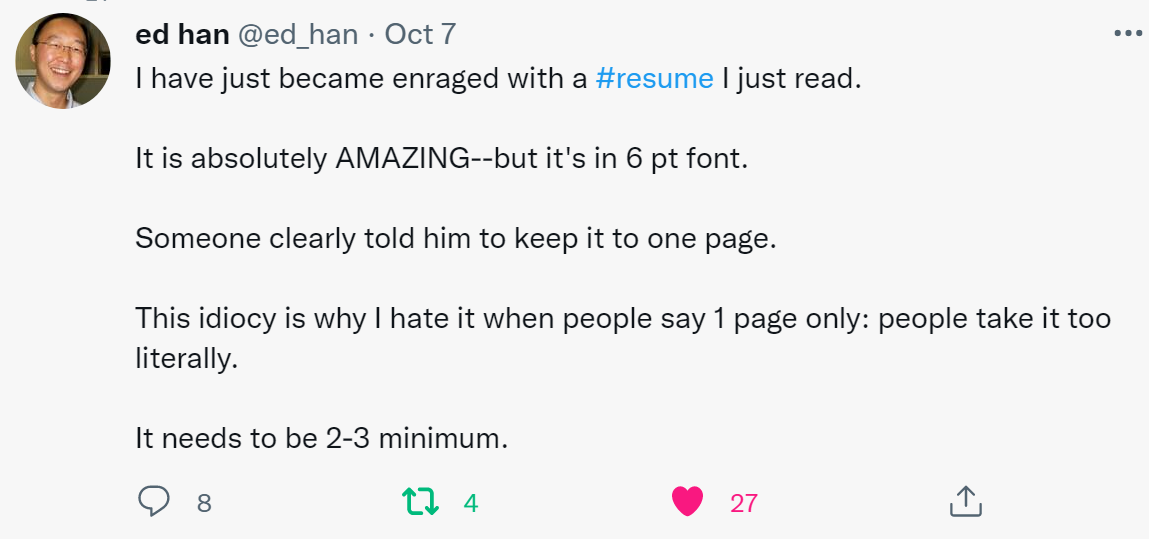 Be Cautious of 1-Page Resume Rules
How often have you heard someone say a resume must be 1-page long? Or, read this advice online?
I've heard this more times than I can count. Heck, I still see posts in my social media feeds — with 'recommended resume templates' — that promote 1-page resumes as the best.
Yet, a study found that "recruiters are 2.3 times as likely to prefer two-page resumes over one-page resumes", regardless of career level.
This same study also noted that "recruiters spent nearly twice as much time reading through two-page resumes."
Food for thought.
Now I'm not saying 2-pages work for everyone — because guess what? Every job seeker is unique, and therefore resume length may vary.
Ultimately, you need to be strategic with resume length and ALSO focus on other factors to support resume success, such as:
• How the resume is presented. If the resume is sloppy and hard to read, it won't matter how long (or short) it is.
• How the resume is targeted. Generic resumes of any length do not perform as well as tailored files.
• How impactful the content is. Basic job overviews won't earn you any distinction. Share specific examples of success that relate to the role.
Instead of obsessing over resume length, focus on writing a resume that demonstrates value to the reader. Make content so good and so relatable that the reader won't want to stop reading!!
Looking for help writing a resume that gets to the point but still delivers impact? Reach out to discuss.