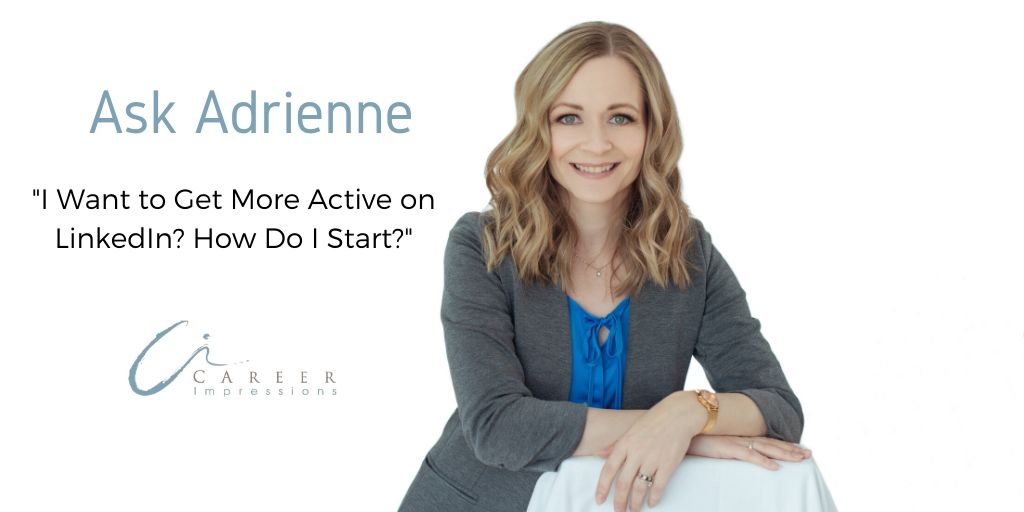 Q&A: I Want to Get More Active on LinkedIn? How Do I Start?
Question: For job seekers looking to get active on LinkedIn, what do you recommend as beginner steps to raise visibility?
Answer: The first step…is to simply get started.
For job seekers looking to increase their visibility and get more active on LinkedIn to support a job search, the very best thing you can do is start – and don't stop. The key to LinkedIn success is continuous and active engagement.
Visiting the site is step one. Building a strong LinkedIn profile that gets you found and shares your value with readers is step two. Engaging on the site is step three, which is arguably one of the most important, yet often overlooked steps.
If the thought of engaging on the site intimidates you, don't overthink things. Small steps to start can ease the pressure. There is more to gain by joining in, versus avoiding LinkedIn altogether. If you aim to keep interactions professional and personable, you will do great!
How to get started
If you don't have posts of your own to share on Linkedin, no problem. Start by commenting on other people's posts, especially where you can add insights and thought leadership. Commenting on posts of interest, or from people in your industry, helps train your feed. The more you like and engage with posts of interest, the more these posts appear in your feed.
Focus on areas and topics that you are most comfortable with (your area of expertise) and strive to connect with like-minded people on the site, commenting on posts to demonstrate your knowledge and value.
Remember, the site is a place to build rapport and relationships. Simply 'liking' a post isn't active enough – and won't yield better visibility – so stretch yourself to provide professional, quality comments and advice.
My Story
I, like everyone else, was once a LinkedIn newbie. Way back in 2011 I started to casually explore the site and build my network.  I shared my first post in August 2012. I know this because I have downloaded my complete LinkedIn archive. 
That first share was a bit daunting. It didn't get any engagement – but that didn't stop me. Less than a week later I posted again and it got a few likes, even a comment from a fellow career pro. I continued to post and haven't looked back.
The benefits of my consistent engagement over the years?  Too numerous to list them all, but LinkedIn has introduced me to a community near and far. It has opened doors and delivered opportunities. It has helped me grow my business and connected me with so many amazing people. Three notable results:
I was approached by LinkedIn back in 2013 to work for the site as a contractor. I remember thinking: who me?!
I've been named one of the top job search experts to follow on LinkedIn by Jobscan for 3 years straight.
Finally, I met my Job Search Secret Weapon teammates on LinkedIn long before we ever met in person.
My results are not unique. Many people reap the rewards of LinkedIn and secure great new jobs or opportunities because of their site activity. If you can relate, I'd love to hear about the wins you achieved from being active on LinkedIn. Share your experience in the comments below!
LinkedIn Engagement Reminders
A few final tips to keep top of mind.
Be consistent on LinkedIn. Regular activity and engagement are critical.
If getting active seems overwhelming, break down actions into smaller steps:

 Start with just 10 minutes. Visit the site, read through your feed, and like or comment on 1 or 2 posts of interest.
Graduate engagement by starting to share thought leadership. This can be on other people's posts (which is a great start) or by compiling and sharing posts of your own.

Stay fresh. Your recent activity shows right on your profile, like a freshness stamp. If you haven't engaged for some time your profile is going to say so to people who visit it, making you look stale and disengaged.
Connect with people of interest. Research and engage with potential decision-makers, recruiters, or people who could potentially support your job search. Just remember to build relationships before making asks.
Be personable, yet professional. Your comments and shares could be seen by a lot of people, including prospective employers. Strive to make a good impression.
Demonstrate you are both savvy with the site and savvy in your area of expertise by visiting and engaging regularly. Get active and stay active on LinkedIn to support job search efforts.
Looking for more ideas on making the most of LinkedIn? Check out my blog " 5 LinkedIn Strategies to Get Executives Noticed."