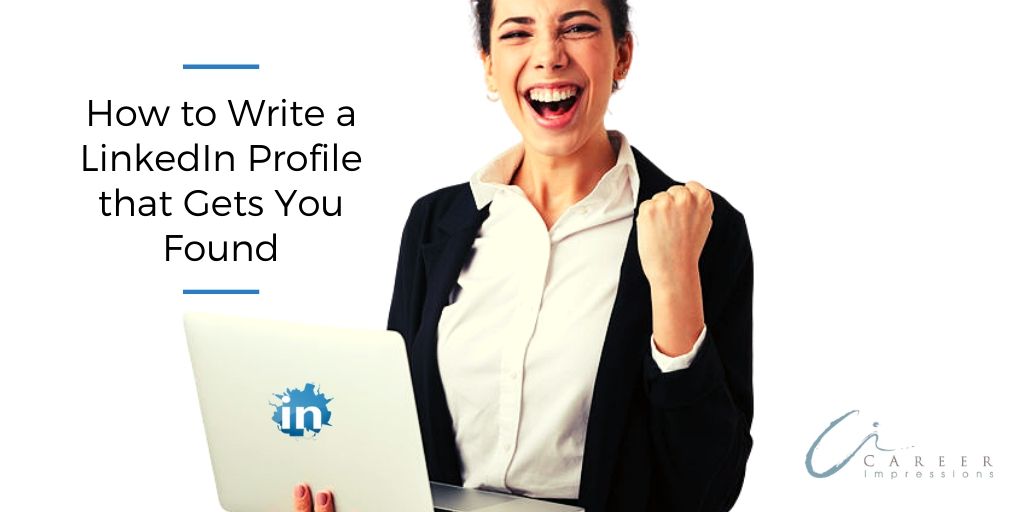 How to Write a LinkedIn Profile that Gets You Found
Are you writing your LinkedIn profile as a summary, looking back?  Or are you writing your profile with intent, looking towards the future?
A profile that looks back can produce a bland career overview summarizing basic experiences, skill sets, and job titles. Not only is this type of profile a bit on the boring side, but it also does nothing to help raise visibility or interest.
A stronger strategy is to write the profile geared towards the future.
That's right. Create a profile so NEW people can find you for NEW opportunities (jobs/engagements) instead of writing it for the people who already know you.
For example, maybe you are currently the Manager of Operations in a smaller company and your next-level career goal is to secure a position as Director of Operations, overseeing facilities and projects in a larger oil & gas organization. To increase your visibility for this next-level role, create profile content with the target audience top of mind, integrating keywords, phrases, and examples that speak to the desired position requirements and career level.
A future-focused profile strategy accomplishes two things: First, it raises your visibility on the site by ensuring SEO and keywords are properly formulated for the jobs you seek, helping the right people (recruiters/hiring managers) find you on the site. It acts as a beacon, signalling your fit for roles of interest.
Second, it makes it easy for readers who land on your profile to understand your value and the ROI they would get from hiring you. It speaks their language, sparks their interest, and keeps them engaged. How can you ensure your profile is written to boost visibility from top to bottom?  Address these 6 steps:
⚡️
Maximize your Headline
Letting this space default to your current job title is a wasted opportunity. Instead of "Operations Manager" (your current title)… list your target title with some interesting career statistics to support this level of skill: "Oil & Gas Operations Director: 15 years' exceeding performance targets. 25% YOY cost-savings. Managed teams of 20+".
Write the headline aimed at your future target and provide some depth to your level of related ability. If you don't have specific measurements to share succinctly in your headline, consider a keyword-rich headline – still aimed at your target – like: "Operations Director, Facilities & Projects: Revenue Generator | Business Development Driver | Relationship Builder".  You get the idea.
⚡️
Fill out the entire About section
Use this section to tell your story, focusing on how your skills and abilities are a good match for where you want to be (future-focused). Make the first 3 lines of the About section strong – as these details are shared with all profile visitors – but don't stop there. Utilize all 2000 allowed characters to tell your story, demonstrating how you are the right person for the role you seek.
For that operations director, perhaps the About section starts off: "Driving measurable performance enhancements across operations, facilities, and projects – within the oil & gas industry- is my strength. My 15+ years of progressive operational leadership experience has produced 25% YOY cost-savings and reversed gross margins from negative to positive in just over a year."
This opening drives energy and enthusiasm into the profile and provides a clear ROI.
⚡️
Complete your ENTIRE profile
Adding only job titles, company names, and employment dates are bare bones. Fill in all sections, completely.
Maximize each unique section of the profile to demonstrate value to the reader. For example, if you hold a volunteer position in a major oil & gas association that is relevant to your target audience's industry – add this to your profile. If you have any media mentions, like a newspaper article that highlights a recent project you managed that brought positive attention, recognition, or results to the company you worked for – link to the media post in your profile.
Finally, if you received accolades, honours, or positive feedback on your work, you can add mentions of these in the Honors & Awards section or you can ask people to provide Recommendations that outline your leadership style, work ethic, skills and abilities, or major impacts.
⚡️
Populate with industry-specific keywords and content
Again, know what type of people (jobs) you want to attract and get to know their requirements. Then integrate their language and address their requirements throughout the profile. Hook and engage!
Conduct a careful analysis of job postings to identify shared themes, skills, or requirements. Gather several job postings (samples are just fine to start with) and copy/paste these descriptions into a word cloud like worditout.com.  From here, you gain a clear visual of the types of skills and keywords related to your role target.
For that operations director, a word cloud of a targeted position produced the following: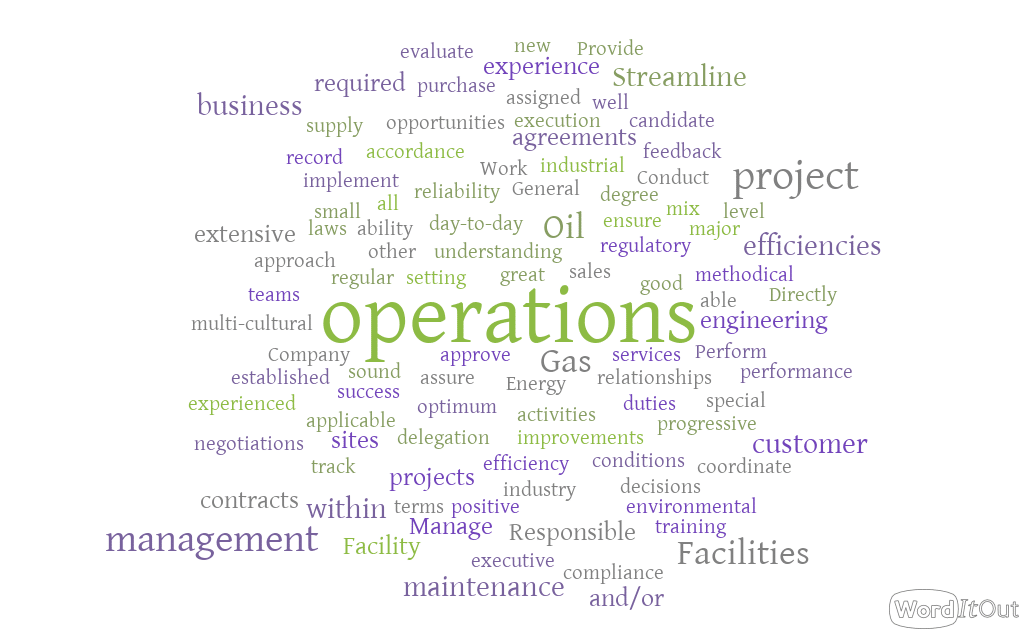 ⚡️
Make your LinkedIn profile setting public – not private
Locking down your account is counterproductive, especially if you want employers/people to find you, engage with you, and connect.
Open up your profile settings to allow the general public to view the majority – if not all – of the sections of your profile. If you are concerned about sharing non-public details on your profile, then consider ways to replace or modify sensitive content instead of blocking people from viewing it.
⚡️
Engage on the site, regularly and consistently
Finally, the very BEST way to raise your visibility on LinkedIn is to build an authentic presence, participate regularly, and create connections.
Visit the site regularly. Once a day for 10 minutes is a great start. Read over the news feed, share a post, identify potential decision-makers, or browse job opportunities.
Join like-minded or related industry groups and monitor content in these places. Don't be shy. Consider ways you can share your own thought leadership and expertise on the site to increase visibility.
If you feel you don't have good content of your own to share just yet, start by commenting and engaging on other people's posts. Before you know it your engagement will become a habit, and your visibility will naturally start to grow.