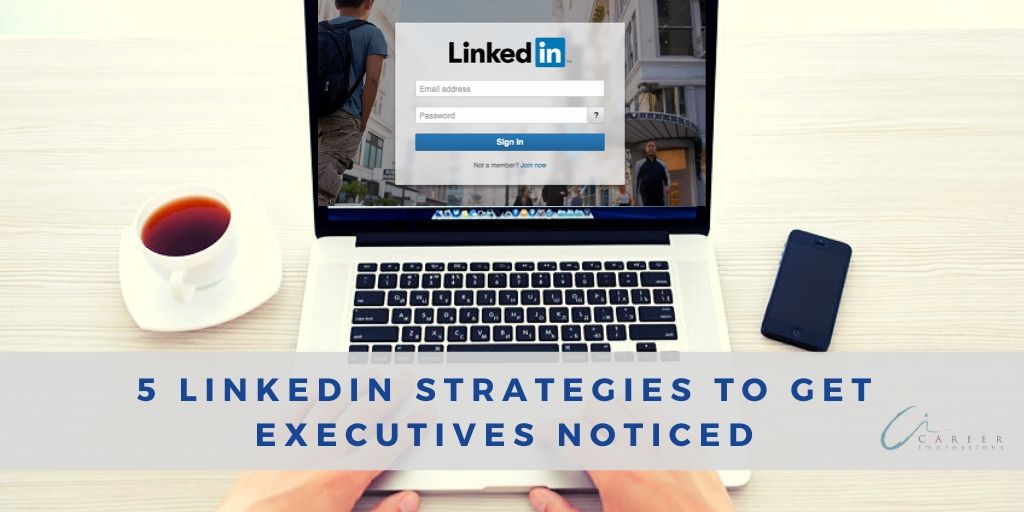 5 LinkedIn Strategies to Get Executives Noticed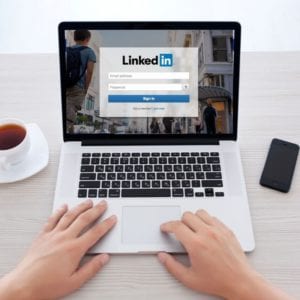 When an executive role needs filling, what is the typical process? Do organizations go to job boards to post positions, or are they more likely to reach deep into their network to see who can be pulled out?  
The latter statement is the most common scenario, meaning your executive job search should rely heavily on networking tactics, including leveraging your LinkedIn account.  
Gaining traction on LinkedIn takes regular, consistent site use and engagement. Merely updating your profile is not enough, and it is far from an automatic signal that you are looking for a new executive opportunity.   
Beyond creating a robust and optimized profile, executives who are looking to increase visibility on the platform can begin to see results with the following five executive LinkedIn strategies.  
Review Your Profile Settings 
One of the most important settings when it comes to catching the attention of recruiters and headhunters is the "Career Interests" option. This is found on your Dashboard, which appears on your profile page.
You have the option to select position titles and locations that you are open to and can even choose who you want to see this preference – recruiters or your whole network. The last option is a nice added feature as it allows you to be discreet in your search if that is your preference. By turning this feature 'on', you will start to appear in searches conducted by those using the LinkedIn Recruiter product.  
Grow Your Network 
The average CEO has 930 connections. How does your network stack up to that? Growing your LinkedIn connections is two-way: you invite others to connect with you, and you accept connection requests. Whether you are inviting or accepting, you should first ask, "Can I provide this person value and/or can they provide me value?" Your response to this question is a good dictator on whether or not to make the connection. Consider what your career goals are and align your connection strategy with it.  
At one point in time, there was a stigma on accepting connection requests from people that you don't know. This is not necessarily the case now. While there is still value in 'screening' a connection request to ensure their legitimacy, the act of keeping a small and closed connection count for the sake of privacy is less relevant. Having a broad network allows you to extend your brand beyond typical borders and get more eyes on your content.  
Five groups of people that you can reach out to start building up your connection count and developing relationships with:  
People who belong in the same professional associations and organizations as you 

 

People within your company 

 

People you have worked with in the past 

 

People who are in roles similar to yours 

 

People who are in positions that you aspire to 

 
Work on building your network outside your industry and area of expertise, as well. The more diverse you make it, the greater exposure you will gain. LinkedIn has over 300 million active monthly users; 90 million users are senior-level influencers, and 63 million are in decision-making positions. Strategically grow your network to get yourself in front of users who have a connection to your career goal – either as an influencer or a decision-maker.  
Engage Your Network 
There are several ways to engage your network. Clicking a simple 'like' on a post is the by far the easiest and fastest way, but is not the most effective. Rather, instead of scrolling through your LinkedIn feed for 15 minutes scanning and liking, spend that 15 minutes reading a handful of posts and providing thoughtful responses that demonstrate your knowledge, interest, or expertise on a subject. Meaningful engagement helps to build your brand, create conversations with not just the original poster but with other commenters, and increase overall visibility.   
Create original posts where you focus on subjects relevant to your industry, career, and growth plans. Discuss news, trends, events, and other happenings. Share curated content from reputable sources and provide a quick commentary on the piece. Ask your audience questions to elicit feedback and responses to do exactly what you have done for them: help conversations get started.  
All of your LinkedIn activities go towards shaping your public form. It's visible, it's accessible, and almost anyone looking at you can see it.  
Write Articles 
LinkedIn provides users with the opportunity to write full articles where they can further expand on topics that a single post might not allow. Articles are searchable and are accessed by people outside of your network. Writing an article is another way that you can demonstrate your value in your career.   
What to write about:  
Industry trends 

 

Industry news 

 

Workplace happenings 

 

Leadership views 

 
LinkedIn articles don't go unread. They are an easy way to build your brand further and get traction on LinkedIn. About 45% of LinkedIn article readers are in upper-level positions (managers, VPs, directors, c-level), which means that if you target your content well, you can easily hit readers in influential positions.  
Be Consistent 
All LinkedIn activity can be used to help shape your public leadership story and brand. LinkedIn gives you the power to control what others find on you. With over 90% of recruiters turning to LinkedIn to learn about potential candidates, it's the perfect platform to work to your advantage.  
Regular and consistent activity on LinkedIn helps to build up your brand and position you regularly in front of a targeted audience. This is useful during a job search, but also in the day-to-day management of your executive career.