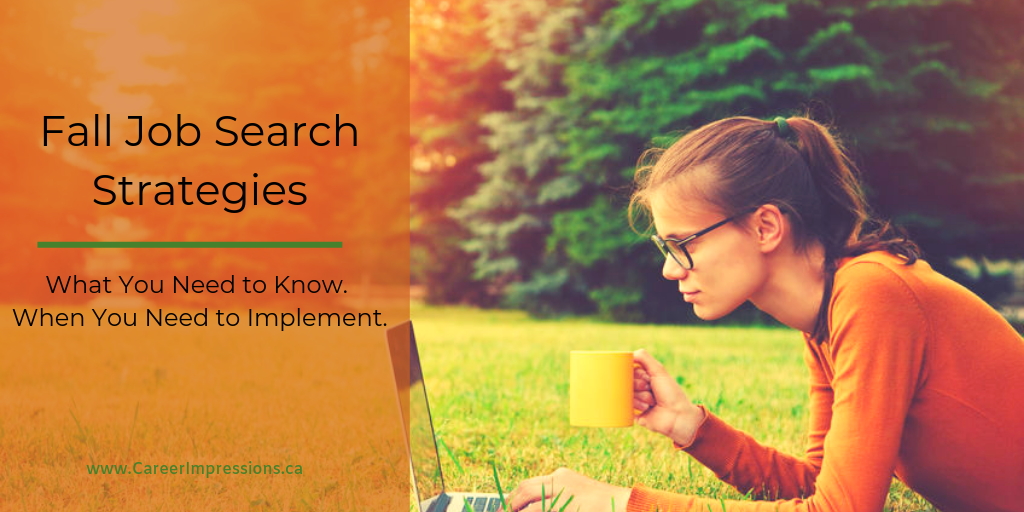 Fall Job Search Strategies You Need to Know
Are you prepared for the increase in hiring and recruitment activity this fall? If you are hoping to secure a new position, you need to be.
Hiring and recruitment have cycles. One of the slower cycles is summer, naturally, but things can start to pick up come September/October. Once staff return from holidays, vacant roles are looked to be filled, and budgets are aimed to be used up before year-end.
So the time to get ready for a fall job search is now!
John Wooden famously said, "When opportunity comes it's too late to prepare." If you are thinking about looking for work this fall, you need to be ready, well in advance. Waiting until September, when things are in full swing to get your job search plan in place, means you may be missing out on opportunities.
Here are some proactive activities to get yourself equipped for career prospects this season:
First, prepare.
Fall job search strategies you need to know, and put into action, include:
Nail down a job target.
Know the job you want before you start looking and applying for positions. Set your sights on a direct job target. A clear target can prevent you from spinning your wheels or wasting precious time and energy chasing opportunities that might not be a good match.
Know what sets you apart.
You can't sell something if you don't know fully understand its value. If you want employers to invest in you, be prepared to answer the question, "Why should we hire you over another candidate?" Identify notable career achievements that support your value and practice speaking about yourself in a positive way that delivers succinct value.
Cultivate a job search strategy that involves more than online job trolling.
It's no big secret that applying for jobs online yields a meager return on investment. A recent JobVite study indicates that online job applications generate a paltry 0.4% success rate. So job seekers, please, don't put all of your eggs in one basket. Diversify your job search strategy and include higher-return activities such as networking, internal referrals, and the hidden job market.
Polish up ALL career tools.
Update all career documents, not just your resume. Today's modern job seeker needs a complete application package. This may include a comprehensive cover letter, tailored resume, references list, robust LinkedIn profile, thank-you letter, and possibly even an executive biography.
Research job requirements and understand the employer's buying motivators to keep career tools appropriately tailored for each select audience.
Brush up interview skills.
You might think this is putting the cart before the horse. Don't you need to start applying to jobs before preparing for an interview? Nope. Again, make time for this task before the dream job calls you in! If you haven't interviewed in a while, you'll need ample time to analyze current interview trends and create value-based interview answers.
Beef up online presence.
If you haven't inventoried your online presence for some time, do it before employers start researching you — and they will. Ensure your online content is on-brand and highly professional. Lockdown personal social media accounts and focus on positioning your professional profiles (such as LinkedIn) to attract recruiters. Populate your LinkedIn account with the right keywords and ensure your value offering is clear.
Iron out employment barriers.
Have you got an employment gap? Are you missing skill sets? What other challenges are you likely to face in your job search journey, and how prepared are you to deal with them? Trust me; these will come up. Preparing in advance to address tough questions about your work history, abilities, or career intentions will eliminate sudden stress and keep conversations focused on positive attributes and offerings.
Next, put yourself out there. 
Let people know you are looking, and for what type of role exactly.
People are unable to help if they don't know what you need. To assist, start connecting and networking, both online and off. Reach out to family members, friends, and trusted colleagues. But don't just ask for a job — ask for very specific information, leads, or opportunities.  Let people know who you are, what you are good at, and how they can help.
Pose inquisitive questions to secure insights into potential openings and company cultures, and start with small shares or asks: 
"I'm looking for a Director of Operations role in the manufacturing industry in your city. Do you have any connections in this area that you can put me in touch with?"
"I see you work for Company ABC; I'm targeting a Director of Operations role there. How would you describe the work culture?"
"From LinkedIn, it looks like you are connected to the VP of Operations at Company ABC. I'm in the process of job searching for a Director of Operations role and interested in working for this organization.  Are you able to introduce us?".
Finally, seek assistance if you need it.
You don't need to tackle a job search journey all on your own.
Engage a career professional if you need support with any of the above fall job search strategies, and keep in mind that looking for a job takes commitment. You can't casually perform a job search and expect instant success. Fall job search strategies take effort and energy on many levels.
Prepare for peak recruiting periods in advance because opportunities come, but seldom do they linger. Jobs are continually being posted and, just as quickly, filled. Application times may be short and rushing to get materials and strategies in place runs the risk of sloppy presentation or missed deadlines.
This fall, if your dream job makes an appearance, be ready to pounce! Don't wait for the right opportunity to pop up before taking action.