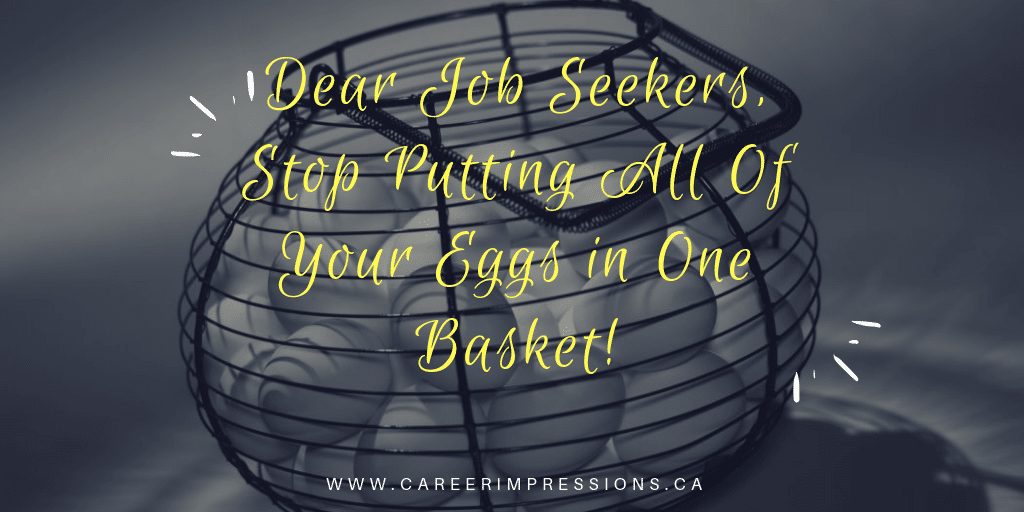 Dear Job Seekers, Stop Putting All of Your Eggs in One Basket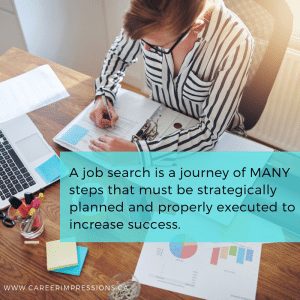 I have the pleasure of partnering with a wide variety of senior executives and savvy professionals – all eager (and some anxious) about their impending job search.
Clients approach me with a common goal: to secure a job.
However, a large portion of these professionals get derailed in their search by focusing efforts exclusively on either one step of the process (locate job postings) or one tool (develop a resume).
Many job seekers forget that a job search is a journey of many activities and actions that must be strategically arranged and adequately executed to increase success.
And just like skipping the baking soda when you bake a cake can result in it falling flat, focusing all job search efforts on one 'basket' will produce lacklustre results.
Take Michelle. She approached me saying her resume: "simply needs building upon to position me on paper better."
As a well-known project management professional, she was partially right. She did have the resume basics down, but the document hadn't been dusted off for many years, and it was doing nothing to represent her as a modern candidate.
After some discussion around current resume trends and strategies, Michelle agreed to have her resume rebuilt, leveraging modern tactics that better positioned her unique value and helped her stand out. Yet she didn't want the same communication upgrade done to her social media accounts.
Even after recognizing that she was 'behind the times' in her job search communications, Michelle felt that a solid resume was
all

that was required to win the job.

I made a similar discovery working with a sales executive who admitted that his job search approach would comprise of getting a resume and cover letter in order and then focusing efforts on online job boards.

Networking? He hadn't thought about it.  

ATS optimization? He didn't know what that was.

Finally, there was a VP of finance who was proud of his communication skills and felt that if he had a great resume, the rest would be a breeze.

He boasted that he could win a job offer in an interview if he just had an excellent resume to get his foot in the door. However, during our strategy session, he struggled to articulate his value and stumbled on simple career questions.

I suggested interview coaching would be beneficial to support the delivery of career content. Did he agree? No; he felt he was 'an excellent communicator' already.
All of these clients had one thing in common. They were putting their job search efforts (eggs) into one basket and not evaluating and tackling ALL of the necessary tasks.
Yes, a good resume and cover letter are required (even in today's digital age) but so are different resume formats for different application avenues or resume readers.
Active social media profiles are also a necessity because Google is the new resume. Employers look up candidates online. If they locate a LinkedIn profile full of unrelated content that does not match what the resume shares – then expertise will be questioned or passed up.
If a candidate hasn't conducted a formal interview for several years, practice is required. Many job seekers crumble under interview pressure, leaving them flummoxed as to why they never get the coveted offer.
Finally, applying for jobs online has proven to have some of the lowest ROI. Online postings yield poor results because overcoming the pesky ATS is a challenge, and the competition pool is a lot greater.
Many job seekers are completely overlooking the power of networking and referrals. Tapping into the hidden job market yields much higher results.
So please job seekers, gather your eggs (all of them!) and start nurturing your efforts in multiple areas.
Dedicate time and attention to each job search step, including the creation of a job search strategy that involves more than online job trolling. Avoid common job search mistakes.
Your checklist:
✏️ Pick a target before you execute. 
A shot fired in the dark is unlikely to hit a target. Identify a clear job target before you commence a search to avoid spinning your wheels in frustration. General job searches rarely work.
✏️ Discover what sets you apart.
You can't sell something if you don't know what makes it worthy of investment. Identify notable career achievements to support your value.
✏️ Research job requirements and understand employer's buying motivators. 
This will help you keep the content targeted.
✏️ Get career documents perfectly polished (resume, cover letter, LinkedIn profile, executive biography, references sheet, and thank you letter).
Yes, potentially all of these.
✏️ Beef up your online presence.
Keep information on-brand and highly professional. If you aren't on LinkedIn – Join. Now.
✏️ Iron out 'wrinkles' or employment barriers.
Got a job gap? Missing skill sets? What other challenges are you likely to face in the journey and how are you prepared to deal with them?
✏️ Prepare for the interview.
This involves practice and preparation. See my post "The 4-P Interview Formula" for more tips.
✏️ Network.
Both online and off. One of the biggest ROI in a job search is networking and referrals. 
Finally, seek assistance if you need it. You don't need to tackle this journey alone. Be open to suggestions, and invest – fully! You can't just dip your toe in the employment waters and expect a quick and well-suited bite.
Similarly, you can't dump all your eggs into one basket and expect instant success. You need to go all-in; keeping in mind that 'looking for a job is a job' so it will take effort and energy on many different levels.
Now that you understand what needs to get done – it's time to get cracking!