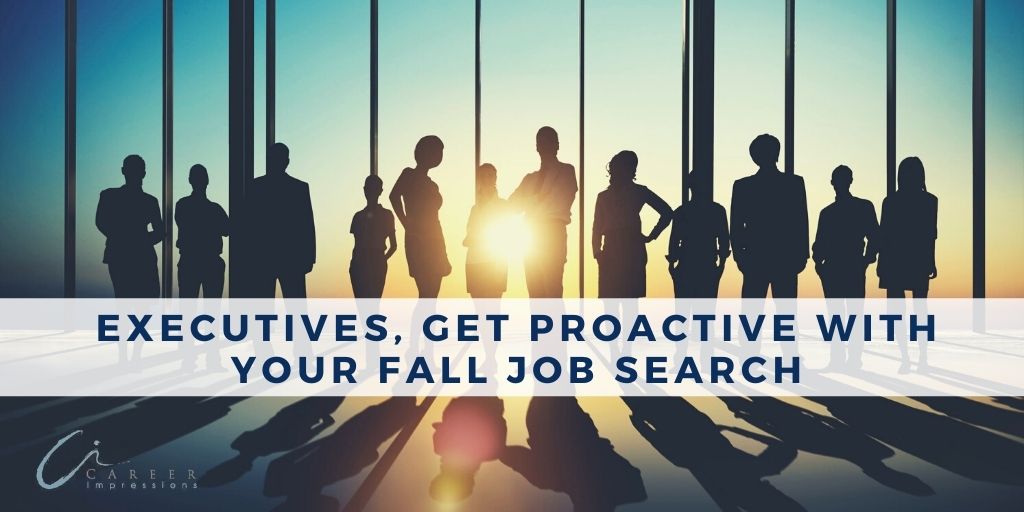 Executives, Get Proactive With Your Fall Job Search
With summer coming to a close, many people begin to dust off the summer slowdown and start refocusing on career goals. Executives, it is time to get proactive with your fall job search. 
Your executive job search strategy this fall needs to be even more refined. With the global pandemic and high unemployment rates, competition could be fierce.
To effectively respond to opportunities and beat out competitors, you must prepare in advance.
Get Organized
Like undertaking any new responsibility at work, embarking on a job search is easier when you get organized and have a specific plan and objectives in mind.
Develop a job search schedule: Commit to daily and weekly job search efforts by blocking off time in your calendar. A job search takes dedicated time and focus.
Create a job search spreadsheet: Think project management. Create a document to track activities and progress. Include space for company names, contact names, positions applied to, research notes, application dates, interview dates, interview notes, and follow up.  
Prepare a weekly task list: Plan out actions and activities related to your job search. Give yourself specific targets to meet each week. For example, "conduct 3 informational interviews this week."
Research In Advance
Determine what you want, what is available, and who can help you. Researching details in advance will help you move swiftly and keep a steady search pace.
What job do you want? Sit down with your career goals and evaluate your next move. Are you looking to level up, make a lateral move, stay in your industry, or transition into something different? With a goal in mind, you will have an easier time creating targeted search tools and messaging.
Which jobs are available right now?  The labour market has shifted. Identify where the demand is. Review job boards to see what kinds of roles and industries are hiring (though relying heavily on job boards for your job search is not advised,

focus on networking

), pay attention to news articles, industry publications, and even the stock market. It's one thing to have a goal in mind, it's another thing entirely to have a goal in a market with opportunity. 

Who can help you?  LinkedIn and company websites provide information about who works where. Identify key decision-makers at organizations of interest and people who can act as a gateway into the company. Search your current network to identify anyone who can connect you to people or help. When you begin your outreach campaign, you want to have names in place.
Prepare Tools
Being able to send out your professional marketing tools at a moment's notice means you need these files prepared in advance.
Resume: An effective executive resume 

tells your story fast

. Create a modern executive resume that is concise, tailored towards the job, and tells the story of what you have accomplished in your career.

Cover Letter: Make it personalized, customized, and succinct. Adjust it for every application.
Networking Scripts: Prepare sound bites in advance that demonstrate your value. Write out an elevator pitch to ensure that you know exactly what to say about yourself when asked.
Email Templates: Create email templates for both warm and cold contacts along with a professional follow up email.
LinkedIn Profile: Ensure that your LinkedIn profile is up to date and clearly

defines your value

. People are going to be looking at your LinkedIn profile, like it or not. What will they find?
Get ahead of the game. Take advantage of the last few weeks of summer to prepare yourself to launch right into a productive and organized executive job search this fall.
If writing your resume and LinkedIn profile seems like a daunting task, consider working with a professional resume writer. Contact me today to discuss.