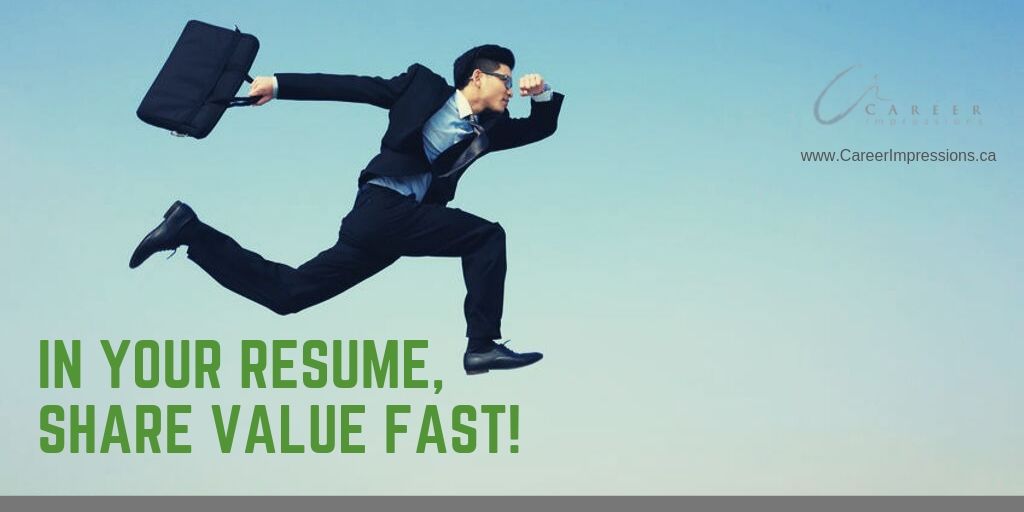 In Your Executive Resume, Share Value Fast!
I'll admit – I'm impatient by nature.
When I have an idea, a desire, or a big goal, I want to see results fast. I don't like to wait.
Over the past several months at Career Impressions, I've been working hard on several service improvements – along with a brand new joint-initiative for job seekers (www.JobSearchSecretWeapon.com).
To achieve goals, I've needed to hire help.
I created a plan and reached out to resources. I formed job postings – with specific requirements – of the 'roles' I needed to fill.
Those that replied with customized details demonstrating an understanding of my needs, with clearly outlined solutions, examples, and results – got my attention.
Those that zeroed in on needs quickly = even better!
However, those that replied with generic details, basic follow-ups, or long-winded responses that beat around the bush = were passed up by me.
What am I sharing all of this? Because this same strategy applies to resumes during a job search.
Employers feel the same when they read a resume. They want to be spoon-fed solutions to their needs. They want to feel heard. They need proof of results.
Employers are also short on time and maybe a bit impatient (like me), so job seekers that can address needs and get to the point quickly = even better.
How can you ensure your resume is addressing the needs of the reader and providing value, quickly?
Read the job posting carefully.
Identify requirements and write 'apples to apples'. For example, if the job requires skills in sales growth = provide examples of personal sales growth success, with metrics.
Position big, related career wins near the start of the file.
Don't make the reader hunt through dense resume content for facts that matter most. Spoon-feed them results.
Write succinctly and get straight to the point.
Avoid drowning the reader in long, detailed narratives. Tighten language and strategically place information throughout the file in a way that guides the reader through offerings. Make everything easy to absorb and follow.
Cut out anything unrelated.
If an example or content does not matter to the targeted job, remove it or replace it! Unrelated information is distracting.
Ultimately you need to write your resume in a strategic fashion that demonstrates you are the candidate of choice in the most concise and significant way possible. Your resume often only has one chance to impress. Make it count!
Looking for ways to craft an interview-winning resume using all of the strategies above, along with ALL of my insider resume writing secrets?  I've got a new DIY resume writing workbook series just for you, or reach out and let's discuss your resume writing requirements. I am here to help.