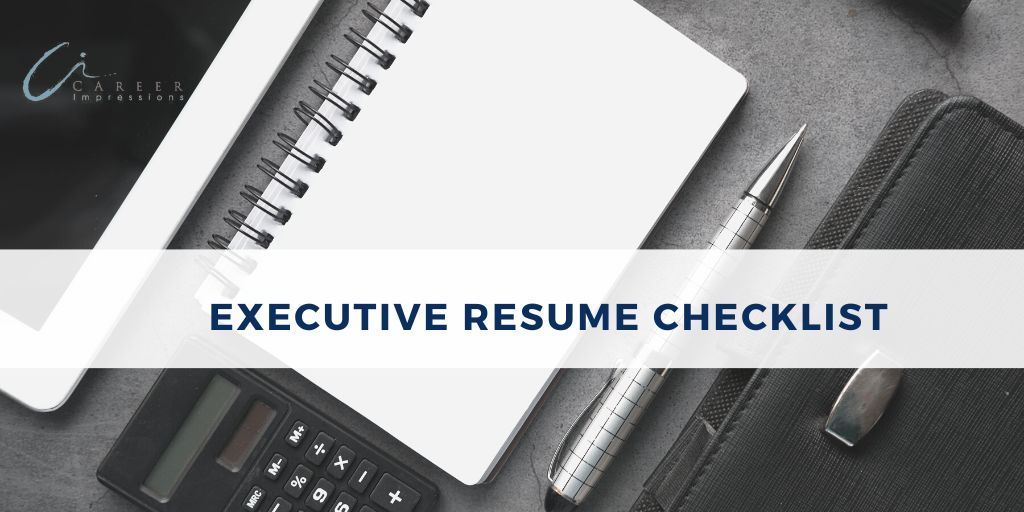 Executive Resume Checklist
Most executives are strategic, sharp, and savvy top professionals. Many will approach a job search with precision and leverage deep qualifications to stand out as the candidate of choice. This means the competition for top jobs can be fierce. Are you prepared to compete with a resume that gets you noticed? This executive resume checklist can help.
The best executive resumes share strategic value with supporting metrics and rich results. Resumes with too little detail cause the document to pale compared to other strong leaders with sharp files, and resumes with too much information can suffocate the reader.
Position yourself as a strong and qualified leader, showcasing how you can helm an organization and drive a business forward, applying these five steps in the following executive resume checklist:
Brand Yourself to Stand Out
You likely understand the value of branding a business, so treat yourself the same. If you are the commodity, what will motivate others to buy what you are selling? What strongly positions you as the leader of choice?
Identify your specific value and share it with confidence throughout the document.  Tell your story.
Start the resume with a branded statement that sets the stage for upcoming content. Immediately engage the reader.
Seeking value proposition ideas or headlines?  Check out this post on top executive resume strategies with branded headline examples or gain inspiration from these:
Senior VP, Operations: Transportation, Healthcare, Manufacturing
P&L: $500M |  Global Teams of 100 | Global B2B Operations |  Fortune 500
---
Chief Executive Officer / Chief Financial Officer:  Growth Strategist
20+ YEARS OF DRIVING IMPRESSIVE ORGANIZATIONAL DEVELOPMENT, REVITALIZATION, and GROWTH ACROSS PUBLIC and PRIVATE COMPANIES:
Grew Revenue 600% in 6 Years |  Increased EBITDA 350% YOY  | Managed up to $150M P&L
---
CHIEF TECHNOLOGY OFFICER (CTO)
Technology Innovation & Management ~ IT Leadership & Strategy ~ Project Direction & Delivery
Introduces innovative technology solutions and drives forward projects in global companies to  enhance efficiencies, align business needs, and raise organizational performance
Think Quality over Quantity
Positions at the top expect a long and detailed work history from candidates, yet readers don't want all the details. Roles held over 20 years ago or earlier positions where direct leadership was not prevalent should be kept off the resume or minimized (i.e., your early management days are not as exciting as your recent VP, EVP, or C-Suite positions).
Keep content refined.  Everyday tasks are a snore and will do nothing to set you apart from competitors — be strategic with your resume offerings.
What impacts can you showcase that will capture and keep the eye of the reader?  A select sampling of measurable impacts will speak volumes over everyday responsibilities and help keep content from rambling on and on and on…..
Take this first text-heavy example:

Witness how this same content can be refined for greater impact:

Watch the Length!
Keep resume length in check by strategically aligning chosen content with position needs. If work history or examples do not directly speak to your value to perform well within the role, keep them off or minimize them.
Well-written executive resumes need not extend past 3 pages.  Yes, just 3 pages, and often even less.
A resume is not a career chronology; it is a marketing tool.  Succinct and tight content is easier to absorb and packs more punch. Unsure how to write a resume that is just 3 pages long but still delivers purpose?  Check out these award-winning samples here. 
Maximize Metrics and Wow with Results
High-impact career stories need proof of skill. Skill is best demonstrated with rich results. Laden your executive resume with solid metrics to support your abilities and position you as an expert.
You've likely heard the saying 'actions speak louder than words' – this applies to your resume; only the actions are the impacts!
Start bullet points with the achievement (front-load points) and succinctly weave in the story about how results came under your leadership and direction. These are wow factors. At the executive level, lots of wows are needed to promote personal value and position someone as an above-average candidate.
Examples of solid, front-loaded impact statements include:
Slashed $13M in costs over 2 years with efficiency improvements.
Spearheaded development processes for 235 projects, from concept to closeout, valued over $2.4B.
Helmed $13M acquisition negotiation that produced 8 times the return on investment within 3 years.
Continue the above bullets with the skills you applied in the situation and infuse stories…keeping readers engaged.
Finally, Use a Modern Format 
You are not ordinary, and your resume shouldn't be ordinary, either. Basic, bland, black-and-white text resumes written in Times New Roman font are old-school. No, your resume does not need to be overly fancy or heavily designed, but consider some use of design components to aid the reader and add interest.
Prove that you are keeping with the times and showcase your career in a resume with a distinct presentation, layout, or format. Infuse your resume with appropriate keywords and consider a strategic use of colour, charts, testimonials, or graphs to better spotlight expertise. Note the word strategic here. In a resume, less can be more.
Here are some examples of using design components to spotlight key content: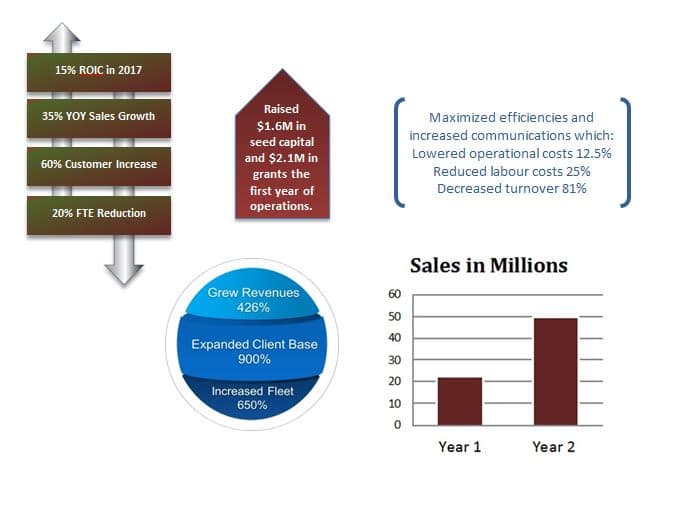 Again, a sampling of modern executive resumes can be seen on Career Impressions website.
Here's a handy downloadable version of the executive resume checklist: