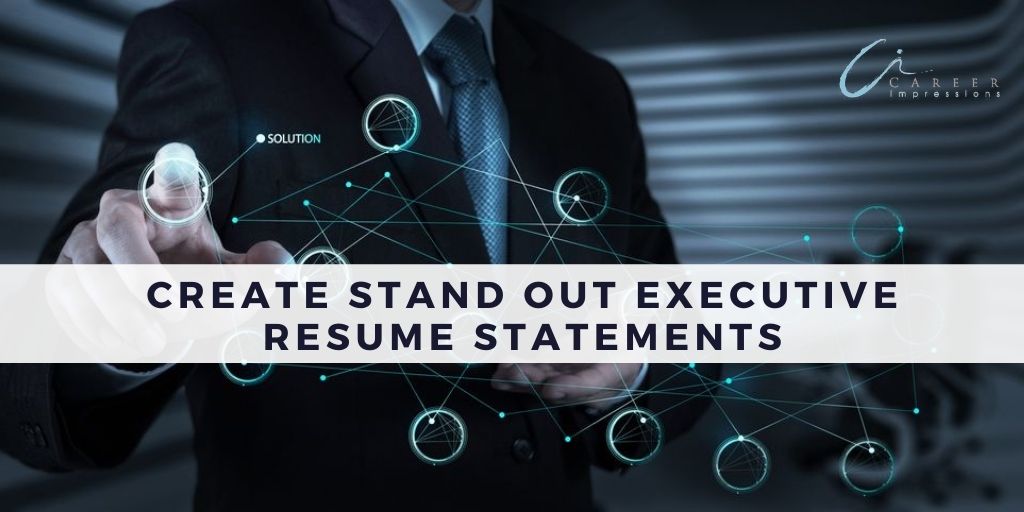 Create Stand Out Executive Resume Statements
Have I mentioned how impressed I am with my clients? When we begin the journey of creating a professional executive resume, I dig in with questions to pull out successes, achievements, and wins to create stand out executive resume statements. I am continuously impressed with the value that my clients deliver in their careers.
However, many clients are not practiced at recognizing their executive value. I can't tell you how often I hear, "I don't have much to share." Every executive leader has something powerful to share. You have to know the right questions to ask to locate what matters most.
Once you have answers, the next step is translating content on to the resume. To create stand-out executive resume statements that set you apart, I share two strategies below to help you identify powerful information and two methods to transfer these critical facts into the resume. 
Step 1: Identify Powerful Information for Your Executive Resume 
Ask Questions to Unearth Executive Achievements 
It is often easy to rhyme off what you do from a high-level; what division you lead, what your portfolio is worth, what market you cover. These high-level responses won't cut it on your executive resume. Instead, drill down deeper by asking specific questions to help extract unique and specific leadership achievements. 
Consider questions such as: 
What initiatives have you developed and implemented that helped your company increase revenue, profitability, or return on investment? 

Did you generate new business, bring in new clients, or forge profitable affiliations? 

Did you save your company money or increase your company's competitive edge? 

Have you increased safety, performance levels, productivity, or customer satisfaction? 

What was the largest team, budget, or project value you managed? 
Dig Deep and Explore Leadership Wins 
Your resume needs to cut to the chase and get into the proof immediately. Balancing content between related job details and specific leadership wins highlight the value you bring to the table. 
As you build out your leadership story, be sure to answer this question fast: why should the target company hire you over someone else? Even though your leadership story is about you, center it around the needs of the target organization. Preliminary organizational research (talking to people, reading the job description, analyzing the company online) will help uncover what is essential to the business and let you know what targeted information to provide in your executive resume. 
Explore additional question such as: 
How do you coach, motivate, and develop a winning team and develop loyalty in your staff? Have people you mentored gone on to do well? 

How would you describe your leadership style? What was the most outstanding achievement of a team that you directed? 

Have you won awards or received special recognition from superiors, peers, or customers? 

Did you get promoted in record time? Multiple times? Why?

Have you assumed additional responsibilities or willingly accepted tasks outside your job description? 

Have you worked internationally, across multiple industries, or within highly recognizable organizations (Fortune 500)? 

Did you complete specialized training or education? 
Step 2: Position Career Accomplishments and Wins onto Your Resume 
Build Out Statements of Success
Statements of success quickly answer the how, what, and why of your experiences. Using specific and succinct statements provide detailed information to the reader so that the only question they have is "When can I talk to this person?" instead of "What does all that mean?".
You might be surprised that you can say more about your experiences than you think. If you haven't been capturing career wins and achievements thus far, consider starting a career brag file where you regularly update experiences and capture quantitative values.
To demonstrate the difference between a basic statement and a statement of success (value-enhanced resume statements), compare the following: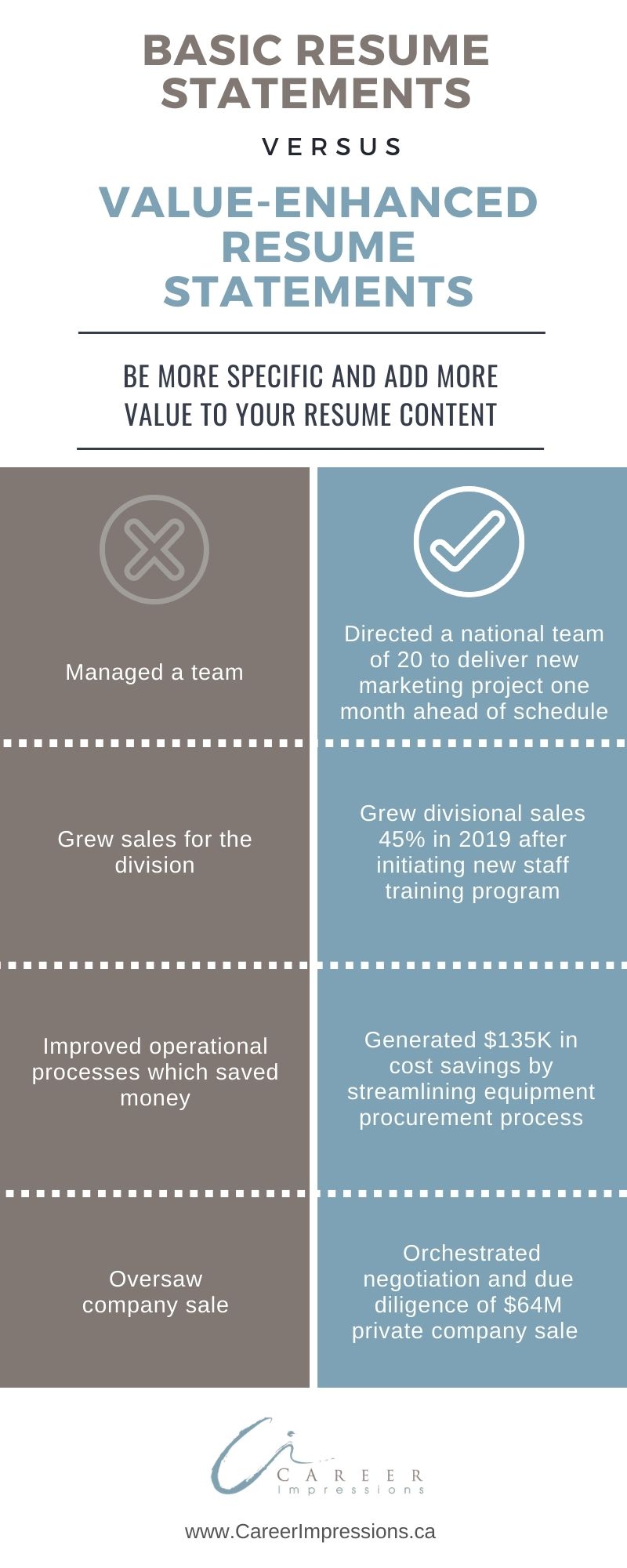 The statements of success above show the impact made and leave fewer questions unanswered.
Add Metrics to Bolster the Value of Content
Facts sell. There is no question about it. The above chart demonstrates the extra value-add when metrics are woven into statements. The more tangible evidence you provide on your resume, the better. What do I mean by 'tangible evidence'? Cold, hard data that supports claims. Quantify actions and results with numbers. Include dollar amounts, percentage values, volume numbers, anything that provides evidence of the value you have delivered.
Aim to answer: how many, how much, and how often in your resume statements while keeping details focused on what matters most. Instead of just saying "Produced cost-savings", try: "Generated $175K in cost savings by replacing outdated inventory management software with new SaaS platform." This second statement is more results-driven with specific metrics and context.
Be strategic about what goes in your executive resume. You have a long, successful career behind you. Knowing what is relevant and learning how to share it is the first step to creating stand-out executive resume statements that set you apart from your executive competitors. If you are struggling to ask the right questions and unearth the right content for your executive resume, I can help. Reach out to discuss.