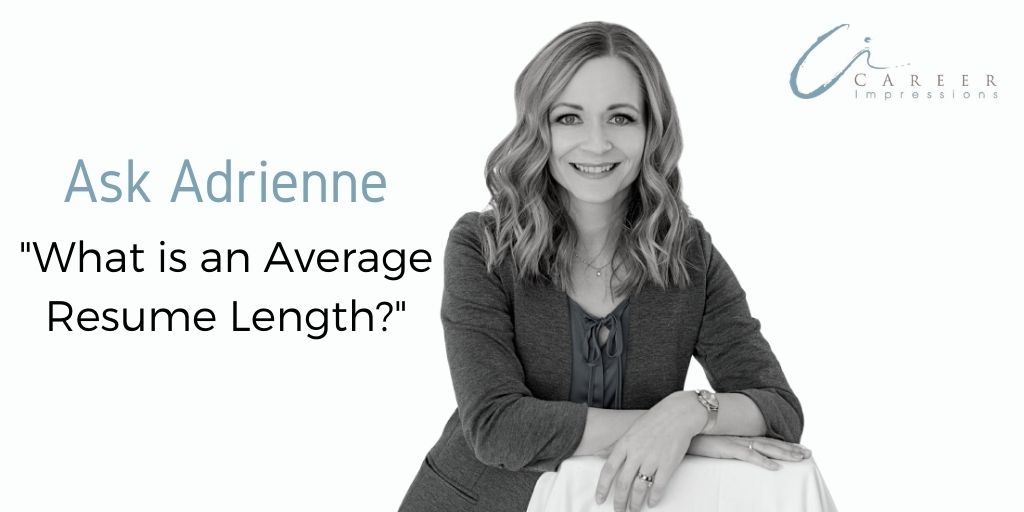 Ask Adrienne: What is an Average Resume Length?
Yes, resume length is often hotly debated, and there are lots of best practices shared around keeping resume length in check. A lot of people reach out to ask me, "How long should my resume be? What is an average resume length?"
My answer depends on various factors and can be unique for different people. However, if we are talking about an average – a standard resume is 2 pages long.
In my recent post, "What Resume Length is Best", I caution job seekers to consider the quality of their resume content over the quantity. Length alone does not determine the effectiveness of a resume.  If someone tells you that your resume HAS to be a certain length, ask why! Is the length of the resume a requirement for the job application? Will the reader only read a certain resume length?  Both are rare.
Often sources spout off warnings that are fraught in opinions versus facts: "your resume must be 1-page!" …"longer resumes are best". So again, always question the source.
To determine what length works best for you, look carefully at your resume content.
Ask and answer these questions to help determine the right page length for you:
Are you only sharing information, facts, and details that matter to the target job? Employers only want to read content that relates to their open position.
Have you removed unrelated or outdated details? Don't keep content on your resume because YOU like it. The resume isn't meant for you.
Is your resume length reflective of career length? Students may only need 1 page, whereas executives may require 3 pages.
Does your resume focus on your last 10 to 15 years of work history?  Much earlier career details don't always need inclusion.
Are details compact and succinct? Aim to keep sentences short and bullet points to just a line or two.
Does the file read like a job description (boring and ineffective) or does it provide hard-hitting achievement-based facts (a must!).
Finally, consider reader fatigue. If an employer is screening many resumes, will yours make an immediate impact with strong content and succinct details, or does it drone on and on, which increases the risk that they won't read it at all.  With this in mind, 2-pages is likely sufficient for most professionals to share relevant facts.
I took the question of resume length to LinkedIn and created a poll. Here are the results: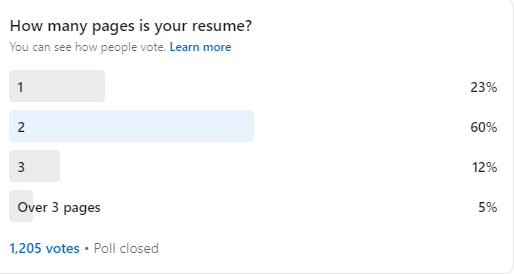 As you can see, 2-pages is indeed the most common length, but there are people with shorter and longer resumes. If you are interested in reading poll comments (which provide some additional insights and considerations), you can check out my post on LinkedIn.
If you are looking for help with creating a resume that is the best length for you, your career history, and your job target = reach out to discuss. If I am unable to assist, I will happily provide recommendations to others who can. www.CareerImpressions.ca