September is International Update Your Resume Month!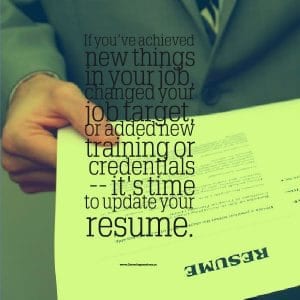 If a recruiter or an employer called you tomorrow and presented a wonderful career opportunity, would your resume be ready?!
Very often job seekers avoid the task of updating their resume on a regular basis and then find themselves overwhelmed when asked to produce a quality document in a short time frame.
September marks the annual International Update Your Resume Month (founded by Career Directors International); an excellent opportunity to reflect on your career achievements over the past year and add them to your career portfolio. If you take the time each September to re-evaluate your value and update your resume you will be ready when opportunity comes knocking!
"September is the perfect time to start a new approach to career care-taking", says Laura DeCarlo, CDI President.  "While children are embarking on starting the new school year, adults should also be taking stock of their professional attributes and career value by updating their resumes."
Updating your resume can be a daunting task so here are some tips to help: