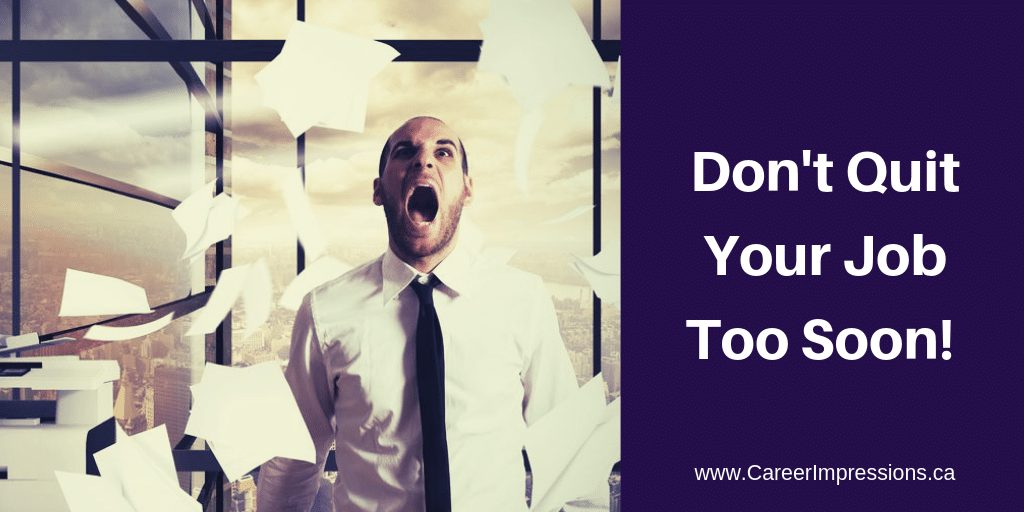 Senior Professionals: Don't Quit Your Job Too Soon!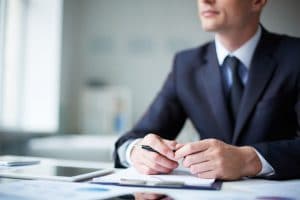 Maybe you think it's time for a job change. You wouldn't be alone.
According to Ceridian's 2018-19 Pulse of Talent report, 37% of respondents are looking for a new job — either actively pursuing new opportunities (20%) or casually seeking a new position (17%).
The improved economy and low unemployment rate in the US is one of the main reasons candidates are more desirable than ever.
In Canada, there is also job movement and growth. In March of 2019 of Stats Canada reported  year-over-year employment growth of "332,000 (+1.8%), with gains in both full- (+204,000) and part-time (+128,000) work."
Now consider your reason for a job change.
Were you recently passed over for a promotion or having trouble with your boss? Unhappy in your job?  Looking to level up?
The easy answer might seem to quit your current job and fully focus on your search, but it's probably not the best answer. One of the top reasons quitting isn't the smartest choice is that "unemployment discrimination" is a real thing. Both research and anecdotal evidence have found it's harder to find a job when you're unemployed than if you're job searching while you've got a job.
According to "The Science of the Job Search (2018)" survey by TalentWorks, "People who showed they were currently employed (even if creatively) saw a 149% hireability boost compared to their previously-fired or laid-off competitors."
"Creatively" demonstrating current employment can be anything from continuing to show the work experience as "To Present" on a resume or LinkedIn profile even after leaving a job to listing a "consulting business" as interim employment. Just make sure you don't overstep being truthful.
Quitting can negatively impact your chances of getting hired. And it's not just about quitting your job — it can be about quitting your job too soon (or looking for another job too soon). The need to demonstrate current employment is particularly important if you haven't been at your most recent job for very long.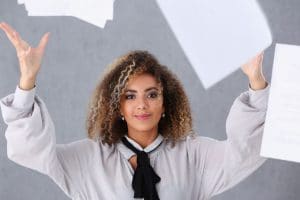 According to TalentWorks research, "People whose shortest job was 9+ months were 85% more hireable than people whose shortest job was 8 months or less."
Furthermore, TalentWorks found that you are more hireable for your next job if you are at your current job for 18 months or longer. If you do quit your job, be ready to answer the question in an interview about why you left your most recent position. That's if you get the chance to interview at all. Recruiters and hiring managers are looking for reasons to narrow down the pool of candidates they will interview.
It may be worth your while to address the reason for your departure in a cover letter accompanying the resume, because leaving that question unanswered may result in your application being discarded in the initial screening process.
The better answer? Look for work while you are employed and don't quit your current role until you've secured a new one.
Unemployment can be expensive and looking for a new job takes time! Instead of running out the door (potentially moving from the frying pan into the fire), put a career management plan into place to help you move forward into a right-fit, more rewarding role:
Identify your reason for wanting a change. Know exactly what you don't want moving forward.
Assess your skills and understand your unique value.
Create a career plan.  Where do you want to go and how do you plan to get there?
Research companies of interest. Make contact with people who work there.
Start networking, now! Build relationships to support search efforts.
Create a solid resume tailored for your target role.
Establish a robust online presence with a fully fleshed out LinkedIn profile. Get visible online. Engage.
Employ assistance from career professionals or people in your network to support your goal or transition.