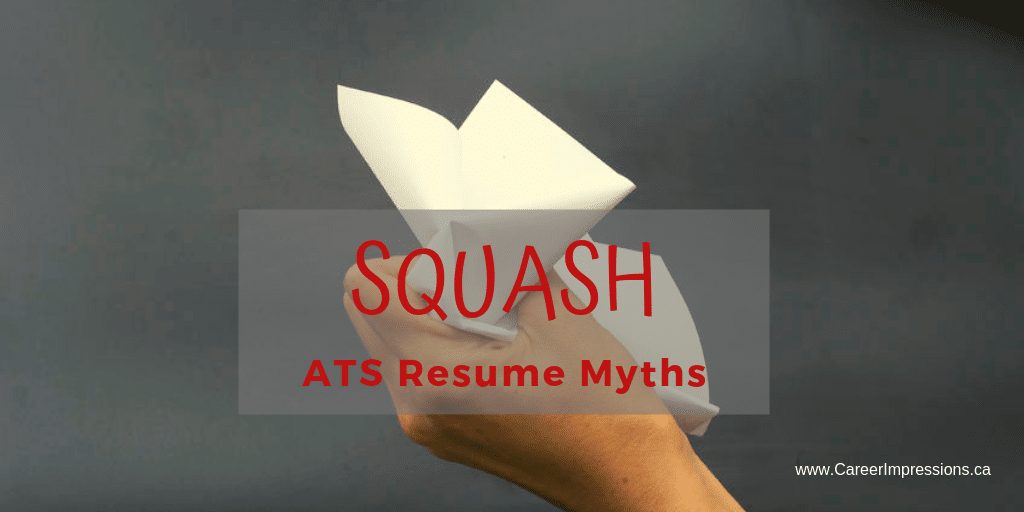 Overcome ATS Resume Myths to Boost Job Search Success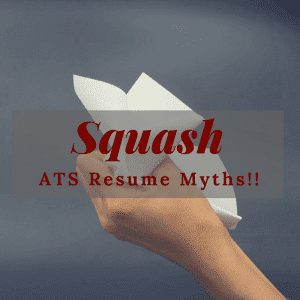 Recently I completed a comprehensive ATS and SEO course through Career Professionals of Canada (CPC).
Over a two week period, we studied the role technology plays in a modern job search along with ATS best practices. We discovered how major applicant tracking systems, like Taleo, are used in the hiring process to read, sort, and qualify resumes.
With the increased use of ATS in the hiring process (almost all major companies use some form of automated resume selection), there is a LOT of content swirling on the MUST and MUST-NOT's when it comes to designing a resume for ATS.  Yet not all of it is true.
Applicant tracking systems are continuously evolving and getting more sophisticated, so what may have been a big resume 'no-no' a few years ago is now more acceptable.
To boost job search success, here are a few big resume ATS myths that the CPC course debunked:
Myth #1:

  You can only submit your resume as a .txt file
Although some older systems can only read select formats, most newer systems read, and prefer .docx and PDF. How can you tell what to submit? The system will tell you. If the application process requests a .docx format – go for it, but ensure it is ATS-optimized (more on this to come). If it requests a PDF, or allows you to also attach in addition to uploading a Word file, then do so. Just don't password protect your file.
The goal is to develop a resume that is BOTH computer and human-friendly. That's right. You need to create a resume with both audiences in mind. An ATS extracts and organizes select content, qualifying it against job requirements (often keywords). If the resume is identified in the system as a strong match it will be passed onto a decision-maker, although some recruiters and hiring personnel claim to read every resume themselves in the system, regardless. Take careful consideration of the format, structure, mechanics, content, and design of the file so BOTH the system and the recruiter can rank it appropriately. 
Myth #2: 

Resume length matters
In ATS, length does not matter. However, a human reader may have preferences about resume length (and only so much patience to review detailed content), so be strategic with how much content you include.
Carefully qualify details from throughout your career to ensure information is relevant, without placing unnecessary page length restrictions upon yourself.
Myth #3: 

You can NOT use capitalization, text justification, or different fonts in your resume file
You actually can. Capitalization, text justification, and the use of multiple fonts in your resume are not a common concern for ATS. Just don't go wild.
Avoid creating potential obstacles for the system with overly decorative fonts, squished words, or tightly spaced text. Also, ensure that text is not obscured by underlining or bolding.
The goal is to ensure all letters are clear so that content can be identified. Expanded text can be read, but condensed text may not be deciphered.
Myth #4: 

Contact details MUST be introduced and addresses included
Nope. Gone are the days of listing: Phone: 222-555-6666 | Email:  joejobseeker@mail.com
Feel free to list contact information without descriptors as ATS is smart enough to recognize these facts (at the top of the file). Eliminating extra words also keeps the resume streamlined and less cluttered, freeing up space for more relevant details.
You may also be wondering about the value of including an actual home address on your resume. To include or not to include? Personal preference may come into play here and you may decide not to include your complete mailing address. This is a-ok — so long as your location still appears on the file. i.e.: Calgary, Alberta or Houston, Texas.
Including a location is important because many systems are set up to search by location!
Myth #5: 

Never put information in the document header or footer
You can, but keep in mind that most ATS will not 'read' details housed in the header or footer.
It is best to avoid putting any important content in the file header or footer  – like your name and contact details, which are best shared in the body of the file.
You can still put page numbers, graphics, quotes, or endorsements in these spaces, for the eventual human reader. Again, feel free to share select details in the header or footer, but not important contact information.
Myth #6:

ATS resumes can NOT include images or graphics
Incorrect. Again, the goal is to design your resume for both computer and human readers.
Design components are a great strategy to make your resume more attractive to the eventual human reader. These elements will simply not be 'seen' by ATS.  So go ahead and include them, within reason. This includes a bit of color, if you'd like.
If you choose to display major content details within a text box, graphic, or chart, ensure these details are translated into the actual body of the file so ATS can 'see' them. Also, if you include a chart or graph – insert them into the file as image files! Images are disregarded by the system and therefore won't 'muddle' the content of the file.
Myth #7:

  Keywords are not overly important and buzzwords are bad
Keep in mind that each system will be set up to read, parse, and rank content uniquely.  Since you will never know exactly what employers are searching for, and which keywords will be weighted the highest, your safest bet is to include the following:
A rich amount of relevant keywords (even buzzwords)

as they appear in the posting

, along with perceived and possible keyword variations. For example, the posting might request experience with "managing a team" but you might also want to consider including a variation like "team management".
Acronyms AND fully spelled out versions

like Bachelor of Science (B.Sc) or Project Management Professional (PMP).
An assortment of long-tail keywords

/phrases which are made up of multiple words that may also be searched (depending on the posting and industry), such as long-term relationships, selling products or services, facilitating workshops, or smooth project deliveries.
Always, always, always custom create each resume

with an audience in mind, aligning expertise with job requirements and using repeatable, meaningful keywords and phrases.
Repeat select keywords strategically (think repeatable and relevant

). ATS may count the appearances of certain keywords and increase ranking based on how long certain skills were applied in your career, so repeating relevant words is important – within reason. Don't overpopulate or use out of context.
Populate your entire file with keywords,

not just the Experience section. Areas you can include keywords:  title, headers, skill section, tagline, accomplishments, responsibilities, education, training, volunteer, and within the file's metadata!
Demonstrate proficiency

with keywords, skills, and job requirements by sharing these in context and with a rich assortment of metrics. It is one thing to include a keyword and another thing entirely to provide proof of ability.
Finally, keep in mind that the best way to increase the chances of your resume being read is to work around ATS whenever possible. 
Online job applications often yield low ROI for job seekers.  Increased success strategies include networking and referrals – so diversify your job search tactics and pursue multiple avenues when seeking a new job (don't rely exclusively on job boards).  Make good use of your nice looking resume and get it in front of people…because at the end of the day, people hire people!
---
Read more on:  How to Write An ATS-Compliant Resume.  Reference my handy ATS Resume Checklist
---