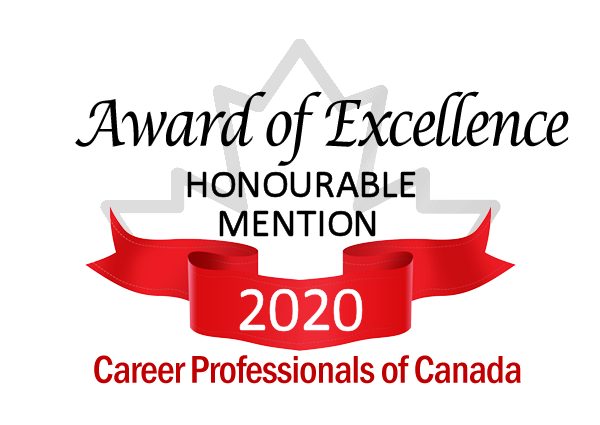 New Awards – Canadian Executive Resume Writer
I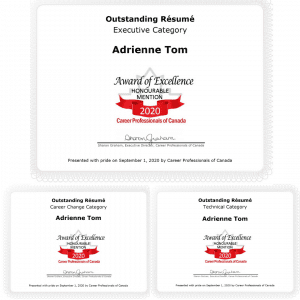 am honoured to have been granted 3 Honourable Mention Awards from Career Professionals of Canada in 2020 for Outstanding Resume Writing in the following resume categories:
1. Outstanding Executive Resume
2. Outstanding Technical Resume
3. Outstanding Career Change Resume
These awards bring my national and international award tally to 31.
I love what I do and I think it shows!
Additional awards and honours include:
4. Award of Excellence, Outstanding Executive Resume- CPC: 2019
5. Award of Excellence, Outstanding Technical Resume – CPC: 2019
6. Award of Excellence, Honourable Mention for Creative Resume – CPC: 2019
7. Award of Excellence, Outstanding Executive Resume – CPC: 2018
8. Award of Excellence, Outstanding Technical Resume – CPC: 2018
9.  Award of Excellence, Honourable Mention for Creative Resume – CPC: 2018
10. Award of Excellence, Honourable Mention for Executive Resume – CPC: 2017
11. Award of Excellence, Outstanding Internationally Educated Resume – CPC: 2017
12.: Award of Excellence, Outstanding Social Media Strategist (LinkedIn Profiles) – CPC: 2017
13. Award of Excellence, Outstanding Executive Resume – CPC: 2016
14. TORI Award, 1st Place – Best IT Resume – CDI: 2016
15. TORI Award, 2nd Place – Best Sales Resume – CDI: 2016
16. TORI Award, 3rd Place – Best International Resume – CDI: 2016
17. Award of Excellence, Outstanding Volunteer Contributor – CPC: 2015
18. Award of Excellence, Outstanding Social Media Strategist (LinkedIn Profiles) – CPC: 2015
19. Award of Excellence, Outstanding Technical Resume – CPC: 2015
20. Award of Excellence, Outstanding Executive Resume – CPC: 2015
21. Award of Excellence, Outstanding Technical Resume – CPC: 2014
22. Award of Excellence, Outstanding Executive Resume – CPC: 2014
23. TORI Award, 3rd Place – Best New Graduate Resume – CDI: 2014
24. TORI Award, 3rd Place – Best IT Resume – CDI: 2014
25. Award of Excellence, Outstanding Executive Resume – CPC: 2013
26. Award of Excellence, Outstanding Creative Resume – CPC: 2013
27. Award of Excellence, Outstanding Canadian Online Profile Developer – CPC: 2013
28. Award of Excellence, Outstanding Technical Resume – CPC: 2012
29. Award of Excellence, Outstanding Creative Resume – CPC: 2012
30. TORI Award, 3rd Place – Best New Graduate Resume – CDI: 2012
31. Award of Excellence, Outstanding Executive Resume – CPC: 2011
Additional recognitions:
TORI Award Nominee, Best Executive Resume – CDI: 2018
TORI Award Nominee, Best Executive Resume – CDI: 2017
University of Calgary – Faculty of Arts Distinguished Graduate, 2017