Misleading Executive Resume "Rules"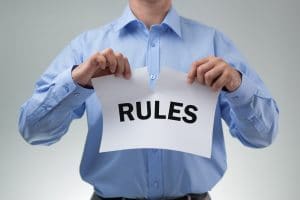 Searching for resume advice online can result in a minefield of confusing facts. Qualify advice by ensuring it comes from a reputable source or certified professional. 
As a savvy executive you know the importance of well-designed business tools; your resume is no different. However, when it comes to writing an effective, modern resume that positions you as the candidate of choice – the following 'rules' don't apply:
Use an Objective
Nothing screams old-fashioned more than a resume objective. Being told to use an Objective at the start of your resume to clarify 'your wants' isn't helpful nor beneficial.
Instead of wasting prime resume real estate stating the obvious (you want the job you are applying for), seize the opportunity to share value. Replace a tired objective with a fresh and well-tailored value proposition or branding statement. Define who you are and what you are known for. Make it clear how you can help lead, direct, and empower the organization you want to work for.
A powerful headline or branding statement will be hard to overlook.
Examples include:
Customer-Centric Solution Seller – Driving Rapid Revenue Growth
Innovative marketing executive who uncovers opportunities, builds brand value, and delivers sustainable results.
Technology Innovation Leader: Governs and Drives Business Transformation Projects
CFO >> Drives operational and financial efficiency as a trusted advisor and partner. Connects entrepreneurial companies with venture capital to heighten business performance. 
Cram Everything onto One Page
Nobody enjoys reading dense and heavy text and your resume is no different. If the resume looks hard to read it may not be read.
Although an executive resume should limit content to relevant details only, don't feel compelled to crush top achievements onto just one page to appease those claiming 1-page is best.  Length alone does not determine resume effectiveness.
Many top executives employ two to three pages to properly position their value.  If material is sharp, succinct, and related to the target audience, utilize additional space to get your message across.  See C-suite and senior professional resume examples here.
Write Content The Way YOU Like It – Make it Personal
Wrong. Remember, although the resume may be all about you, it isn't meant for you. Share your story, but tailor it towards the target audience. If people are telling you to make the resume personal they are leading you astray. Employers aren't interested in hearing about the things YOU are most interested in sharing. Instead, they need to know – very explicitly – how you can benefit THEIR company.
Keep content compelling by eliminating details that are not of direct benefit or value to your prospective employers. Write with your audience in mind. Learn more about eliminating personal bias in the resume in my latest Forbes post: "Executive Resumes Aren't Personal; They're Business"
Provide a Lot of Context About Job Tasks 
Nobody likes reading a resume that sounds like a job description. Despite urges to include more context in your resume; do so within reason.
To capture – and keep – the reader's attention, be selective with details and transition task-based content into results-based examples. Shorten role overviews and pack lots of punch in easy-to-read points that emphasize growth, revenue expansion, cost-savings, and personal business strategies. Promote yourself with purpose. 
Finally, don't waste readers' time making them hunt for your value. Write succinctly; be lean with word use but rich with results. Instead of sharing: "Well-known for generating distinct business impacts" try something more specific, with precise action: "Generated $4M revenue expansion through identification of 2 new business lines." Let the results speak for you.
List ALL of Your Career History
If you've ever been told to include every last bit of career history and ensure that all role details are well laid out, you've been misled. It is true that your resume should tell a story, but a tailored one with lots of result-driven impacts. Everything you've ever done – from 1978 onward – does not need to be in your resume.
Executives get to the top by following a certain career path and this is known and assumed. Skim off earlier unrelated roles and emphasize more recent leadership expertise.You will need to be the judge of how many roles to include, but a good rule of thumb is 15 years of work history and even then, not all of the nitty gritty details should be present.