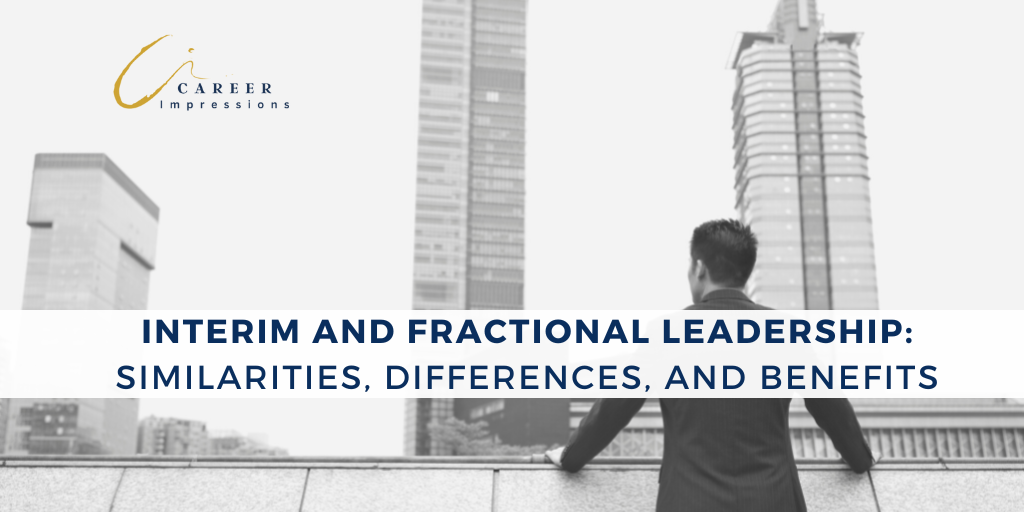 Interim and Fractional Leadership: Similarities, Differences, and Benefits
Leadership is essential for the success of any organization. However, finding the right leader for the job can be challenging, especially when the need is urgent or temporary. This is where interim and fractional leadership models come in. Each provides organizations with access to experienced leaders who have specialized expertise in specific areas of the organization. If you are an executive considering different paths, this post will dive into the similarities, differences, and benefits of interim and fractional leadership.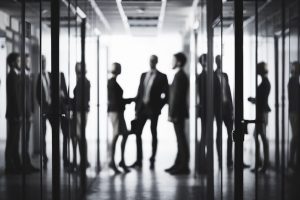 Similarities
Interim and fractional leadership share several similarities:
Leadership Expertise: Both models provide organizations access to experienced CXO leaders with specialized expertise in specific business areas.
Flexibility: Both offer the flexibility to engage leadership expertise on a part-time or project basis, which is particularly beneficial for smaller organizations that may not have the resources to hire a full-time executive.
Fresh Perspective: Both models can provide companies with a fresh perspective, helping identify areas for improvement and new growth opportunities.
Differences
Interim and fractional leadership also have significant differences:
Duration: Interim leadership is typically a full-time position that lasts from several months to a year or more. On the other hand, fractional leadership is part-time or project-based, and the engagement can last anywhere from a few months to a year.
Focus: Interim leadership focuses on providing stability and direction during transition or crisis. Fractional leadership, on the other hand, focuses on providing leadership and management expertise for a specific function or department.
Cost: Interim leadership can be more expensive than fractional leadership, especially for short-term needs or specialized expertise.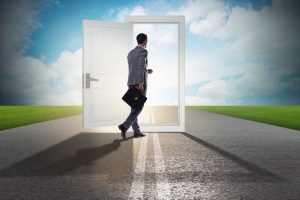 Interim Leadership – A Breakdown
Interim leadership is a temporary leadership position that is full-time and focused on providing stability and direction. An interim leader is an experienced professional capable of stepping into a leadership role quickly and effectively. These leaders may be appointed by an organization's board of directors, senior management team, or other governing body and may be hired from within the organization or brought in externally.
An article by Korn Ferry summarizes that: "Executives who take interim roles are veterans in leadership, with nothing to prove. They are already professionally and financially secure; each interim role is a new challenge where they know they can make a difference. They enjoy what they do, and they're good at it."
Interim leadership ensures the organization's continuity and operations during a transition or crisis by providing stability, direction, and leadership during the (often) longer search for a permanent leader.
A 2020 survey of interim executives showed that interim positions were rising, with CFO and CIO positions leading the pack. "Many interims have held more than one role within the C-Suite. While 61% of respondents held a CEO title, 19% of those CEOs also held a COO or CFO position in past years."
Additionally, a recent article by CFO says, "New data from Business Talent Group (BTG), a Heidrick & Struggles company, reveal the demand for interim CFOs has risen 103% since last year."…and "data also shows C-suite demand increased 78% YoY overall, with requests for interim CEOs increasing 220% YoY, and demand for chief human resource officers and chief transformation officers' increasing 100% YoY."
Benefits of Interim Leadership
Executives may consider an interim leadership role for several reasons, including:
Job Bridge: Applying skills and experience in different companies or industries while in between traditional and established positions.
Challenge: Leading an organization through a time of transition or crisis. Interim leaders are often brought in to help organizations navigate significant changes.
Flexibility: Being appointed or hired for a fixed period allows time off between assignments or roles to pursue other interests versus long-term job commitments.
New Industry Exposure: Exploring new industries or sectors while providing expertise in particular areas, such as finance or marketing. 
Enhanced Skills: Gaining new experience and skills to bolster offerings and abilities.
Network Expansion: Expanding networks while working with a new group of professionals, customers, clients, or stakeholders.
Resume Building: Building a resume by showcasing the ability to lead organizations through periods of change or crisis.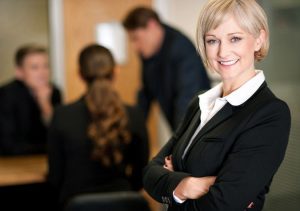 Fractional Leadership – A Breakdown
Fractional leadership is a model that provides organizations access to expertise and leadership in a specific area of the organization. This leadership model is typically part-time or project-based, making it a flexible and cost-effective way for organizations to obtain executive-level guidance. Fractional leadership suits organizations of all sizes and across various industries.
Fractional leaders apply their knowledge and experience to help organizations streamline processes, improve performance, and achieve strategic goals. Small businesses and startups can benefit significantly from fractional leadership, where they may require expertise in a specific area but lack the financial resources to hire a full-time executive.
According to a Forbes post: "Fractional hiring allows [companies] to skip the imprecise recruiting and onboarding process to go straight to doing the work. You can find strategic executives with hands-on experience across a range of functions, from CMO, CTO, to CFO, ready to go to bat for your brand. With the marketplace demand for expertise intensifying, the fierce competition allows you to find budget-friendly options that pack a powerful punch."
MassBio shares that "In 2022, CEO turnover reached its peak in 20 years…[and]…as we enter 2023, the uncharted conditions don't appear to be changing any time soon,…As businesses look for ways to spark new growth and outrun competitors in this unpredictable market, on-demand executives can offer a fresh, experienced perspective combined with a reduction of risks and expenses associated with a long-term commitment."
Benefits of Fractional Leadership
Some benefits of an executive taking a fractional leadership role include:
Flexibility: Setting the terms and schedule.
Diversity: Working in different industries and with varying types of organizations (potentially several at once), providing a breadth of experience and knowledge valuable to professional development.
Control: Choosing projects of interest (again, potentially several concurrently) and setting rates.
Networking: Engaging with diverse professionals – which could generate new business opportunities, partnerships, and/or collaborations.
Overall, both interim and fractional leadership models offer flexibility, fresh perspectives, and opportunities for executives to gain new experiences, expand their networks, and build their resumes.
Both models offer significant benefits for organizations, including cost savings, reduced risk, and access to specialized expertise. Ultimately, the decision to engage an interim or fractional leader will depend on the specific needs of the organization and the goals of the executive taking on the role.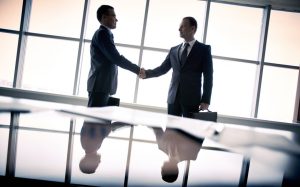 Looking for interim or fractional roles? Check out the following recruiting firms:
Chief Outsiders: Specializes in fractional Chief Marketing Officer (CMO) services, providing experienced CMOs who work with mid-sized businesses to develop and implement marketing strategies.
Fractional Leadership Experts: Provides interim or part-time executives in various areas, including finance, operations, human resources, and more. They work with small and mid-sized businesses and offer flexible leadership solutions.
Valtas Group: Focuses on placing interim executives in healthcare, life sciences, and biotech industries, helping companies navigate complex regulatory environments, mergers and acquisitions, and more.
CEO Quest: Places CEOs and other C-suite executives in part-time or interim roles, working with startups and mid-sized businesses to offer flexible leadership solutions to help companies grow and scale.
Stanton Chase: A global executive search firm that provides experienced executives in various areas, including finance, human resources, and operations, to help companies fill leadership gaps and achieve strategic goals.
V Chief: Provides fractional executive leadership services, placing experienced executives in interim or part-time leadership roles for startups, small businesses, and non-profit organizations. Their services include CEO, COO, CFO, CMO, and other executive positions on a fractional basis.
Need an executive resume for interim or fractional leadership opportunities?
Check out the resume writing packages offered at Career Impressions. Get a resume that gets you noticed!