How to Gather and Update Your Employment References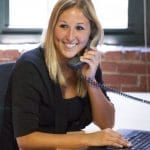 Reference checks are important for both job seekers and employers as they offer employers a chance to add to the information learned from a person's resume and during an interview — and what they find out from references can impact their hiring decision.
A great reference can easily sway the hiring manager's decision towards the positive.
According to a Society for Human Resource Management (SHRM) survey, 76 percent of organizations conduct reference background checks, so although some companies may not check references you should always have them ready for those companies that do.
In order to ensure you always have your references ready Career Directors International has declared the first week of May to be "Update Your References Week" – a time to check your list of professional references to make sure contact information is current. This will ensure references are easily located, should you find yourself unexpectedly looking for a new job or applying for a dream role.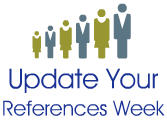 The first step is identifying who you should consider to be your references.
Selecting Your References
The advantage of preparing your references is that you can take the upper hand and identify the "best" references and control who you offer the employer as contacts.You will want to select 3 to 7 individuals to be your preferred references; these individuals may be current or former managers or supervisors, co-workers, peers, or team members, current or former customers of the company, vendors or suppliers, and people you have supervised.
If you don't have recent work experience, it can be members of committees you volunteer with, or pro bono clients (unpaid work experience is still work experience!). If you have recent educational experience, you can also ask professors, faculty members, and advisors.
Always select those people who know your work well!  You want references that have seen you in action and can speak to your abilities and personal work ethic. Yet if someone seems hesitant to serve as your reference, ask someone else!  A weak reference could negatively impact your chances of securing a job offer!
Start Contacting Your References Early
The best time to start thinking about your references is when you're putting together your resume (or during Update Your References Week each May!), not when you're already submitting applications. You shouldn't wait until you're getting called in for interviews to contact people you want to use as references.
It can take some time to track down and reach references, catch them up on where you're at in your career, and obtain their contact information. You don't want to try to do that while you're researching and preparing for a job interview.
Getting Permission From Your References
Once you've decided who you would like to be your preferred references, you should contact these individuals and ask permission to use them as a reference. Call your references directly (don't just email them); better yet ask for an in-person meeting. Keep in mind: Not everyone you've worked for — or worked with — will be a good reference for you. You want a reference that can be as enthusiastic about you as you are about getting the job and not all potential references will be able to provide this kind of stellar recommendation. But some of your references may be hesitant to say no to you directly if you ask.
In order to help screen out those that may be hesitant to decline your request, give them opportunity to get 'off the hook' without turning you down directly. Instead of asking, "Will you be a reference for me?" Ask them, "Do you feel you know me well enough to serve as a reference for me?" Or ask, "Will you be a great reference for me? (If the answer is anything less than enthusiastic, you can collect their information, but not list them on your "preferred" reference list. It's perfectly fine to ask a reference to support you, but then not use them on some jobs, or not at all.)
What To Do With Your References
Now that someone has agreed to be a reference for you, then what? Prepare a professional references page that you can give to a prospective employer (or email to them). Your references sheet should match the format, font style, and font size of your resume, with the same header.
A typical format for each reference may look like: 
Name                                                                                                    Jan Jones
Job Title                                                                                               Supervisor
Phone Number                                                                                 (310) 555-0932
Email Address                                                                                    Jan.Jones@ABCCompany.com
How You Know the Person                                                      Former Supervisor at XYZ Company
How Long You've Known Them                                                for three years (2007-2010)
When should you give your references to an employer? The easiest answer is: When you're asked. Sometimes you'll be asked on the initial application. Other times, you'll be asked in the job interview itself.
Never submit your references with the resume and cover letter as you want to encourage the employer to engage with you first (ie: interview) before they contact your references for further details.
In addition, don't waste space in your resume by adding the old fashioned line: "References available upon request".  Prospective employers know you'll provide your references when they ask for them, so use that space on your resume for something more useful.
Preparing Your References When You Have a Job Interview
When you have been contacted for a job interview, contact your references and let them know. Forward a copy of the job posting, if you have one for the position. If it has been a while since they agreed to be your reference, ask if it's still okay to list them as a reference. Make sure they have time to respond if they are contacted. If they say "Yes," let them know you will contact them after the interview to keep them in the loop. 
References: Final Steps
After you land your new job (and send your references a thank you letter for their role!), remember that maintaining your network should be an ongoing process. Keep in touch with your references occasionally, sharing good news, information, and resources. Don't wait to communicate with them until you need them for your next job search and take advantage of "Update Your Resume Week" each May to evaluate and update your reference sheet.