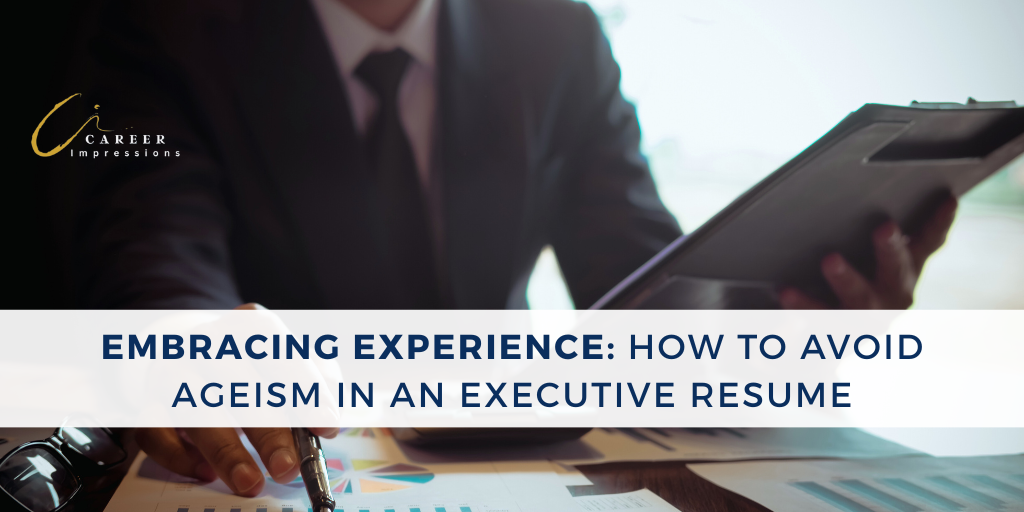 Embracing Experience: How to Avoid Ageism in an Executive Resume
Executives may encounter ageism or fear ageism in the job market, especially when crafting a resume. However, it's crucial as an executive to keep age from becoming a barrier to showcasing the wealth of experience and expertise that comes with years of leadership.
There are several resume strategies to consider when aiming to drive interest without age scrutiny. By presenting qualifications in a contemporary and impactful manner, you can confidently highlight value, proving that age is no limitation to ability.
Optimize the Resume's Structure 
The structure of an executive resume can significantly impact how ageism is perceived. If the file looks old-fashioned, you may also be perceived to be.
To help, choose a modern and clean layout highlighting relevant accomplishments and skills. Start with a compelling summary statement that succinctly captures core strengths and professional brand, while spotlighting relevant achievements and clear ROI. Continue the file with a Professional History section that includes results-rich bulleted statements, not basic job tasks, that align with the readers' requirements.
See examples of modern resume formats here. Just remember, in a resume, design is secondary to content, but it plays an essential role in how the resume is read and perceived.
Share Only What Matters Most
 To avoid unnecessary emphasis on age, executives should leave out outdated or irrelevant details in their resumes. Not all career content holds equal importance, and strategic selection of work history and the depth to which you delve into the past are critical. Although you likely boast a prosperous career, not every position warrants a place in the file, nor do readers want a career chronology that starts in 1985.
Pursuing a high-level leadership position mandates a laser focus on more recent and likely more relevant experiences, rendering pre-management roles less pertinent. Although exceptions exist, resumes are customary only 2-3 pages long and focus on recent 10-15 years of work history.
Only mention earlier experiences if they hold relevance to the job target. Share a succinct summary of these times in either a concise "Earlier Career " section or as part of your top highlights. 
Earlier Career Section Example:

Strategic Advisor | Bot Inc.| 1 Year

Managing Partner | Big Box International | 5 Years
Retained to advise CEO and executive team in highly disruptive supply chain robotics and AI space.

Led $1B merger of Canadian sales and marketing organizations, finalizing in 6 months with 45% spend reduction.
Focus on Achievements and Impact 
An executive resume should emphasize accomplishments and quantifiable impact rather than dwelling on job responsibilities. Use specific examples of how contributions brought measurable benefits to previous employers. By showcasing achievements, you can demonstrate value regardless of age. Use metrics, data, and specific results to paint a compelling picture of success.
Strategic Accomplishments Examples:
Led turnaround of struggling division, producing 15% revenue increase within 18 months.

Negotiated and secured multimillion-dollar contract with global client, expanding international presence and boosting annual revenue 25%.

Implemented new performance management system, creating 20% increase in employee productivity and 10% decrease in turnover.
Showcase Relevant Skills and Modern Expertise 
Executives should accentuate the skills and expertise most relevant to their target roles. Focus on transferable skills and competencies, demonstrating adaptability and a willingness to stay current with industry trends and technologies.
Skills Examples:

Strategic Planning & Execution

Change Management & Transformation

Financial Analysis & Budgeting

Talent Development & Succession Planning

Digital Innovation & Technology Integration

Negotiation & Contract Management

Board Relations & Governance

Market Expansion & Global Partnerships
Additionally, include recent and relevant recognitions or training in the resume. Awards, honours, modern certifications, and industry recognition reinforce your contemporary relevance and recognition as a thought leader. While it is essential to acknowledge past accomplishments, focusing on recent accolades bolsters your position as a valuable asset in today's competitive landscape.
Recent Recognitions Examples:

Awarded "Top 50 Innovators in Business" by Industry Insights Magazine (2022)

Recognized as "Digital Transformation Visionary" at the National Technology Awards (2021)

Certification Examples:

Certified Executive Leadership Coach (CELC)

Advanced Certificate in Digital Business Strategy
Demonstrate Strategic Vision for the Future 
Present your career trajectory with a forward-looking perspective. Focus on accomplishments and achievements that highlight your vision for the future of the organizations served. Emphasize transformative initiatives, long-term planning, and successful execution of strategic visions to convey that experience is not merely rooted in the past but has positioned them to lead confidently into the future.
Forward-Looking Accomplishment Examples:
Pioneered customer-centric digitalization strategy, revolutionizing customer engagement and fueling 20% YoY growth in repeat business.

Orchestrated market expansion blueprint that steered the company's entry into emerging markets, leading to 35% increase in global market share.
Showcase Tech-Savviness 
In today's digital age, technology is pivotal to business success. Aim to highlight your proficiency with relevant digital tools, software, and systems. This emphasis on tech-savviness showcases your ability to adapt to the modern business landscape and align with the needs of tech-driven organizations. Mention certifications or training in emerging technologies to emphasize a proactive approach to staying current. Again, always consider the audience – ensuring you only share items valuable to the reader.
Tech-Savvy Skills Examples:

Advanced proficiency in Salesforce CRM

Proficient in data analytics tools, including Tableau and Power BI
Align Achievements with Industry Trends 
Executives should showcase how their achievements align with prevailing industry trends. Tailor accomplishments to reflect how you have addressed contemporary challenges or capitalized on opportunities unique to the current business landscape. This alignment demonstrates that you are engaged with industry developments and well-equipped to drive success in the current market.
Aligned Achievements with Industry Trends Example:
Fore fronted integration of AI-driven customer support chatbots, resulting in 50% reduction in customer query response time and enhanced customer satisfaction in line with the industry's push for personalized digital experiences.
Speak the Language of Leadership
Executives should infuse their resume with a leadership-oriented vocabulary that radiates influence and decisiveness. Use powerful action verbs and confident language to underscore executive acumen and strategic decision-making. This language should convey a sense of resilience, adaptability, and a track record of driving organizations through complex challenges.
Additionally, using outdated language or references can inadvertently signal age in a resume. Strive for a contemporary tone, adopting industry-specific buzzwords and the language commonly used in your field today. As industry landscapes evolve rapidly, so does the vernacular. Stay attuned to industry jargon and incorporate relevant keywords in the resume.
Language of Leadership Examples:
Championed cross-functional collaboration to realize synergies in product development.

Spearheaded organizational restructuring initiatives to optimize operational efficiency and minimize costs.
Additional Language Examples:

Old-fashioned: Implemented traditional marketing strategies to drive brand awareness.

Contemporary: Executed data-driven growth hacking techniques to amplify brand visibility across digital channels.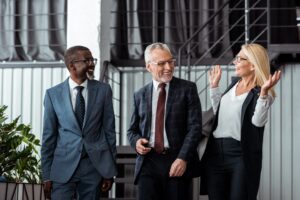 In an executive resume, age should not be a focal point. By optimizing the resume's structure, emphasizing achievements, showcasing relevant skills and expertise, omitting irrelevant details, and adopting forward-looking language, executives can avoid ageism in a resume and project a powerful image of leadership and competence. Ultimately, the resume should serve as a testament to your ability to drive success in the future without being hindered by age-related perceptions.
Looking for a resume that gets you noticed for the right reasons? Reach out to discuss; I can help.