100 Top Resume Tips (Free Resource Guide)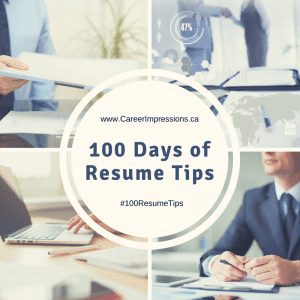 Career Impressions recently concluded 100 Days of Resume Tips across social media, with the hashtag #100ResumeTips.
The content was primarily shared on Career Impressions' LinkedIn business page – with great success.
Over 100 days we shared a generous dose of resume strategies, trends, and tips that job seekers raved about. Many professionals reached out to share the benefits of the campaign (hello, easier applications! Shortened job searches! Refined resumes! Less 'guess and stress'!)…and thanked us for helping boost their job search game.
Now that the campaign has finished, we wanted to share the entire 100 days of resume tips in one handy resource guide (40 pages; 100 tips!)– which you can download, for free, here. 
In return, we want to hear from you!  Let us know any of the following in the blog comments below: #100resumetipsfeedback
What resume tip resonated the most with you, and why?
Did any of these tips come as a surprise?
Do you have a resume tip of your own to share?
Did you apply a specific tip – with great success?
Connect with us on any/all of our social media sites to keep receiving leading-edge resume trends and tips:
Twitter:  @CalgaryResumes  or @Adrienne_Tom
LinkedIn: Career Impressions LinkedIn Page: or Adrienne Tom on LinkedIn
Facebook: Career Impressions Facebook Page
Once again, the free guide can be downloaded here.
Finally, if you are looking for customized, high-touch resume writing support – visit our website (www.CareerImpressions.ca) to learn more about our award-winning resume writing services for top professionals and executives all over the world.