Negotiate Salary from a Position of Strength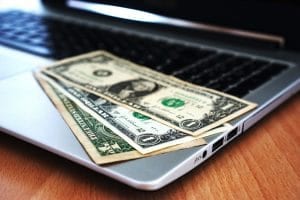 Money is usually the most sensitive issue in the hiring process and discussing compensation can cause anxiety for both the employee and employer alike.Yet confidence is important in negotiations.
You've probably heard the phrase, "Negotiate from a position of strength." Strength comes from confidence – and confidence builds from the execution of strong strategies.
Despite reservations, it is beneficial to engage in a salary negotiation.  The worst thing that happens is you don't get what you are asking for.  The best thing that happens is you positively impact your pay over the long-term.  In addition to more compensation up front, your annual salary increases will be based off a higher starting salary.
Take this example:
Let's say you accept an offer of $100,000 for a job and are given annual pay increases of 3%. After just two years, you'll be making approximately $106,000.On the other hand, if you negotiate a starting pay of $110,000 (a 10% increase), after two  years your pay will be over $116,000.  This equals a difference of over $10,000 you could be making (or missing out on) over two years of work!!
Now, take these statistics:According to JobVite's recent study "Just a third of job seekers negotiated the salary at their current or recent job – but those who did, 85% report receiving higher pay".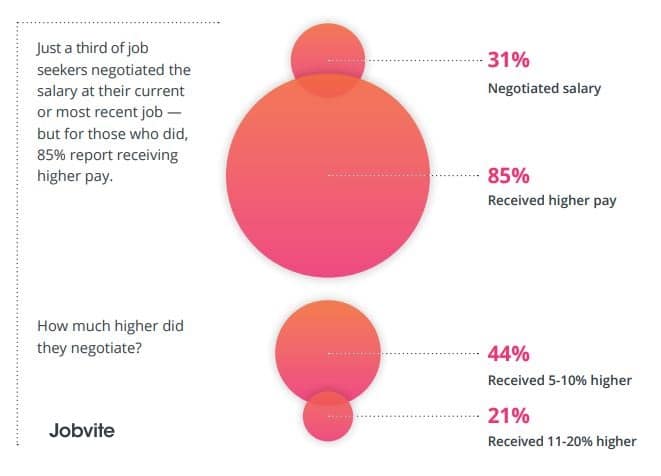 Negotiation Strategies that Create Confidence and Results
To boost confidence, employ the following strategies with careful precision and purpose.
Keep a Positive Attitude
Negotiation is a process which could benefit both parties. Understand your needs and those of the company. It IS possible to reach a win/win solution. Don't be aggressive or demanding when negotiating salary or a raise. Keep your tone friendly and civil.
Remind yourself, the worst that happens is that you don't get what you want  – you can still evaluate how you feel about the job overall, and make the best decision for you.
Do Your Research
Before you invest  any major item, it's important to do your homework and find out the value of the item. This same practice applies to salary negotiations.
Research the salary for your position, level of experience, and industry. Research the prospective employer and its salary structure. If possible, talk to current or former employees.One of the easiest ways to find out salary information is online. There are websites that offer solid salary information – here are two popular ones:http://salary.com/http://www.glassdoor.com/index.htm
Prepare Supporting Documentation
You can't ask for more money without stating a solid case. Compile details to backup your salary request. This can include salary data from websites, previous performance evaluations, letters of recommendation, and job postings for similar positions.
Understand the employer's job requirements and be prepared to demonstrate how bringing you on board will be of immediate benefit (think, bottom line!). Identify what makes you different and/or "irreplaceable" from other candidates or employees.
Be Mindful of  Timing
Timing is critical in salary negotiations. In negotiating an initial salary for a job, you (the job seeker) do not want to be the one to bring it up in an interview. Let the hiring manager be the first to discuss salary.
If you name a number first, you could be offering a figure below the range the company is prepared to offer — losing money in the process. You could also take yourself out of contention if what you're asking for is higher than what the company can offer.
The issue of money will likely come up in the interview when the company is serious about you as a candidate. It is best not to commence any type of negotiations until you've been formally offered the job. You certainly do not want to price yourself out of the running, nor do you want to settle for less than you are worth. Employers often have a salary range available for positions, leaving them room to negotiate.
Know Your Worth
At some point, you will likely be asked for your salary history — or what you were paid in your current/most recent position so they can make an offer close to your current compensation. Do not be deceptive about your current salary. Employers may be able to verify your compensation when conducting reference checks. Dishonesty, especially if discovered after an offer is made, may be cause for the offer to be rescinded.
You may also be asked directly about your desired salary. If you're pressed about your desired salary and you feel you must name a figure, give a salary range instead of your most recent salary. And don't forget to add, "…that doesn't include the value benefits." The bottom of your salary range should be the minimum you're willing to accept. The top of the range will be dictated by your salary research and your unique qualifications.
Naming a salary range gives you a chance to find a figure that is also in the range the company has in mind. In fact, many companies base their offers on sliding salary scales.
Take Sufficient Time to Evaluate 
Once you are made an offer, consider the following:
How much do you need to make?
How much do you want to make?
What is the lowest salary you'd be willing to accept?
What is your salary goal?
Besides money, does this job fulfill any of your other needs — such as schedule flexibility, the opportunity to learn new skills, or the chance to do interesting work?
What kind of opportunities does the position offer for training, further education, and/or professional advancement?
What makes you worth a higher salary?
How do you compare to the other job candidates?
Do you have special skills that are hard to come by?
Finally, does there seem to be room to negotiate?  If you think yes – gather up your strategies above and engage!
To determine your fair market value for a specific job, you should consider the economic, geographic, and industry factors of the job offer. It is okay to ask for time to consider an offer — 24 hours, or the opportunity to "sleep on it" — is common.
Know When to Close 
Only accept an offer that you are completely comfortable, and confident, with. If you feel there is room to negotiate salary then ensure you have your documentation and argument ready. State your case and be specific with the level of figure you feel is more aligned with your offerings, value, and job factors. Give the employer time to consider and respond. When both parties agree to terms, be aware that the negotiation is done. Pushing further when a deal has been set can give a negative first impression on your part.
When accepting a job offer:
Clarify the specific duties and responsibilities.
Know how your performance will be reviewed, evaluated, and compensated.
Evaluate the full compensation package (not just the salary).
Accept the offer verbally but request a written offer within 2-3 days.
Follow-up with a thank you letter that includes the job title, annual salary, and your start date
Finally, ensure you to get the job offer – with the agreed upon terms and salary, in writing – either in the form of a letter of agreement or an employment contract.