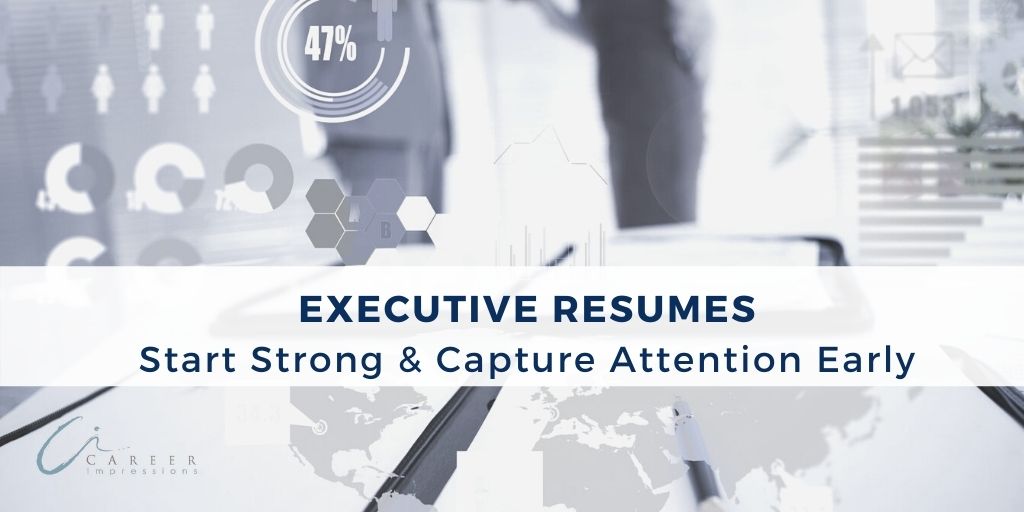 How to Start Strong & Capture Attention Early in an Executive Resume
The start of an executive resume (top 1/3) is prime real estate. Gone are the days when you open with a career objective. Instead, start the file with an impactful brand statement or powerful executive summary that aligns value offerings with job requirements.
You have only seconds to capture attention and keep your readers interested. Employers spend 11 seconds (on average) on the first pass of your resume before deciding whether to keep reading or move on to the next.
Start strong and give them a reason to keep reading!
The Start of an Executive Resume – Put Your Best Foot Forward
Because the top of your file typically gets the most attention, you want to lead with pertinent information and give your reader an obvious benefit. How are you going to help THEM solve problems and reach THEIR goals?
Aim to highlight your core leadership skills and accomplishments, positioning yourself as the perfect fit for the role.
Think of the top of your executive resume as a trailer for a movie – pique interest and hiring managers will lean in to say, "tell me more!"
Lead with an obvious benefit to the reader
What is a significant benefit you can give potential employers? Which of your core strengths relate to the target job? What have been some of your significant exposures, impacts, or top skills?
Consider a strong resume header that folds together related strengths and shares a few high-impact successes or provides clear scope and/or oversight metrics — that matter to the reader! Examples:
Chief Operating Officer
$2Bn P&L | 850 Employees | International Operations >> 60% Company Growth in 10 Years
Chief Commerical Officer
High-Growth Strategies | Product & Service Innovations | Brand & Business Development
P&L: $125M | Revenue Growth: $0 to $100M | Weekly Sales Growth: 150%
Chief Executive Officer
$14B in P&L ~ 2,000 Employees ~ International Operations ~ Multiple Industries
Drove $450M Revenue Expansion in just 3 Years
---
Keep them reading with your brand statement and summary
Your brand story summarizes what you are known for in just a few sentences. The goal is to succinctly relay who you are as a professional, the results you can achieve, and what separates you from your competition.
Potential points to cover in your brand statement or summary:
Title and industry (ies)
Core competencies
Main areas of expertise and experience
Key accomplishments
Relevant years of experience (not always necessary to lead with this, but it could be a benefit)
Try using a format such as WHO (you are), WHAT (you do), and HOW (you do it) to build a brand statement:
'Output oriented leader (who you are) who drives revenue and profit growth (what you do or are known for) through continuous improvement and strategic change (how you do it).'
Keep your brand statement clear and concise. If you include a summary, make it easy for hiring managers and potential employers to skim and scan it. Use short statements to make the most pertinent information pop.
Examples of brand statements and short summaries:
CHIEF EXECUTIVE OFFICER
Grows and develops profitable businesses through ambitious strategy and rigorous execution.
An engaged executive leader who orchestrates turnaround strategies within large, global public companies and across manufacturing, consumer goods, financial services, and technology sectors. Executed 100+ transactions – valued at $22B+ – in financing, IPOs, and mergers and acquisitions across North America and Europe. Managed stakeholder and investor relations.
NON-PROFIT CEO
Scales and grows organizations by building healthy and well-aligned teams and leveraging individual and organizational strengths to effect change.
Transformation catalyst who combines visionary leadership, people development, and innovative thinking to turn around struggling operations, create strong cultures, and grow revenues. 20+ years of experience leading human service programs and non-profit operations rooted in research and learning. Championed operational and financial transformations and turnarounds, doubling one agency's growth and expanding budgets by as much as $9M.
---
Bring it home with strategic bullet statements
Bullet points are a great way to quickly highlight core skills and most significant accomplishments in an easy-to-digest format that leaves white space to make your file visually appealing. Now that you have gotten a reader's attention with a benefit line / brand statement and a summary continue the story with more detail and consider adding a few bullet points near the top of your file.
Mention significant accomplishments (including metrics for proof)
Use action/benefit statements such as "Created and executed sales strategies which escalated profits and revenue, exceeded sales targets, and overachieved organizational goals."
Start each bullet point with a strong verb: created, developed, implemented, or expanded.
Consider leading with results: "Added $36M in net profit over 3 years by developing a differentiated product line which decreased service time for end-users."
---
Here's an example of tying together a headline, brand statement, summary, and bullet points in the opening of an executive resume:
CHIEF OPERATING OFFICER: Global Operations
Transforms Corporate Objectives into Bottom-Line Growth. Achieved 60% Profitability Margins and Grew Revenue 400%.
Built fledgling scientific software company into current industry leader. Achieved consistent multimillion-dollar YOY revenue growth and high EBITDA margins. Established worldwide operations, aligning sales and technical teams to improve profitability and growth.
Delivered gross revenue 5% above budget and normalized 60% EBITDA margins over last 5 years.
Achieved 23% historic revenue growth, with new business across USA and Europe representing 55% of expansion.
---
The top portion of your executive resume must capture and keep the reader's attention. The goal of the start of the file is to engage the reader and get them wanting more. To achieve this, content must align to job requirements and share value quickly!
Start strong and make it easy for hiring managers and potential employers to find the keywords, skills, and ROI they seek. If they can easily spot key leadership criteria near the start of the file, the greater the chances they will keep reading.
My professional resume samples can help you master the top of your executive resume, or reach out and let's partner together on a file that gets you noticed for top jobs!