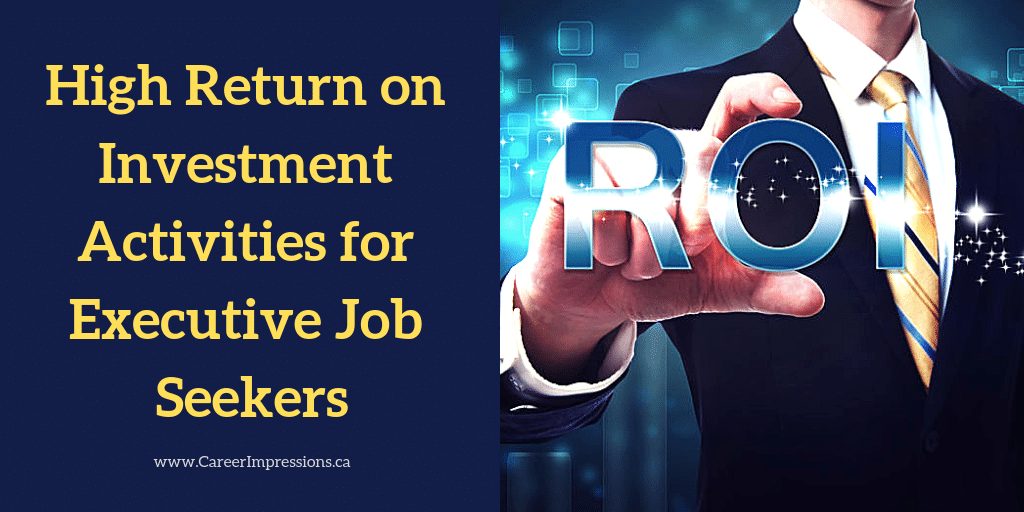 High ROI Executive Job Search Activities
An executive job seeker recently asked me: "What are the top 5 most important activities to focus on while looking for a new executive position?".
Great question.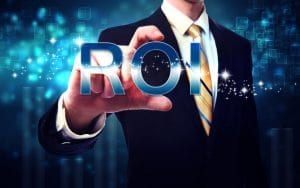 This savvy professional wanted to know how to set up a search strategy that had strong return on investment….i.e: how to focus his time and what activities would yield top results. Really, who doesn't want to know what the magic formula is for fast tracking a career progression, job change, or new role acquisition.
Yet there is no one-size-fits-all answer. Every person is unique and therefore every search strategy is as well.  However, a diversified approach is typically best.
If I had to list my top 4 they would be:
1. Building a list of target companies and researching them.
Before commencing a search, have a clear goal in mind. Know exactly what type of job you want and where these jobs exist. Saying you want or need "a job" is too broad.  So is "I will work for any organization". Narrow efforts to save valuable time and energy.As the saying goes: "if you don't know where you are going any road will get you there". Avoid heading down just any path by taking control of your search from the very start. Define your target and then research, research, research companies who hire these roles. Pinpoint organizational pain points and identify how your skills and value align with requirements. These details can help you better position yourself as a solution and fast-track progress.
2.

Networking (both online and off).
A network plays a vital role in a modern  job search, especially if leveraged correctly. It's often said your network is your net worth.  This is particularly true for job seekers.To start, identify all of the people in your network.  This extends beyond family, friends, and coworkers and may include people in your community, extracurricular activities, past work positions, volunteer roles, or friends of friends.The key to networking is to do it consistently, not just when you need something. Strategically reach out to people in your network to remain 'top of mind', provide assistance to others when you can, and keep engaged in your industry. Attend events, visit and participate on LinkedIn regularly, and interact frequently with decision makers.  Finally, be gracious for any and all assistance or advice.
3.

Conducting informational interviews.
Gather intel to support your end-goal.  If you want to be an operations director in a large, multinational organization then you need people in your corner who have performed in this situation before and can offer insights on how they got there and what is required in this role. Reach out to people and ask for: information, leads, opportunities, or introductions. Don't just ask for a job and work to build relationships before making an ask.If a person doesn't have direct insights on a role or opportunity, ask them if they know anyone that does or request an introduction to someone in their network who might.Remind everyone that you meet or interact with what you are good at and what you are looking for. The more ears and eyes helping you out, the better.
4. Developing strong career tools (resume and LinkedIn profile).
Once you have a clear target in mind and have identified unique organizational pain points – compile strong career tools to help position your offerings to the target audience. A customized resume that clearly aligns skills with needs is critical to garnering attention.  A robust LinkedIn profile with the correct industry terms and value-offerings can raise visibility. Additional career tools (thank you letters, recruiter letters, executive bio) must also contain similar messaging and value positioning.Ensure that whenever anyone reads about you they are receiving consistent details about who you are and what you have to offer. Skimping on the creation of strong career tools can be the differentiator between you and your competitors. The person who does the better job of 'selling' themselves in all communications will naturally garner more attention and interest.
As for the 5th job search activity – I decided to present this question to my network of well-known career professionals and recruiters to ask what they would select as the remaining activity. Here's a compilation of some of their savvy and insightful responses:
Virginia Franco (Executive Storyteller): My #5 dovetails onto your #4…and that is work to create an online brand to support your online profile. This entails sharing articles and engaging in conversations that position you as an expert in your role or industry.
Austin Belcak (Job Search Strategist): Identify the people who can have the biggest impact on your ability to get hired. Reach out and build relationships with as many as you can, leading with value. Find creative ways to step outside of your resume and illustrate your value: this might include writing blog posts about areas of opportunity or creating a deck showcasing customer research.
Ashley Watkins (Certified Resume Writer / Job Search Coach): My #5 would be: Lean on your circle of support. I can't say this enough. Far too many job seekers try and do it alone which can be frustrating and overwhelming.
Erin Kennedy (Executive Resume Writer): Building a reputation for yourself online as an industry thought leader will help you brand (or re-brand) yourself. Become an expert in your field! If you have time, devote it to enhancing your skills.
Ana Lokotova (Career Search Advisor): I'd say #5 is asking for constructive feedback. Oftentimes, we have blind spots when it comes to ourselves and an external perspective of a coach or a hiring professional can be like a breath of fresh air, not to mention a wealth of advice on adjusting one's strategy.
Omar Osmani (Talent Acquisition Specialist): Think outside the box. — There are 100's of applications received for a role. How do you make "you" stand out? What can you do differently? This should be kept in mind during the above 4 points as well.
Steve P Brady (Job Search Coach): Can I add what not to do for #5? Don't spend much time on job boards. I know many people immediately jump to Indeed or LinkedIn and crawl through openings. While there is value in seeing which companies are in hiring mode, applying through job boards is sort of like playing the lottery.
Ferdy Ed (Talent Acquisition Specialist): My 5th would be "Attitude & Mindset". Job searching is a tough job! Having the right attitude and a strong mindset would undoubtedly attract that opportunity to you. You cannot expect something positive in your life if you develop a negative mindset or if you are full of ego. Humility, patience, perseverance, confidence, etc. are attitudes you should absolutely have when job hunting. If you don't have confidence in yourself, nobody will. And if you want people to connect with you, start by connecting with yourself first. Knowing who you are, your worth, your value, what you can offer… Besides applying the 4 approaches of the list, you should strongly believe in your mind that you'll get that job. You attract what you put in your mind.