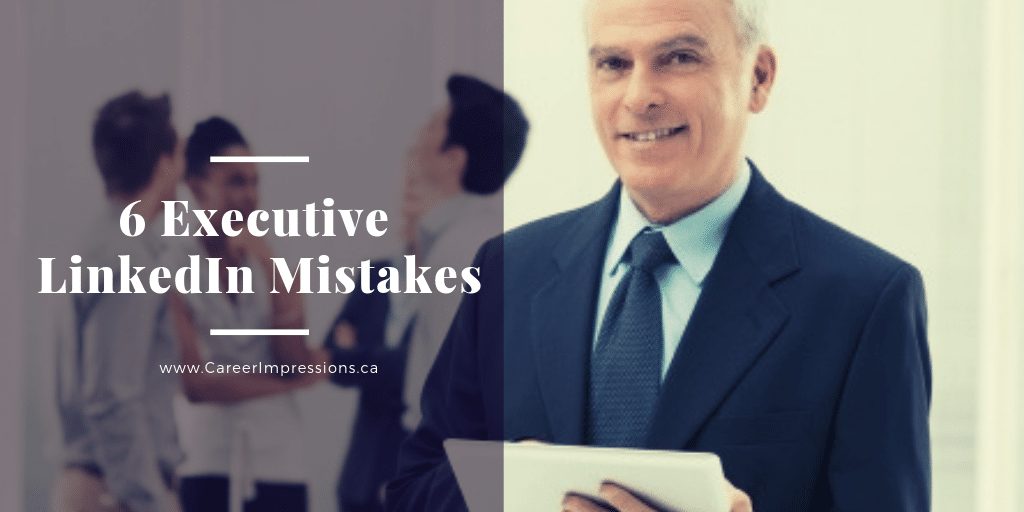 6 Executive LinkedIn Mistakes
Even the gainfully employed should get into the habit of using LinkedIn on a regular basis to build connections and leverage offerings…because when the time comes to make that next big career move, LinkedIn could help seal the deal.
Tell me savvy executive, are you using LinkedIn correctly? The following LinkedIn mistakes demonstrate a lack of proficiency, professionalism, planning, and poise. The good news is these LinkedIn mistakes are easily avoidable and readily fixed:
Dismissing the site as 'Something That Only Benefits Job Seekers'
The best time to build your LinkedIn profile, connect with people, and participate on LinkedIn is before you need it. If you find yourself suddenly unemployed and decide that now is the time to start using LinkedIn, you're going to be playing catch up. Instead, put the wise words of Harvey Mackay into play and take time to "dig your well before you're thirsty". Get yourself active on LinkedIn – now!
Creating a Paltry Profile
If you have only plugged a few basics into your profile, your image is suffering. People, employers, and recruiters use LinkedIn to vet candidates and cross-check work history, skills, and achievements. A meager profile communicates two potential things: you don't care or you don't know how. Take action to populate your profile with controlled content and brand imaging to ensure your leadership story is properly positioned. Write a compelling headline and fully complete all sections to maximize visibility and value.
Setting it and Forgetting It
Your LinkedIn profile is an evolving snapshot of you. Letting it sit stagnant will do nothing to support your brand or ability. You should be updating it regularly with new connections, status updates, and activity (within LinkedIn Groups in particular). Check in on LinkedIn regularly; at least once a week, and plan to keep content fresh and current. As you progress, so must your profile.
Being a Wallflower
LinkedIn is most effective when you engage with it. Seek out opportunities to connect with other thought leaders and company commanders. Join 3-5 groups and participate in conversations that support your brand and expertise. Also don't wait for others to initiate connections – take action yourself. Proactively add new connections on a regular basis, especially people you meet at conferences, meetings, or events. Strengthen your network to build a database of potential opportunities.
Having a self-seeking mindset
There is a difference between growing your network to gain numbers and expanding your network to support your image and career. Aim for the latter. Focus on using the site to help others.The phrase "give to get" is very powerful on LinkedIn. As a leader it is imperative that you employ dexterity and grace on the site to earn the respect of your peers, staff, and people of influence. Keep all communications on brand and well-aligned with your goals and image. Support the greater good for a bigger ROI.
Keeping Yourself Hidden
The only thing worse than no profile or a weak profile is a profile in 'lock down'. Going incognito on LinkedIn and putting your profile into private mode is counterproductive.  Keep content public to ensure readers can view full details (once information is well-written and properly positioned). Add a professional photo while you are at it.  A profile without a picture makes it look like you have something to hide (or that you don't know how to upload one), so invest in a professional headshot. Your golf photo, old wedding photo, or family vacation photo don't belong on LinkedIn. Keep your image on brand and visible.
Now that you know what to avoid, here is a great article on LinkedIn Benefits, reinforcing the reasons you need to be actively engaged on the site!
Need more tips on LinkedIn? – Let's connect!  Send me a personalized invite and I will gladly accept.  I post regular articles and tips on the site and love engaging with my network.