Published Executive Resumes! Award-Winning Resume Samples.
Look for my resumes in the latest edition of Resumes for Dummies!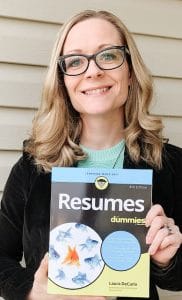 I am honoured to have several of my executive and management-level resume samples featured in this popular job search resource. Each of my resume samples highlight a unique format or strategy for varying career situations:
Senior Sales Representative: Learn how to leverage personal sale metrics and position them in charts and graphs so readers can spot impacts in an instant.
CEO/CFO: Discover how to overview long-standing executive work in one organization and break down powerful business impacts into easier-to-absorb skill sections.
Senior Wellsite Manager: Understand how to showcase repeating responsibilities/results from several similar positions.
Director of IT: See how this award-winning resume applies a savvy design structure to guide a reader's eye throughout the file, ensuring the best 'bits' are not overlooked.Resumes for Dummies, 8th Edition by Laura DeCarlo is available for purchase now on Amazon.