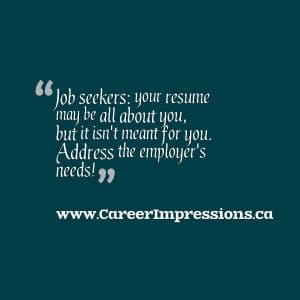 If you ever hear someone say 'you have to', or 'you must' when it comes to resume writing – proceed with caution.
The very best resume advice is that there are no hard and fast rules involved in resume writing, just fundamentals, good strategy, and best practices.
What are some resume best practices?  Well, to be fair these are continuously evolving and adapting (so once again nothing hard and fast here), but a basic list includes:
Address the audience
Start with the reader (employer) in mind and work to provide content and value in alignment with their needs. This will help keep your resume from running too long, or containing information that is not relevant. Remember, your resume may be all about you – but it isn't meant for you.
Use a format that works best for you, your career history, and your career target
This may involve a standard reverse chronological approach or a more modern combination format.  For more information on the different resume formats, see my detailed post here.
Include the basics
Name, contact information, work history (employment titles, company names, and dates), education, and related professional development or skills sections.
Keep resume content results-focused, not task-focused
Employers are not interested in what the job required you to do; they want to know what specifically you achieved within each role. Remember, proof of skill lies within your results.
Be succinct
Think quality over quantity for all content, and unless you need to draw from earlier work history (because it is heavily related to your target), try and keep work history limited to the past 10 to 15 years.  Employers don't need your complete 'career obituary', they want to be compelled to hire you by scanning a modern sales tool (succinct resume).
Consider adding design components (bullets, color, charts, graphs, testimonials) or using a format that is not like all the rest
Be more creative if your industry allows, and be more reserved if you are working in a formal occupation.
Identify and incorporate your value proposition
These days everything is about branding.  Your resume is no different. If you are the commodity and you want people to buy you how can you convince them to take you on? Consider branding yourself to stand out during a job search!
It can be overwhelming keeping up with best practices or resume trends, and knowing what feedback to accept and what to discard — so if you are struggling to write your own resume, seek help.Resume writing professionals (the certified and qualified ones) partner with clients to analyze unique career histories and job targets and they apply the most appropriate best practices to get job seekers noticed.
Certified resume writers don't use templates or draw from random rules; they have their finger on the pulse of the recruiting world and they know what trends to apply when.