4 Tips for Writing a Stellar Sales Resume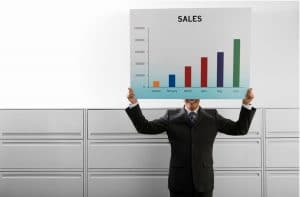 Top sales achievers need strong sales tools. Your resume is your number one personal marketing tool, designed to capture and keep the attention of hiring authorities. As a sales manager, director, or executive, how can you ensure your resume persuades the reader to learn more?  Read on.
Showcase numbers. In the sales field everything revolves around numbers; the greater the better.  When writing your resume for a sales role you must pull out all the stops and well position your best statistics. Be prepared to demonstrate how you increased revenue or profits, exceeded sales targets, secured new business, penetrated new markets, or retained top clients.
Write strong SELL points that are succinct, impactful, and easily digestible, similar to these examples:
Exceeded sales targets by 190% for two straight years.
Increased business revenue by 33% YOY.
Captured $17M worth of new market opportunities.
Remember to quantify how much and how many as often as possible with exact figures, percentages, dollar amounts, and statistics.
Don't bury key facts – emphasize them. Use creative design components (tables, charts, bolding, key performance sections) to draw the reader towards your best outcomes or personal value.  If you conceal your excellent sales figures or unique selling features in heavy blocks of dense text they will likely be overlooked.
Help employer's spot your value by leveraging a visual technique, like a chart:
Use appropriate industry 'speak' and keywords. To SELL yourself, you need to speak the same language as the reader.  In the sales field it is all about: market gains, revenue acceleration, new business success, needs and market analysis, strategic marketing, cold calling and prospecting, relationship-building, and door-opening strategies.
Pepper the appropriate keywords throughout your resume (supporting with quantifiable achievements whenever possible). Some additional sales-related keywords and terms to consider include:
Long-term growth
Buyer motivation
Market penetration
Account management
Lead generation
Product innovation
Sales forecasting
Profit margin optimization
Brand positioning
Know what makes you unique. Most sales professionals possess similar skills, so what makes you stand out?  Why should an employer hire you over someone else?  Spend time contemplating your '10% difference' and leverage your specialized value to convince recruiters that you can make a big impact to their business.
Areas unique to you might include:
Industry awards.
Superior industry reputation (backed and supported by statistics of course).
Special industry exposure (recognizable clients/customers, select products, or big box name brands).
Industry depth and breadth (niche markets).
Raving customer, vendor, client, or executive management reviews (include sound bites in your resume).
Any or all of the above can be leveraged as your exclusive selling points.As a senior sales professional, you need a resume that SELLS – not tells  – how you will drive big gains in the target company.  Convince the reader you have what it takes to bring the organization to the next level; write a resume that is positioned well above the rest. For more details on executive resume writing for top Canadian professionals, please visit www.CareerImpressions.ca