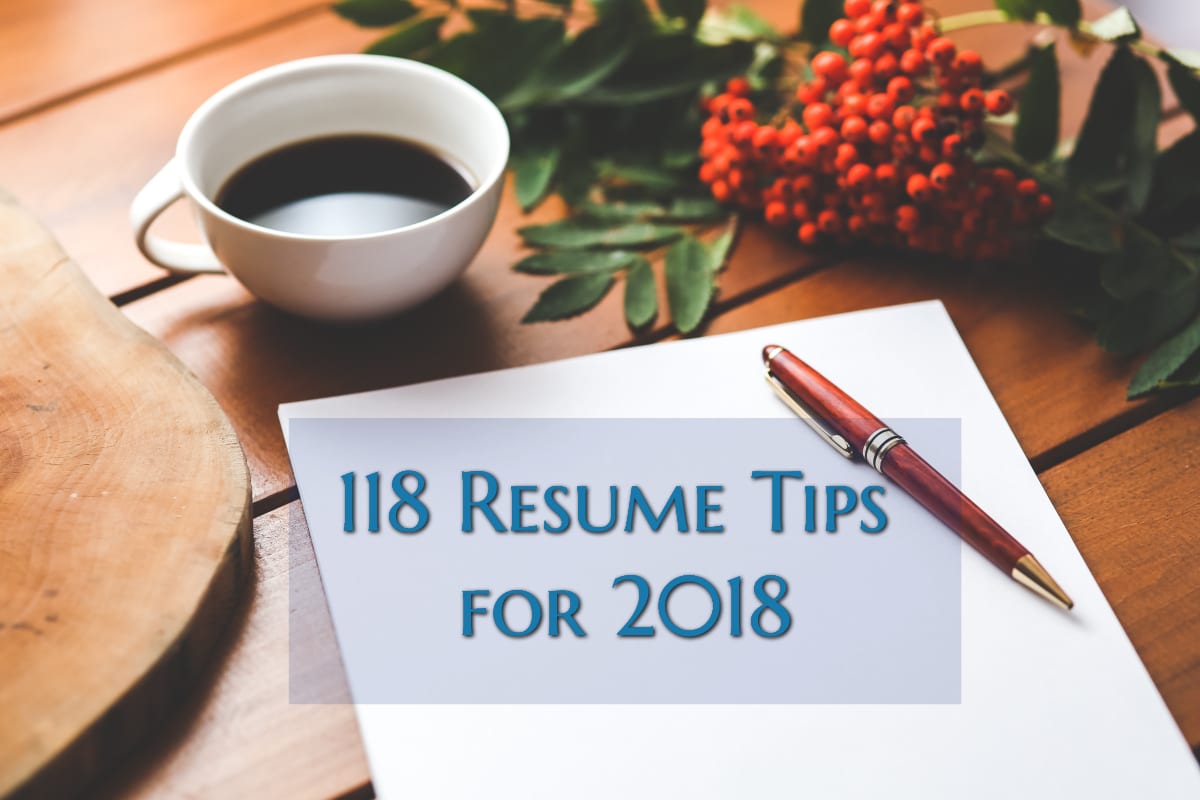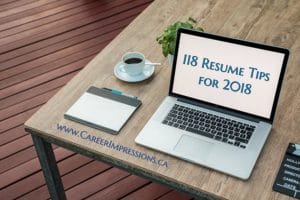 There are a wealth of tips and best practices that professionals can employ to raise the value of their resume. However, no two job seekers are exactly alike, therefore, what works for one person's resume may not work for another. 
Truly, the best resume tip of all is that there is No One Way to Write a Resume!  The following 118 bite-sized tips are designed for quick reference and easy application. Lots of links are included to additional resources and posts to help you further explore ideas and apply what works best…for YOU!
118 Resume Tips for 2018:
Exploring multiple job paths? Create a unique resume for each
Changing careers? Be ready to highlight transferable skills
Research target role requirements and job functions carefully
Identify top job skills to translate into your file
Tailor resume content for each job target
Align your skills with the posting requirements
Highlight job requirements from the job posting
Clearly demonstrate why you are the candidate of choice
Use the targeted job title as your resume header
Use a resume format that works best for you
Avoid templates; these don't account for strategy
Add contact information so employers can connect with you
Include a link to your LinkedIn profile
Showcase social media addresses, your website, or personal blog
Keep your resume format industry-appropriate
Consider how ATS (applicant tracking system) will read your resume
Develop a computer-friendly format for ATS
Eliminate certain design components to support ATS compliance
Avoid placing content in the document header or footer (won't be read by ATS)
Don't try to 'game the system' by overpopulating your file with keywords; it won't work
Locate your 10% difference
Employ professional assistance if you aren't sure of your unique value
Identify your brand and support it throughout the resume
Create a strong tagline or headline
Write for the job you want; not for the job you have
Cut back on tasks-based content
Demonstrate success in every role
Ensure content is scalable and measurable
Share accomplishment-driven stories
Promote yourself with purpose
Keep content compelling and engaging
De-emphasize unrelated roles
Brainstorm Challenges, Actions, and Results (CAR) and turn them into action points
Consider which resume sections will sell you best and showcase them
Create a Skills or Core Competencies section
Feature top results in a Qualifications or Achievements section
Do you have related volunteer work? Add this section
Targeting a technical role? Consider a Technical Skills section
Minimize focus on unrelated work history
Keep work history or experience to recent 10-15 years
Add Education. Older workers might remove graduation years
Don't forget to mention professional development (courses, certifications, etc.)
Demonstrate results
Sell don't tell
Highlight top career achievements
Lead with results and front-load points throughout
Laden the resume with metrics
Focus on how you impacted the bottom line
Quantify details by answering: how much, how many, how often
Add oomph with specific $, %, or #
Share strong career 'stories'
Emphasize growth, revenue expansion, and cost-savings
Pepper industry words and phrases throughout
Support keywords with concrete examples
Vary your word selection
Use the job posting to identify which keywords are best
Create a word cloud from the job posting to identify top words
Avoid common resume mistakes
Ensure content doesn't miss the mark. Customize!
Evade the career obituary…a list of "everything you've ever done"
Steer clear of dense text or heavy paragraphs
Remove the line "References Available Upon Request"
Keep personal pronouns off the resume
Proofread!
Use proper spelling and grammar
Don't go on and on and on and on…
Fill every page fully or use less pages
Use a thoughtful Career Summary versus an objective statement
Avoid using the same resume for every application. Customize!
Tune out misinformed resume opinions. Get your tips from qualified sources
Never copy content from someone else's resume
Don't cram content onto one page if you need more space
Sharpen resume content by reducing wordiness or fluffy fillers
Remove extra words like of, the, a
Avoid word widows or orphans
Vary your action verbs
Order content from most relevant to least relevant
Leverage the top 1/3 of the resume to sell yourself
Watch the length!
Maximize metrics and wow with results
Remember: sometimes less is more and longer isn't better
Aim to be informative and descriptive
Be consistent: if you spell out numbers above 10, do it always
Use a distinct presentation that is suitable for your industry
Consider a graphic resume
Graph impacts and results
Bullet key points
Make content pop with boxes, shapes, or Smart Art
Include strong, on-brand testimonials
Try a mix of fonts, but sparingly
Don't let design get garish or cutesy
Keep font size between 10 to 12
Think quality over quantity
Remember, less can be more
Overview job duties in a succinct manner; focus more on your achievements
Keep bulleted points to just 2 or 3 lines
Stay away from superlatives like excellent or superior
Be prepared to speak on every resume point
Keep abreast resume trends because this important career tool is always evolving!
---