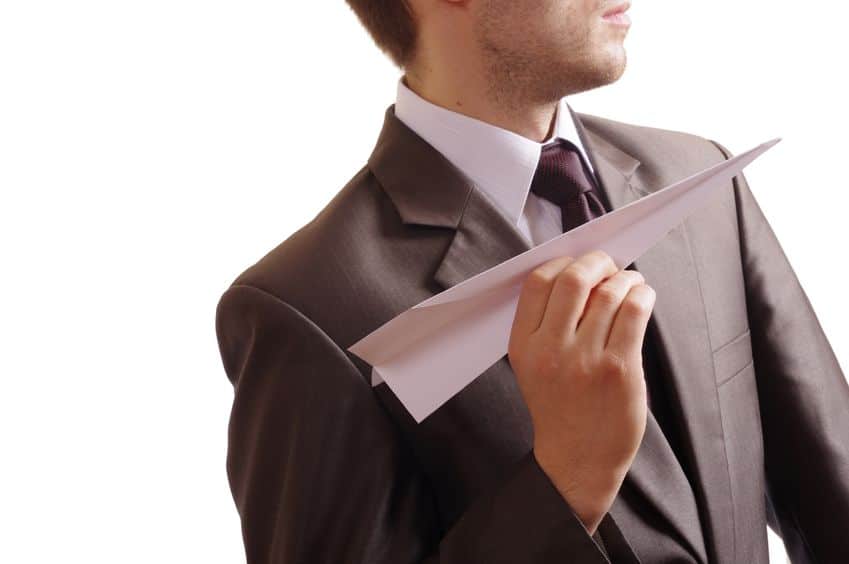 My Resumes Work! Here's Proof
I have created hundreds of resumes for top professionals, astute business leaders, and high-level executives around the world.I regularly hear from past clients about the impact and outcomes that their resumes generated, so I thought I would share a few of their stories and exact feedback. 
Read on to learn how my resumes got people higher-level roles with greater recognition and increased compensation!
You want a job. Better yet, you want a role that helps aid a fulfilling and progressive career. In order to achieve that dream role or next-level career placement you need to garner the interest of hiring personnel.  These recruiters and employers need to know who you are, what qualifications you have, and how you can deliver value. Often a resume is requested to support this quest.
What your resume says and how it promotes you could be the 'make or break' difference in your job search. How do you create a resume that works… and what does a winning resume look like?! 
Meet Jeff*.
Jeff approached me for resume help because he wanted to take the next step in his career and apply for a progressive management position in his very niche industry.  He was hesitant to dive into a full-fledged job search until he had great tools in place –SMART move!
I encouraged Jeff to conduct a deep-dive into his career, brainstorming key achievements and quantifiable examples to support his transition. Using Jeff's metrics I then designed a resume strategy that included a "Performance Highlights" section near the start of the resume.  This section makes a strong sale with big impacts: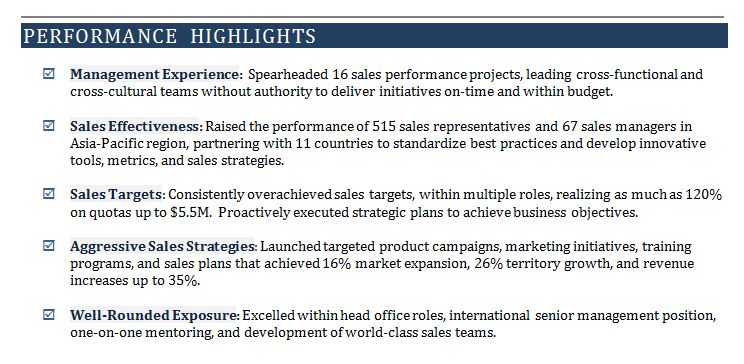 Jeff took his job search efforts one step further and invested in a LinkedIn profile re-write and interview coaching. He was set to advance his career! His written recommendation of my service:
"Adrienne provides so much more than merely a resume writing/interview coaching service; she provides you with a complete communication strategy that will help you market your brand to prospective employers."
The result?  Jeff wrote a few months later with some amazing news:
"Just a note to let you know that I ended up sticking around at my current company and that I've recently been promoted to Regional Manager. Your expertise in developing my resume and interview coaching helped me beat out seven other candidates, all of whom had Regional Manager experience with other companies. Working with you was the best investment I've ever made!"
BINGO!  Not only did his resume work, but his overall investment in job search support paid off big time!  Like he said, working together was "the best investment ever made".
Meet Michael*.
Michael approached me with these details: "I had applied for a Director role in a government department and was not screened into the interview process. Another Director OHS role should be posted shortly and I would like to be resume-ready before then." He was thinking ahead – SMART!   One of Michael's colleagues had worked with a resume writer in the past who gave him my name.
Michael was well-suited for the job but his original resume wasn't promoting his high-level, strategic leadership skills. A big challenge Michael faced was the dreaded ATS.  He was targeting a job with the government which knowingly uses ATS to screen resumes.  His resume needed to be meticulously tailored and designed with the ATS in mind.  If the resume didn't address role requirements exactly, Michael's resume would get screened out, again. Working together we carefully identified all of the qualifications for the role and I set to work implementing exact keywords, along with proof of results, in the resume.
Michael's unique resume strategy was the inclusion of a special section: "Additional Selection Criteria Met". This section was placed hear the bottom of the resume – after his career history and quantifiable achievements.  This section strategically allows for demonstration of additional and pertinent skills. It also enables the use of more keywords: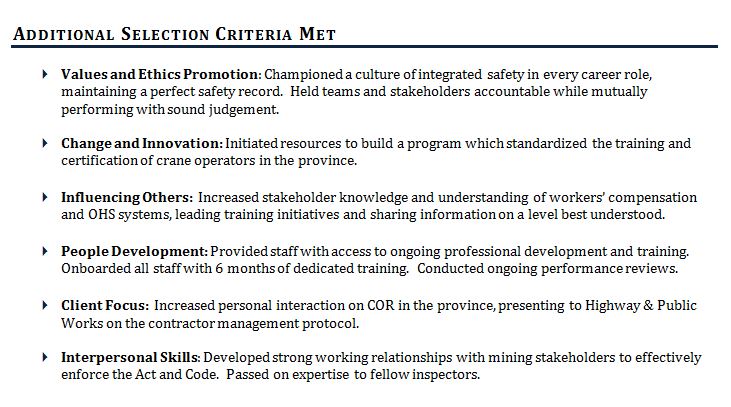 The result?  Michael got the job! He sent me this brief, but happy update a few months later:
"Hi Adrienne; Thanks for your assistance, I successfully competed for the position of Director OHS. All the best!"
Meet Anthony*
Anthony wanted to make a career move from financial planner in banking to senior sales manager in the credit industry. Although his skills were transferable, he wasn't sure how best to position his qualifications in a way that made prospective employers take notice.
Recognizing he needed assistance with positioning himself – SMART move! –  Anthony reached out to me after being recommended by a friend. Focusing exclusively on the target role, we drilled down work history to focus on transferable and related content.  The strategy was to cut away the 'fat' (unrelated details) so he could flex his 'muscles' (associated qualifications).
A resume strategy that worked best for Anthony was introducing all points with a related term.  This introduces the relationship between a role requirement and personal achievements.  It also enables the use of industry speak (key terms/words/phrases). Here's a snapshot from one of Anthony's positions:

The result?  Immediate reactions; call-backs; interviews; and a stellar job offer!  He sent me this note soon after:
"Hi Adrienne, I wanted to just reach out and say thanks. I had held off on writing you a recommendation until I had tested your product.  I had 5 phone interviews and 2 face to face interviews in the last month and a half. Today I received an offer for a fantastic job that I accepted (Senior Sales Manager; Credit).  I am blown away how much of a difference your resume and cover letter made just in the number of call backs I received."
4. Meet Roger*
Roger wanted to advance his career into a more prominent environmental management position. To boost his job search chances he invested in resume writing and LinkedIn profile creation (SMART!).  Together we identified top achievements in alignment with the manager role requirements and I created a 'top-heavy' resume introduction – mining some big wins and loads of relevant keywords/key phrases to the forefront of the file: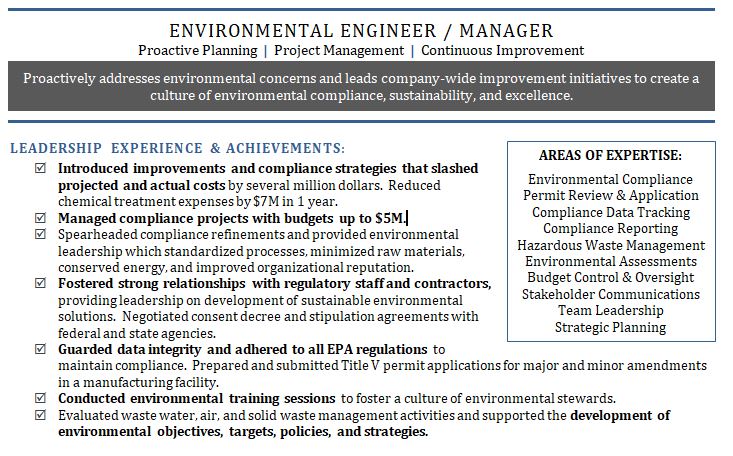 The result?  Well, here is some of the initial  feedback Roger sent along after reviewing the files:
"Words such as wow and amazing are truly an understatement when referring to Adrienne's delivered content and working with her. She did an outstanding and phenomenal job with both content and services. While working on my resume, she took time asking right on-point questions related to my field and current position. Adrienne's final product was not only exceptional and remarkable in every way, but it also boosted my confidence."
What's even better, is this update a few months later:
"Adrienne, just wanted to update that I was promoted to a manager role in our facility. Wanted to extend my gratitude to those all involved in that transition. Your tips, suggestions, and ultimately the resume helped narrate my professional story during my interview process. Good day and Thank you".
5. Finally, a recent international executive wanted to STAND OUT against competitors and apply at major companies like Google.  Just 2 weeks after finalizing the custom resume, he sent this update:
To let you know, the work you did is bringing results: I got interviews with 3 major companies, including Google. 
He also provided this formal review:
Career Impressions is an impressive service. Shortly after completing the tasks needed to produce a new resume, and posting the final version to a few job listings, the calls for interviews started to come from the world's top companies. Invaluable help, thanks a lot.
A consistent theme with all of these professionals?  They were SMART. They planned ahead.  They recognized where they needed help.  They invested time, money, and energy into the job search.  They ensured they had strong tools. They got a resume designed just for them!
Job search success is made up of many components, and these professionals worked hard in their careers to deserve their placements, yet each of them boosted their success using a Career Impressions resume. This makes me proud.
The ROI of resume and job search support can be enormous. Consider this:  if a well-developed resume secures you a role faster, with less worry and stress, or acquires you a position with higher compensation = it pays for itself immediately! If you want a resume that works for you, reach out.  Copying the content from the resumes above, or within other resources, won't help.  You need a unique file, with a unique strategy, for the resume to work!
---
*Names and some identifying details have been changed to support client confidentiality. All of these stories are true and feedback is actual client communications.