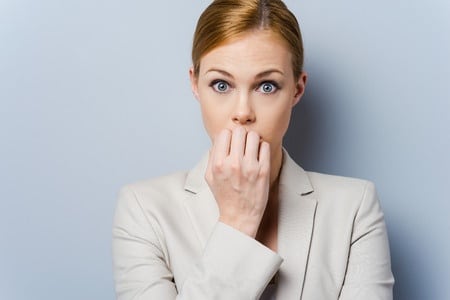 Overcoming Interview Anxiety – Tips for All Levels of Job Seekers
Can you recall your last employment interview…how you felt when you got the call, and what happened to your stress level when you arrived at the interview location?
My guess is that you experienced a range of emotions. Initial elation from the call may have morphed into a bit of worry or apprehension leading up to, and during, the interview itself. This is normal.
I often hear about anxiety when I partner with job seekers on interview coaching. They explain how nerves factor into the event.  During coaching I make time to analyze with each client why they might experience worry, and what strategies can be employed to manage it.
Sometimes I hear nothing at all from clients when I press about the topic of anxiety, but I witness it in other ways. Take Jill for example.  Personable and outgoing, Jill was seeking a new executive marketing position. She retained me for assistance with her interview coaching.  Having recently completed two interviews, Jill was discouraged that she hadn't received any job offers. She wanted to polish up her approach to ensure future meetings generated better outcomes.
My initial thoughts after meeting Jill was that she was very easy to talk to….smart….really knew her marketing stuff. As I do with all new clients that I coach, I asked Jill about interview anxiety. Did she experience any; to what degree; how did it present itself? Jill responded that anxiety wasn't an issue for her during interviews. She felt confident about her ability to talk and share information without nerves getting in the way. She sounded very assured when she discussed this with me.
Yet after we launched into a mock interview practice I started to see signs that showed otherwise.  Nervous fidgeting…finger tapping….strained smile….and lots of stumbles in content delivery.  Jill may have told herself she was confident and anxiety-free, but it was lurking.
---
Even mild anxiety can inhibit a job seeker from performing at their best during an interview.  Instead of pushing uncomfortable feelings aside or trying to suppress nerves, I recommend tackling them with some of the strategies shared below.  These interview-anxiety-busting-tips come from some of Canada's top career professionals:
Lise Stransky, Certified Career Development Practitioner at Careers That Work For You:
"Be Prepared. Be Positive. But most importantly – PRACTICE. Elite athletes did not get to where they are by arriving at game day cold. Their skill took days, months, and even years of practice. The same applies for interviews. Whether it's your first interview in a long time, or your 16th in two weeks, taking the time to review the job posting, consider what you bring to the position, and practicing with a trusted friend, mentor, or career professional will assist in easing interview anxiety. My other tips include visualizing yourself in a successful interview, reflecting and remembering successful interviews you have had in the past, and using anxiety reducing breathing techniques."
Lori Jazvac, Career Consultant at Creative Horizons Communications:
"Before the interview, practice creative visualization and positive affirmations – focus on your intended outcome (a solid job offer). Remaining calm, positive, and self-assured will help you present your best self in an interview – not only verbally – but through harmonious body language. Enlist a trusted career professional to help you navigate challenging interview questions. Moral support and consistent coaching helps reduce interview anxiety."
Maureen McCann, Career Coach at Promotion Career Solutions:
"Your scout leader had the right idea: always be prepared. Preparation for the interview not only ensures you are ready, but it also builds your confidence, knowing that you have done the homework and are ready for any question that comes your way. To alleviate anxiety, prepare your stories in advance. Use the Situation, Action, Result Formula (SAR) and be sure to have 2-3 stories for each of the competencies you know the employer wants to learn about (you can find these in the job poster). Once your stories are prepared and practiced, you are ready. On interview day it will be like pulling a book off the shelf, rather than trying to write the story 'on the fly.' Plus, the extra confidence makes you a much more attractive candidate than someone stumbling over their stories. Poised, prepared, and ready; your scout leader would be proud."
---
With a bit of custom coaching and the application of several of the above techniques, my client Jill was able to better master her interview anxiety.  Recognizing that nervousness can present itself in different and sometimes damaging ways, Jill was able to proactively address and correct underlying uneasiness. She reduced distractions and  delivered well-prepared, custom answers with conviction!  Her job search ended with a successful placement.
Learn more about putting interview nerves to rest, including how to make a connection with the interviewer in: "Interview Jitters".